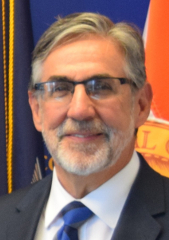 Robert
DiBella
Robert DiBella, Director
1 Danny Circle
Kingston, NY 12401
Phone: (845) 340-3333 or
Toll Free: 1-888-827-8228
Fax: (845) 340-3336
E-mail: ucat[at]co.ulster.ny[dot]us
UCAT, We'll Take U There
Ulster County Area Transit (UCAT) offers safe, affordable, reliable public transportation service throughout Ulster County, with limited service to Orange County and connecting service to Dutchess County.
All buses are equipped with bicycle racks.
To make a reservation for next day ada paratransit or OFA curb to curb service call: (845) 334-8120, Monday through Friday, 8:00 a.m. to 4:00 p.m. Telephone confirmation is requested on the day of service.
UCAT also serves as Ulster County's Transportation Information Center. Please call (845) 340-3333 for further information. The Dispatch phone number is (845) 334-8458.
PUBLIC NOTICE
Re: Proposed UCAT fare change
Ulster County Area Transit (UCAT) is proposing to change its fare structure as follows:
A proposed base ride rate which would take effect on April 01, 2016 and take the base fare of a ride on a UCAT bus from a zonal fare starting at $1.00 for the first zone and $0.25 for each additional zone to a straight fare of $1.50 for all fixed route rides within Ulster County
Half fare of $.075 for Seniors, Person with disabilities, Veterans, and SUNY Ulster Students within Ulster County
All fixed route service that crosses from Ulster County into an adjoining county to a straight fare of $2.00
All para-transit within ¾ mile of fixed route service to a straight fare of $3.00
All para-transit from ¾ mile to 1 ½ of fixed route service to a straight fare of $4.00
More information and details are available at UCAT headquarters, 1 Danny Circle, Kingston, NY 12401 
or by calling Robert DiBella at (845) 340-3335
 Commuting to class by riding a UCAT Bus has become cheaper and easier for SUNY Ulster students.  County Executive Mike Hein has implemented a commuting student discount on Ulster County Area Transit (UCAT) buses.  Starting in 2016 by simply showing their SUNY Ulster student ID, students will receive a 50% discount for their ride to or from any SUNY Ulster campus, including the main campus in Stone Ridge, the new Kingston Center or the Business Resource Center.   This fare discount continues the County Executive's commitment to increasing access to higher education, as it was only three months ago that the conveniently located Kingston Center of SUNY Ulster opened in mid-town Kingston.

UCAT IS HIRING!
We are looking for part-time bus driver
A CDL with passenger endorsement is needed.
Please call Jennifer at 845-384-6269
for more information.
2016 HOLIDAY SCHEDULE
 UCAT - Ulster County Area Transit      UPL - Ulster Poughkeepsie Link
Thur-1/1-New Year's Day: UCAT & UPL CLOSED
Mon-1/18-Martin Luther King Jr. Day: UCAT CLOSED   UPL    Sunday Schedule
Mon-2/15-Presidents Day: UCAT & UPL CLOSED
Sun- 3/27- Easter: UCAT & UPL CLOSED
Mon-5/30-Memorial Day: UCAT & UPL CLOSED
Mon-7/4-Independence Day: UCAT CLOSED     UPL    Sunday Schedule
Please call 845-334-8458 for further information