Are you constrained by a traditional workspace? Compromising
on your quality of life to be in the city. Why, when you can
Do Business Differently
In Ulster County
Why Limit Your Life to a Weekend?
Ulster County is Perfect for Tech Entrepreneurs.
In today's networked and connected world, many cutting-edge business owners are discovering new ways to successfully manage their business, raise a family, and enjoy a better quality of life—all at a lower cost, and less than 100 miles from Midtown Manhattan. True innovation means doing business differently...in Ulster County.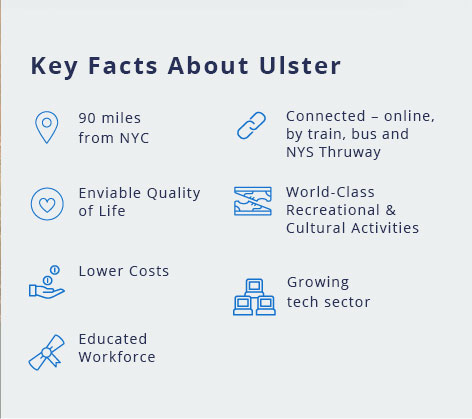 In their own words
Ulster Techpreneurs tell it like it is:
Aaron Quint, Chief Scientist of Paperless Post - an Ulster County techpreneur, talks about community
Calandra Cruickshank, President, and Dana Valdez, COO of State Book International, Ulster County technology entrepreneurs, tell how they manage a 'virtual' company and raise a family in Ulster County.
Norm Magnusson, Freelance Creative Director and Ulster County technology entrepreneur, describes easy access to 'wilderness' with easy access to NYC, and opportunities to network locally.
Abe Uchitelle, SVP of Business Development of Dragon Search Marketing and Ulster County technology entrepreneur, talks about how Ulster County's unique assets that attract employees, and how lower costs of operation