Posted January 8, 2014
Regional Mental Health Professionals Meet with State Legislators to Discuss Local Impacts and Options
Kingston, NY – Citing significant and ongoing State aid cuts to local communities for the provision of mental health services, Ulster County Executive Mike Hein brought together regional mental health officials, professionals and State legislators to discuss local impacts and to explore opportunities for cost-effective alternatives.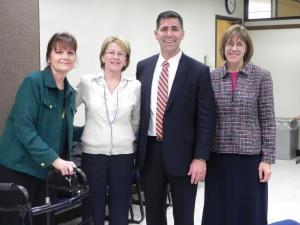 In his opening remarks, County Executive Hein welcomed Assemblywoman Aileen Gunther, Chair of New York State Assembly's Mental Health Committee and New York State Senator Cecilia Tkaczyk, ranking member of the Senate Mental Health Committee. The County Executive thanked the representatives for their mental health advocacy and specifically for their support and sponsorship of the "Communities of Excellence Mental Health Reinvestment Act" (A7842-B/S5631-B); a bill that would reinvest 50% of the savings derived from the proposed Regional Centers of Excellence plan into community-based mental health services. The remaining 50% would be used to transition the State services from in-patient to outpatient programming.
County Executive Hein said, "In Ulster County alone, State reimbursement for mental health services has been reduced by 50% over the last several years, an amount equal to $8 million dollars in funding that is not available at a time when the demand for quality, local mental health services is at an all time high. This is not a sustainable scenario and the proposed legislation can begin to reverse this trend and assist in allowing Ulster County, and other local communities throughout New York State to continue to provide quality mental health services which are so greatly needed."
Dr. Carol Smith, Ulster County's Commissioner of Health and Mental Health said, "We need to continue to provide quality services to our mentally ill residents not only to ensure that they do not harm themselves or others, but also to help them lead healthy and productive lives. We have talented and dedicated professionals who are doing all they can to provide essential services, however, resources continue to diminish and the need continues to grow. Together, we can and must do better."
"This meeting was a great opportunity to hear from people working every day in the trenches. They know the real impact that funding cuts have on people living with mental illness and the importance of stable reinvestment," said Assemblywoman Gunther. "I look forward to continuing the discussion and bringing their ideas for cost-effective delivery of services to Albany."
State Senator Cecilia Tkaczyk said, "I greatly appreciate having the opportunity to meet with Mental Health experts from all across the Hudson Valley to discuss my "Communities of Excellence Mental Health Reinvestment Act." Their valuable input, as well that from my colleague, Chair of the Assembly Committee on Mental Health, Assemblywoman Aileen Gunther, will help guide us as we work to pass this important piece of legislation in 2014."
The round table held on January 6, 2014 consisted of County mental health experts representing Ulster, Dutchess, Orange, Westchester, Columbia, and Greene Counties.
Photo - Ulster County Commissioner of Health and Mental Health Dr. Carol Smith, Assemblywoman Aileen Gunther, Ulster County Executive Mike Hein, Senator Cecilia Tkaczyk.