Posted August 4, 2014
Ulster County Takes Leadership Role In Preventing Prescription Drug Abuse 
Kingston, NY – County Executive Mike Hein together with Ulster County Sheriff Paul Van Blarcum, Commissioner of Health and Mental Health Dr. Carol Smith, Captain Michael Freer, Cheryl DePaolo, Executive Director of the Ulster Prevention Council, and Tim Rose and Michelle Bergkamp from the Ulster County Resource Recovery Agency unveiled a new medication collection box which is now at the Ulster County Law Enforcement Center located at 380 Boulevard in Kingston.  Ulster County is involved in an ongoing effort to increase public awareness of prescription drug abuse and highlight the availability of medication drop boxes for the safe disposal of unwanted and unused medications.  Additional medication collection boxes are being installed at Ulster County Sheriff Sub-Stations in Wawarsing, Esopus, SUNY Ulster, Shandaken, and Wallkill.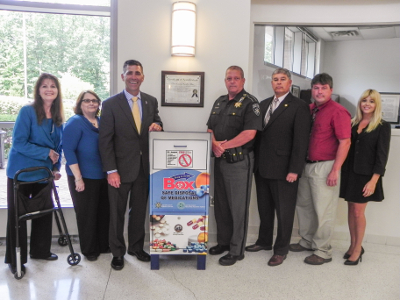 "The medication collection boxes allow citizens to safely dispose of out dated or unused prescription and over-the-counter medications, helping to keep them safely out of the hands of children and teens while protecting our water supplies," said County Executive Hein.  "The abuse of prescription drugs is a major public health concern throughout New York State and Ulster County is committed to this very important effort.  I would like to thank the Ulster Prevention Council, the Ulster County Prescription Drug Task Force, the Ulster County Resource Recovery Agency, Sheriff Paul Van Blarcum, Captain Michael Freer, and Saugerties Chief of Police, Joe Sinagra, who chaired the Ulster Prevention Council and was the first to install a collection box in his department.   We are fortunate to have law enforcement personnel and the Sheriff in particular who embraced this as not only a public health issue but as a crime prevention issue.  A special thank you to Sheriff Paul Van Blarcum and his entire team for their commitment to this project." 
"The medication collection boxes are not only a responsible way for individuals to dispose of their unused prescriptions; it also helps keep medications out of the waste stream, including our waterways and drinking water supplies. With the exception of only one other county, Ulster County now has more collection boxes deployed than any other community in New York State. It's a testament to the commitment of countless individuals and organizations who are working to protect our children, our environment and neighborhoods from the tragedy of drug abuse," said Dr. Carol Smith, Commissioner of Health and Mental Health. 
"Providing secure and convenient locations for residents to dispose of unwanted medications decreases the likelihood that those drugs find their way onto the streets," said Ulster County Sheriff Paul Van Blarcum.  "I want to thank the County Executive, Ulster County Department of Health, Ulster Prevention Council and the RRA for lending their support and helping make these drop boxes a reality.  Together, we are continuing the fight against prescription drug abuse." 
"We know that in 2012, 18.5% of Ulster County high school seniors reported abusing prescription painkillers at some point in their lifetime, much higher than the national rate of 13%. We need to do whatever we can to make these substances less available," said Cheryl DePaolo, Director of the Ulster Prevention Council, a program of Family Services.  "Residents throughout the county now have the opportunity to help keep unused, unwanted, or expired prescription and over the counter medication out of the hands of youth and adults. Saturating the county with safe and secure disposal sites is another step closer to County Executive Mike Hein's goal of making Ulster County the healthiest county in New York." 
"Riverkeeper's 2013 report titled 'Is My Tap Water Safe to Drink' found that discarded prescription and over-the-counter medications, including antibiotics, pose an emerging threat to water quality in our waterways and drinking water," said Kate Hudson, Riverkeeper's Watershed Program Director.  "Pharmaceuticals, which are designed to alter human physiology, find their way to and persist in surface waters because of improper disposal and the inability of wastewater treatment plants to remove the compounds that have potential human health effects and documented impacts to aquatic organisms. Contaminants from these products are currently unregulated so there are no federal or state water quality standards that have been established and no testing or monitoring that is required, despite the fact that detectable levels have been found in New York streams. Absent regulatory protections, Ulster County's efforts to facilitate proper disposal of these medications is a critical step in preventing these contaminants from reaching our waterways and impacting our drinking water in the first instance, one which we would encourage other counties in New York to follow." 
"By offering alternatives for the safe disposal of medications, Ulster County is taking a proactive role in protecting the environment and public health by preventing these items from ending up in landfills or contaminating our water sources," said Michelle Bergkamp, the Recycling Coordinator of the Ulster County Resource Recovery Agency.  "The Ulster County Resource Recovery Agency commends law enforcement and Ulster County Executive Hein for their commitment to being part of the solution to this problem." 
Studies show that a majority of abused prescription drugs are obtained from family and friends, including the home medicine cabinet. The federal Substance Abuse and Mental Health Services Administration (SAMHSA) estimates that 70-80% of nonmedical use of prescription pain relievers begins by raiding the medicine cabinet at home. Drug take back programs, such as medication collection boxes, are recognized as an effective means of preventing the diversion of prescription pills. 
By the beginning of the school year, there are scheduled to be nineteen medication collection boxes located throughout the county.  In addition to the newest medication collection box located at the Ulster County Law Enforcement Center, there are going to be 13 different community police departments throughout Ulster County. Five additional boxes are scheduled to be deployed at Sheriff Sub-Stations and the SUNY Ulster campus, in the very near future. According to Federal and State law, locked prescription medication collection boxes must be located within secure locations, under law enforcement custody. Residents can deposit unwanted medications anonymously and are urged to take advantage of the opportunity to do so. A detailed list of medication collection box locations in Ulster County is available online at http://www.ulstercountyny.gov/health/news-and-current-issues.