Posted December 18, 2013
County Executive Signs Financially Responsible Budget That Contains The Largest Reduction In Government Spending In The History Of Ulster County While Maintaining Essential Services
Kingston, NY – Today, County Executive Mike Hein signed the 2014 Ulster County Budget which provides for the largest reduction in government spending in the history of UlsterCounty and no real property tax increases. As a result of improvements in efficiency, public/private partnerships and a multi-year restructuring strategy, residents will continue to enjoy essential government services while County property taxpayers are protected. Unfortunately, the budget also includes a County version of "sequestration" as a necessary approach to address the "Cahill Crisis" but will only be implemented if the State is unable to re-institute the County's 1% sales tax prior to February 2014.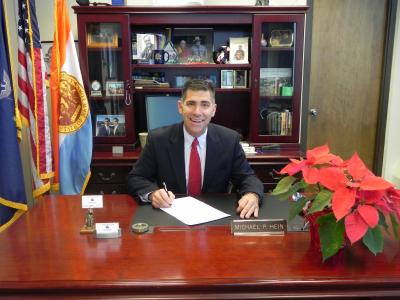 "I am proud to say, not only does this budget represent the third consecutive year that my Administration has delivered a budget with no property tax increase, but it contains the largest reduction of government spending, $23.8 million, in Ulster County's history while still ensuring essential services," stated County Executive Hein. "County government is smaller and more efficient than ever before, and through innovation and a collective willingness to make tough decisions we have been able to move closer to financial sustainability while still being able to provide the essential services so important for our residents."
"I want to acknowledge and thank the Ulster County Legislature who adopted the 2014 Budget in a bipartisan, unanimous vote," added the County Executive, "and I am looking forward to continuing our collective efforts to promote government transparency by providing taxpayers a valuable tax bill insert for the second consecutive year which clearly shows where county tax dollars are being spent."
"Unfortunately, even with all the positives included in this budget and the hard work of both my Administration and the County Legislature, there is still a serious threat to the people of Ulster County; essential services, including critical funding for not-for-profits, are in jeopardy if the County's sales tax request is not addressed by the State of New York in January," stated County Executive Hein. "I have been assured by the Governor's Office that he will sign this bill immediately after passage, and previous incarnations have already passed overwhelmingly in the State Senate. In addition, the New York State Department of Taxation and Finance has already indicated their willingness to assist us with implementation so that the required revenue will be available in time to meet the 2014 budget plan.…. the only potential impediment remains with Assemblyman Cahill's previous blockage. The Safety Net takeover often discussed with this issue has continued exactly as outlined over a year ago. Unfortunately, the County and the City of Kingston are absorbing serious fiscal hits and can only shield not-for-profits for so long."
The 2014 Budget includes:
The largest reduction in UlsterCounty government spending;
No property tax increase;
No layoffs;
The continuation of the planned takeover of Safety Net by the County;
A "sequestration" plan to protect the County from the "Cahill Crisis"; and
The continued reinvention of County government through innovation and change to ensure the continued provision of essential services.