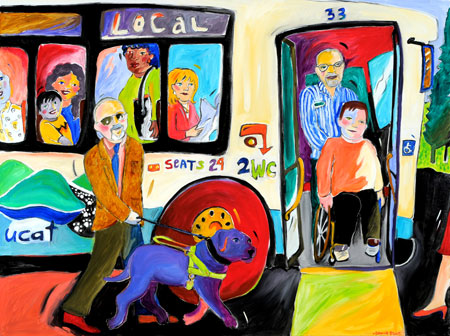 This project has been completed; final report is now available here.  
Ulster County Transportation Council will update its Coordinated Public Transit - Human Services Transportation Plan ("Coordinated Plan") in 2016.   The primary purpose of a Coordinated Plan is to identify the transportation needs of individuals with disabilities, older adults, and people with low incomes, provide strategies for meeting these needs, and prioritize transportation services for funding and implementation.  In addition, the current federal transportation authorization act - Fixing America's Surface Transportation (FAST) Act - requires UCTC to prepare a Coordinated Plan as a condition of applying for and receiving Federal funds under the Elderly Individuals and Individuals with Disabilities (Section 5310) program.  The Coordinated Plan is therefore intended to act as a blueprint for implementing a range of strategies to improve transportation services in Ulster County.
The UCTC Coordinated Plan will include the following items:
Literature review of recent coordinated transportation plans in New York State
Demographic and economic profile of Ulster County
An inventory of existing transportation service providers in the county
A review of funding resources available for human service transportation in New York State
A gaps and needs analysis including stakeholder and public input
An analysis of potential and prioritized coordination strategies
The result will be an accessible and FAST-compliant Coordinated Plan that will be made available to the public via this webpage in the Fall 2016. Further details are available below in the project scope and schedule
As required by the FTA, the HSTCP process will include a varied and inclusive outreach process that will convene County stakeholders, providers, transit users, and other related parties to understand the transportation gaps and needs as related to the requirements of seniors, people with disabilities, veterans, and individuals with limited incomes.
Additionally, the project team will host a Public Meeting that will be open to the general public to collect input and perspectives from all interested parties. This meeting is scheduled for December 7th, 2016.
The HSTCP process was kicked off in January 2016 and will conclude in January 2017. Draft scope of work and project schedule is available here.  Technical Advisory Committee member list is available here.
Task 1: Project Initiation
Kick-Off Meeting (TAC Meeting #1) - 3/16/16
Task 2: Community Outreach
Focus Group Meetings
In-person interviews with area transit agencies, human service organizations, and private/non-profit organizations
Survey Development 
Task 3: Assess Available services and Conditions
Develop Demographic and Economic Profile of Ulster County
Document Existing Transportation Resources
Develop Literature Review and Best Practices Summary
Prepare Technical Memorandum #1
 Task 4: Assessment of Needs
Review of Assessment of Needs with Focus Groups and Stakeholders 
Document Service Gaps and Overlaps
Prepare Technical Memorandum #2
Present Findings (TAC/SAG Meeting#2)
 Task 5: Develop Coordination Strategies
Identify Potential Strategies to Address Service Gaps and Improve Efficiency
Meet with TAC and Local Providers to Prioritize Strategies (TAC Meeting #3)
Hold the Public Meeting (and TAC Meeting #4) 
Prepare Technical Memorandum #3
Task 6: Funding Analysis
Analysis of Current Transportation Funding (included as part of Draft Final Plan below)
Task 7: Develop Draft and Final Human Services Transportation Coordinated Plan (HSTCP)
QUESTIONS?
Please contact Brian Slack at UCTC at bsla[at]co.ulster.ny[dot]us or 845-334-5590 for more information.  View the existing 2010 and 2015 Coordinated Plans here; Visit the FTA to learn more about Coordinated Plan rules and regulations.