Draft Vision and Concept Plan open for public comment through July 24th.
Click here for the link to a recording of the June 29 virtual public meeting. 
The Wallkill Valley Rail Trail Community Opportunity Plan will develop options to optimize multimodal active transport, open space and recreational enhancement on the heavily used part of the trail within the heart of the Village of New Paltz.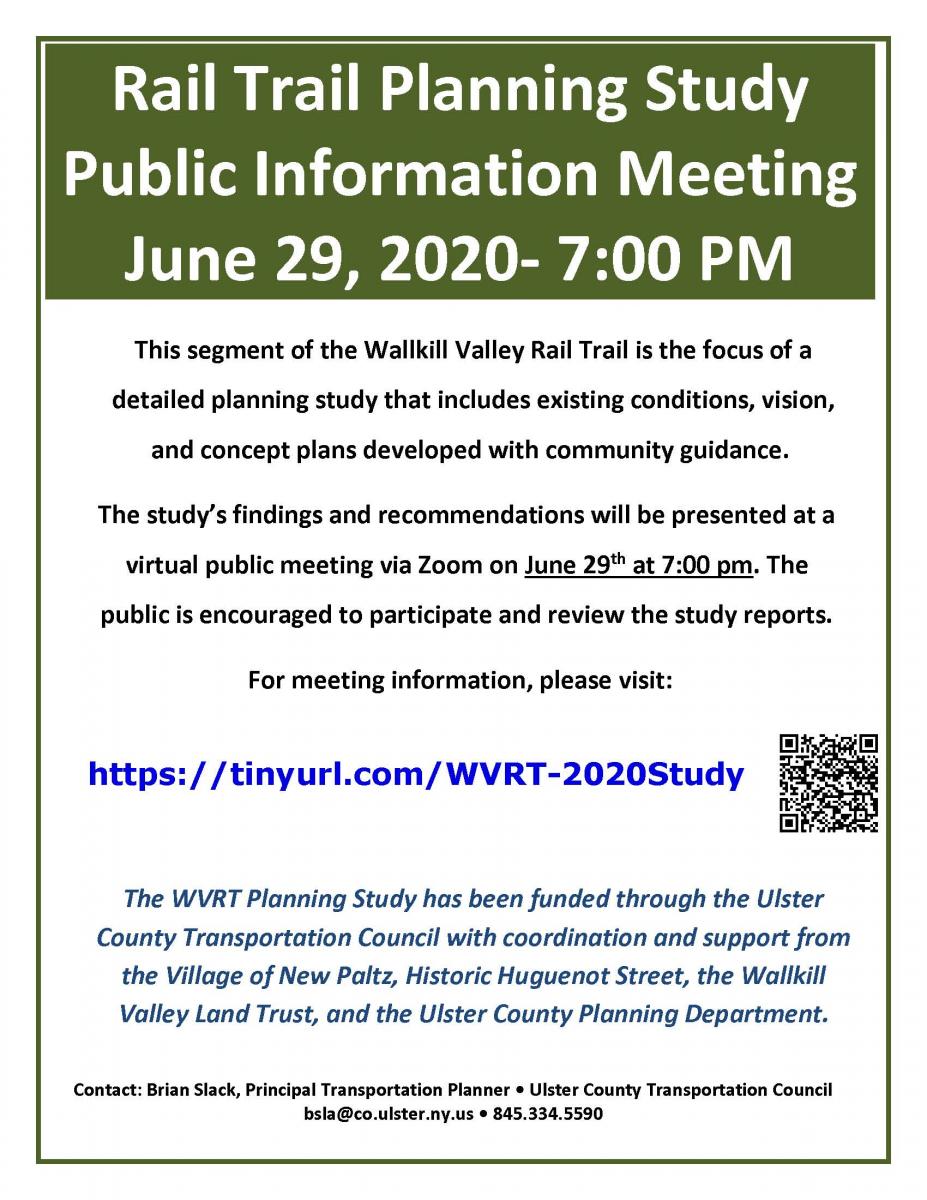 UCTC has hired landscape architecture experts Weintraub/Diaz to lead the planning and design process. The W/D team focuses on "integrating natural systems using a sustainable, restorative, holistic, and comprehensive design approach." The firm will be guided by a local advisory committee consisting of key stakeholders from the community. 
The plan will examine the WVRT from Plains Road north to Huguenot Street, approximately 1.5 miles, with a focus on the area from Plains Road to Mulberry Street. 
Key components of the project include a thorough inventory and analysis of the study area, including existing characteristics such as land use, drainage, natural resources, trail surface, traffic conditions and access to adjoining land uses.  The public engagement process will include a multi-day planning and visioning session that includes a trail walk with the project team to identify opportunities and concerns.  A second workshop series to be scheduled in the summer will present the corridor vision and concept for additional feedback.  The final outcome will be a plan for the study area that will guide local stakeholders toward successful implementation. 
The Wallkill VAlley Rail Trail Community Opportunity Plan is being conducted by the Ulster County Transportation Council (UCTC), in partnership with the Village of New Paltz, Wallkill Valley Land Trust, and Historic Huguenot Street. The entire project is scheduled to be completed by August 30, 2020.
Key Documents
Project Approach, Staff Assignments and Scope of Work
June 2019 Public Outreach Summary document
June 2020 Existing Conditions Report
June 2020 Corridor Vision and Concept Plan
Key Dates
A virtual public meeting was held on June 29th from 7:00pm to 8:00pm.  Refer to the press release here. Click here for the link to a recording of this meeting.  Public comment period open through July 24. Submit comments to the contact listed below: 
Contact:  Brian C. Slack, Principal Transportation Planner, UCTC  
bsla[at]co.ulster.ny[dot]us  (845) 334-5590