After carefully monitoring the ongoing COVID-19 (coronavirus) pandemic in Ulster County and the greater Hudson Valley/Catskills region and Ulster County's entry into Phase 1 of reopening, UCAT will increase its fixed route service for the month of June. The changes are as follows:
Service will be available on Monday through Friday. No weekend service during the month of June. Schedules are available for dowload here
Effective Monday, June 1, 2020, routes will be as follows:

Fare-free service within the City of Kingston on the Red, Blue and Yellow Routes (on revised routes that were intended to originally go into effect on April 1, 2020) is available between 8 a.m. and 6 p.m.
LINK service to Poughkeepsie on the KPL and UPL Routes is available between 8 a.m. and 6:30 p.m.
KS Route between Saugerties and Kingston is available between 8:00 a.m. and 6:00 p.m., with transfers available to the MALL LOOP Service that will provide access to the Ulster Avenue Mall area shopping complexes
E Route service between Kingston and Ellenville with buses leaving Kingston at 10:30 a.m. and 4:30 p.m. and buses leaving Ellenville Liberty Square at 11:45 a.m. and 5:30 p.m.
Z Route service between Kingston and Pine Hill with busses leaving Kingston at 8:00 a.m. and 2:00 p.m. and buses leaving Pine Hill at 9:15 a.m. and 3:15 p.m.
In addition to these routes, paratransit and senior medical van services will be resuming and riders should call the scheduling office at 845-334-8120, available from 9 a.m. to 4 p.m. the day before their planned trip, and on Friday for a Monday trip.
UCAT buses will have an additional staff aboard each bus to ensure riders are complying with social distancing guidance and mask usage. New procedures used by UCAT are as follows:
Masks will be required to ride the bus and will be available to riders if they do not have one.
Social distancing will be required by cordoning off every other row of the bus.
Full cleaning of the buses are done on a daily basis by a cleaning company using CDC-approved cleaning products.
Drivers also complete additional cleaning of the buses throughout the day.
---
***The Schedules Below are NOT in effect as of May 29, 2020 ***
View our Live Route Map or Route timetables below.
The UCAT App is available on Android and IOS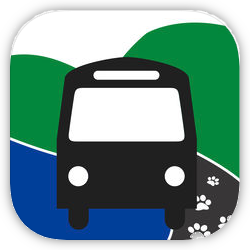 The app provides:
Real-time location of the buses
Routes displayed on the map
Bus location-based ETAs
Arrival notifications
View Route Schedules
Bus Routing and Trip Planning are also available using the Public Transit option

in:


---