PLEASE FOLLOW UCAT ON FACEBOOK FOR THE MOST UPDATED COVID-19/CORONAVIRUS RELATED SCHEDULE REDUCTIONS.
After carefully monitoring the ongoing COVID-19 (coronavirus) state of emergency in Ulster County and the greater Hudson Valley/Catskills region, UCAT will be further reducing its fixed route service. UCAT deeply regrets the inconvenience that may be caused to riders. However, these changes will assist with required social distancing measures and this decision has been made in the best interest of the health of our riders, drivers, and public and to contain the spread of COVID-19 as much as possible. In addition to the four routes, a demand response service will be available to essential workers (health care, grocery, pharmacy, etc.) for no charge. Demand response riders will be required to call the scheduling office (845) 334-8120, available from 9 a.m. to 5 p.m. the weekday before their planned trip, and on Friday for a Monday trip.
The changes are as follows and schedules are available on FACEBOOK
There will be no service on Saturday or Sundays until further notice.
Effective Monday, March 31, 2020, there will be four fixed routes which were determined to best meet the needs of Ulster County's essential work force:

Service between Kingston and Saugerties (current KS route) between 8 a.m. and 4:50 p.m.
Service between Kingston and Port Ewen (a combination of the current Blue and Yellow routes) between 8:00 a.m. and 4:15 p.m.
Service between Kingston and Ellenville (current EU route) with buses leaving Kingston at 8:00 a.m. and 1:15 p.m. and buses leaving Ellenville at 9:10 a.m. and 2:25 p.m.
Service between Kingston and Pine Hill with buses leaving Kingston at 10:15 a.m. and 3:15 p.m. and buses leaving Pine Hill at 11:20 a.m. and 4:20 p.m.
For riders with shopping and pharmacy pick-up needs, UCAT will connect residents to the Ulster County Government Project Resilience efforts.
---
The UCAT App is available on Android and IOS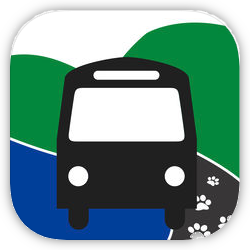 The app provides:
Real-time location of the buses
Routes displayed on the map
Bus location-based ETAs
Arrival notifications
View Route Schedules
Bus Routing and Trip Planning are also available using the Public Transit option

in:


---
View our Live Route Map or Route timetables below.
***The Schedules Below are NOT in effect currently ***