Carol Hargrove, Director
1 Danny Circle
Kingston, NY 12401
Phone: (845) 340-3333 or
Toll Free: 1-888-827-8228
Fax: (845) 340-3336
E-mail: ucat[at]co.ulster.ny[dot]us
UCAT, We'll Take U There
Ulster County Area Transit (UCAT) offers safe, affordable, reliable public transportation service throughout Ulster County, with limited service to Orange County and connecting service to Dutchess County.
All buses are equipped with bicycle racks.
To make a reservation for next day ada paratransit or OFA curb to curb service call: (845) 334-8120, Monday through Friday, 8:00 a.m. to 4:00 p.m. Telephone confirmation is requested on the day of service.
UCAT also serves as Ulster County's Transportation Information Center. Please call (845) 340-3333 for further information. The Dispatch phone number is (845) 334-8458.
Notifying the Public of Rights under Title VI
Ulster County Area Transit operates its programs and services without regard to race, color, or national origin, in accordance with Title VI of the Civil Rights Act of 1964.
To obtain additional information about your rights under Title VI, 
contact Director of Ulster County Area Transit
If you believe you have been discriminated against on the basis of race, color, or national origin by Ulster County Area Transit you may file a Title VI complaint by completing, signing, and submitting the agency's Title VI Complaint Form.
How to file a Title VI complaint with Ulster County Area Transit
1. To obtain a Complaint Form from Ulster County Area Transit contact:
Title VI Coordinator
Ulster County Area Transit
1 Danny Circle
Kingston, NY 12401
2. In addition to the complaint process at Ulster County Area Transit complaints may be filed directly with the Federal Transit Administration, Office of Civil Rights, Region VII, 901 Locust Street, Suite 404, Kansas City, MO 64106
3. Complaints must be filed within 180 days following the date of the alleged discriminatory occurrence and should contain as much detailed information about the alleged discrimination as possible.
4. The form must be signed and dated, and include your contact information.
If information is needed in another language, contact:
Jennifer Buton
Administrative Assistant
Ulster County Area Transit
1 Danny Circle
Kingston, NY 12401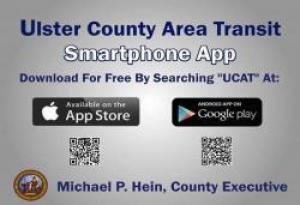 UCAT IS HIRING! 
We are looking for part-time bus driver
A CDL with passenger endorsement is needed.
Please call Jennifer at 845-384-6269  for more information.
 ULSTER COUNTY IS AN AFFIRMATIVE ACTION/EQUAL OPPORTUNITY EMPLOYER
All qualified applicants will receive consideration for employment without regard to age, race, color, religion, gender, creed, national origin, physical or mental disability, marital status, veteran status, disabled veteran status, or status as a member of any other protected group or activity.
2018 HOLIDAY SCHEDULE
UCAT: Ulster County Area Transit
UPL: Ulster Poughkeepsie Link
KPL: Kingston Poughkeepsie Link
Mon-1/1-New Year's Day (observed): CLOSED
Mon-1/15-Martin Luther King Jr. Day:
UCAT: CLOSED   UPL: Sunday Schedule
Mon-2/19-Presidents Day: CLOSED
Sun- 4/1- Easter: CLOSED
Mon-5/28-Memorial Day: CLOSED
Wed-7/4-Independence Day:
UCAT/KPL: CLOSED     UPL: Sunday Schedule
Mon-9/3-Labor Day: CLOSED
Mon-10/8-Columbus Day: UCAT CLOSED
UPL Sat Schedule    KPL Sat Schedule
Mon- 11/12-Veterans Day: Sat Schedule (all services)
Thur- 11/22-Thanksgiving Day: CLOSED
   Fri- 11/23-Day after Thanksgiving: Sat Schedule (all services)
Tues-12/25-Christmas Day: CLOSED