Posted April 18, 2017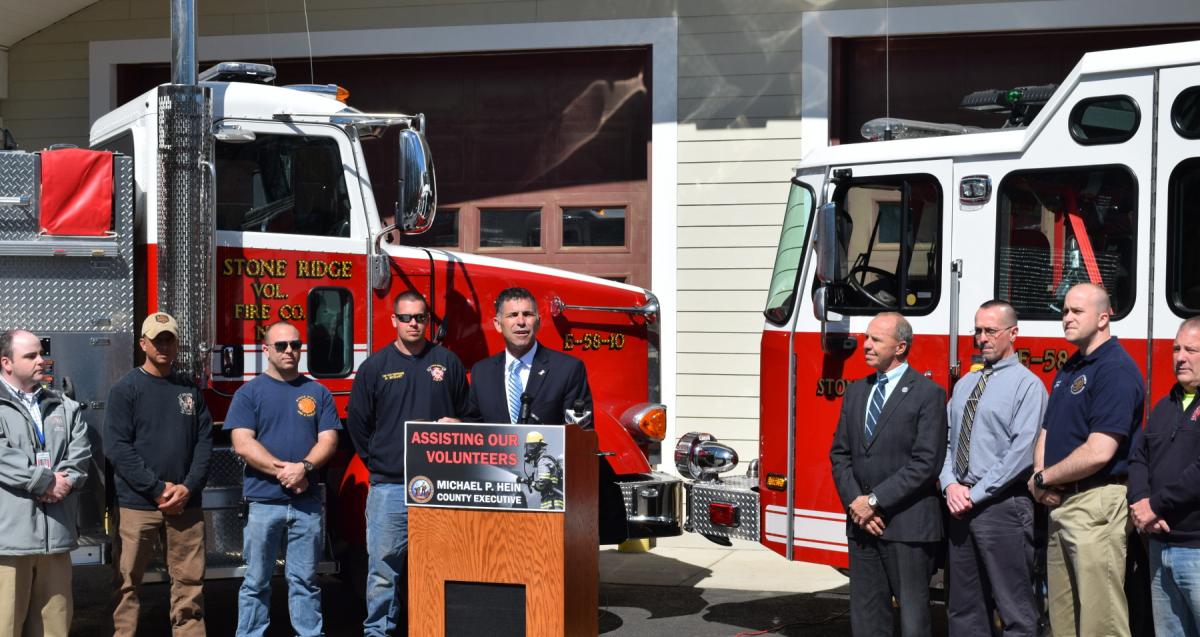 The County Executive's Program Will Assist The Fire Service In Ulster County For Generations To Come
Stone Ridge, N.Y. – With the Stone Ridge Fire Department as the backdrop and joined by representatives from fire companies across the County, Ulster County Executive Mike Hein unveiled an initiative that he hopes in partnership with the Ulster County Legislature and Fire Services Community will provide significant additional support to our local volunteer firefighters.  Known as the Ulster County F.I.R.S.T. (Firefighter Investment Recruitment Service and Training) Program, the County Executive's initiative proposes:
            a)         The evolution of the current Fire Coordinator position into a full-time one including an integral centralized training role as well as an expanded responsibility to facilitate and coordinate between Ulster County's 50 fire departments;
            b)         Training will be greatly enhanced by the construction of a state of the art fire training center that will be available to all departments within the county and which will be linked to SUNY Ulster;
            c)         Through this partnership with SUNY Ulster, a dedicated, credit-bearing firematic course of study will be offered on the college campus;
            d)         Grant funding to allow volunteer firefighters to attend SUNY Ulster without cost to them; and
            e)         Offer updated fiscal and insurance training, annually, for all departments.
 Michael P. Hein, Ulster County Executive
"As County Executive, I have witnessed first-hand the bravery of our fire departments as they have been on the front line of Hurricane Irene, Super Storm Sandy, massive wild fires like those at Sam's Point and countless medical emergencies, and I am in awe of their selfless bravery," said Ulster County Executive Mike Hein.  "I believe our community owes these outstanding individuals not only our gratitude but the finest training possible.   They put their own safety aside and volunteer to walk into the face of danger day in and day out.   Our community owes so much to each of you for all you sacrifice to keep us safe."  
 Steve Peterson, Director of Ulster County Emergency Management/Services
"The County Executive's plan will be a game-changer for our volunteer fire service," said Steve Peterson, Director of the Ulster County Department of Emergency Management.  "Volunteers will have state of the art training available to them, the expanded Fire Coordinator position will help increase cooperation and efficiency, and the partnership with SUNY Ulster is an innovative benefit for volunteers that will also help with recruitment and retention."
Everett Erichsen, Chairman of the Ulster County Fire Chiefs Association
"On behalf of the forty-nine volunteer fire departments in Ulster County, I want to thank the County Executive for this plan that will change firefighting in Ulster County for years to come," said Everett Erichsen, Chairman of the Ulster County Fire Chiefs Association "The Ulster County F.I.R.S.T. program demonstrates that the County Executive truly appreciates our role as volunteers, recognizes the importance of the work we do, and we are grateful to have such a strong partner in public safety."
Pictured Above: County Executive Hein at Stone Ridge Fire Department with volunteer firefighters