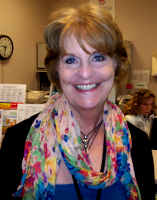 Kelly McMullen

Kelly McMullen, Director
1003 Development Court
Kingston, NY 12401
Phone: 845-340-3456 or Toll Free at 1-877-914-3456
Fax: 845-340-3583
Email: kmcm@co.ulster.ny.us
The Office for the Aging is a department that assists Ulster County seniors to be as independent as possible, for as long as possible in their own home with support. We work as advocates for seniors, offering information and referrals, as well as providing programs for a variety of services.
We have been helping the residents of Ulster County age with dignity for over 38 years.  Please call for additional information.
The Volunteer Program is Saved: A Message from Ulster County Executive Michael P. Hein - Read More Here!
A Message from Kelly McMullen
Director of the Office for the Aging-- 
Dear Ulster County Seniors,

I am busier than ever getting Office for the Aging programs and services set up!  You probably have heard we will be heading up the volunteer program formerly known as the RSVP program.  Our goal is to keep it exactly the same and just keep improving on a good thing!   Patrick McDonough will be our man in charge of things—and that means he will be taking orders from our fabulous volunteers who know the ropes. We are very pleased to have Patrick as a new member of our OFA family.  We also have a new part-time clerk, Rashon Forrest joining the OFA family!  We are growing to meet the needs of our seniors!

Our senior survey just wrapped up.  We had well over 300 responses!  I am putting a schedule together to get out to all parts of the county and share the results. 

I wish you a very happy 4th of July and a great summer.

Looking forward to seeing you soon—Keep in touch with me!!

Warmly,

Kelly

 Director
Upcoming Events