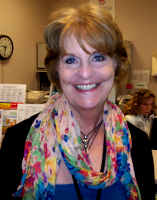 Kelly McMullen

Kelly McMullen, Director
1003 Development Court
Kingston, NY 12401
Phone: 845-340-3456 or Toll Free at 1-877-914-3456
Fax: 845-340-3583
Email: kmcm@co.ulster.ny.us
The Office for the Aging is a department that assists Ulster County seniors to be as independent as possible, for as long as possible in their own home with support. We work as advocates for seniors, offering information and referrals, as well as providing programs for a variety of services.
We have been helping the residents of Ulster County age with dignity for over 38 years.  Please call for additional information.
The Volunteer Program is Saved: A Message from Ulster County Executive Michael P. Hein - Read More Here!
A Message from Kelly McMullen
Director of the Office for the Aging-- 
Hello Ulster County Seniors!
We have had a great summer here at the Office for the Aging.  Hopefully many of you were able to attend our annual event, "Live Laugh and Learn".  It was a huge success (*see pictures on our "Live, Laugh, Learn" page in our Photo Gallery*).  I want to thank my staff for all their hard work and in particular, Christine Noble for making the day such a delight for so many seniors.
We have a busy September planned including the Senior Picnic, Falls Prevention, Medicare Orientation and the start of our Annual Hearings.  We encourage you to join us for any and all the above. 
I also want to let you know that if you are part of a senior group and would like a speaker from the Office for Aging to come speak to your members, please give us a call—We have Elder Law Attorneys, Medicare Specialists and Staff from the OFA  who can highlight our services.
Looking forward to seeing you soon!
Kelly
Director
CLICK HERE for the September Newsletter
A Message from Ulster County Executive Michael P. Hein
September is a busy month and it includes National Falls Prevention Awareness Day. Falls are the leading cause of injury among New Yorkers over 65.  Many falls can be prevented.  I invite and encourage Ulster County Seniors to join us for our free, annual event:
 Falls Prevention Seminar
September 21st, 2015 from 1-3pm
at the Esopus Town Hall
284 Broadway, Port Ewen, New York
Ulster County Office for the Aging is bringing experts from around the county to discuss preventing falls and how to make your home safe. Additionally, there will be a tai chi demonstration which can help improve strength and balance.
We all know how important it is to stay healthy and prevent accidents and injury due to falls and this program is designed to help keep you safe.
I hope you can join us!
Please call the Ulster County Office for the Aging to register for this free event at 845-340-3456.
Upcoming Events