Kim Butwell, Interim Director                                                                                                                                                                                                 

1003 Development Court
Kingston, NY 12401
Phone: 845-340-3456 or Toll Free at 1-877-914-3456
Fax: 845-340-3583
Email: kbut[at]co.ulster.ny[dot]us
The Office for the Aging is a department that assists Ulster County seniors to be as independent as possible, for as long as possible in their own home with support. We work as advocates for seniors, offering information and referrals, as well as providing programs for a variety of services.
We have been helping the residents of Ulster County age with dignity for over 38 years.  Please call for additional information.
The UCOFA Volunteer Program helps change lives:
Ulster County Executive Michael P. Hein saved the The Volunteer Program. Read below the wonderful work our volunteers are doing and how it's changing lives:
Linda Young of Highland, NY, has been using the Neighbor to Neighbor program, a component of the UCOFA Volunteer Program for almost four years. Below is a quote from her. We hope it motivates you to want to be apart of our team as we are always looking for more drivers:
"I can't tell you enough how grateful I am for everything you do. Everybody at Neighbor to Neighbor does such a great job…Marvin, Phil, Cathie…all of them. I've been calling for more appointments than normal lately, and they are always there for me. I have to tell you that time riding with all that good energy has helped. I got really great news today, I'm clear of cancer. You don't need to know that I guess, but I feel so happy today. I feel like Neighbor to Neighbor, and the drivers who are all volunteers, and their attitude about taking people where they need to go, has been part of my healing process. I'm sure it's part of the healing process for a lot of others too. When something really good happens, I think that deserves a huge thank you. And so I'm calling to thank you for your assistance with this process that I've gone through. The help you've given me has been superior. All of your drivers are not only wonderful drivers, they're always on time, they're good conversationalists, and I can't say enough good things about them. I just wanted to tell you that I am grateful for all you have given me."
To learn more about the UCOFA Volunteer Program and on how you can become a volunteer click here:
A Message from Kim Butwell, Acting Director
Dear Ulster County Seniors,
It feels like summer is buzzing by—and there is still a lot going on!
On August 17th Ulster County Executive Mike Hein and the Office for the Aging are pleased to offer our premier senior event, Live, Laugh and Learn.  It is a full day of fun for seniors.  We already have over 125 seniors signed up—please call our office at 845-340-3456 to get more information and a registration form (due August 4th !).
Remember! Seniors get free admission to the Ulster County Fair on Senior Day, August 3, 2017, 10:00 a.m. to 4:00 p.m..  Join some of the staff from the Office for the Aging at 11:30 in the Entertainment Area for Sing & Dance to the Oldies at the Fair, with DJ Jillie and her Karaoke screen where all can sing along to the oldies. Institute for Family Health will have cold water to give away to the seniors.
Looking ahead…We are introducing a new program in September, the Virtual Dementia Tour.  You have probably seen the goggles that create a virtual reality on TV shows.  We are partnering with the Alzheimer's Association to offer caregivers a virtual experience of what it is like for their loved one who is struggling with dementia.  This program has been eye-opening for caregivers, helping them understand what it "feels" like to try and do tasks of daily living with the onset of Alzheimer's.  There will be two locations—please see the flyers in this newsletter and call to reserve your spot.  In conjunction, we are working with Jewish Family Services to set up educational support groups for caregivers.
Please reach out to me with your thoughts and comments—I love to hear from Ulster County seniors!! Drink water, wear sun block and enjoy the Summer Season!
Happy Summer!
Kim Butwell
Acting Director
The Monthly Message from Ulster County Executive Michael P. Hein
Dear Ulster County Seniors,
I hope everyone is enjoying the summer! There are many great things happening in Ulster County, and I invite you to turn on your radio and tune in to Ulster County's 'Healthy Ulster Radio' program every Sunday.  The radio program is co-hosted by Ulster County Commissioner of Health and Mental Health Dr. Carol Smith and Director of Community Health Relations Vincent Martello, and features a variety of guests. The program airs on Pamal Broadcasting's Kingston based stations Sunday mornings:
           7:30 a.m.  -   WBPM (92.9 FM)
           8:30 a.m.  -   WGHQ (92.5 FM), WLNA (1420 FM), WGHQ (920 AM), and WBNR (1260 AM).
The weekly program explores community health and sustainability with guests representing a broad spectrum of community partners and sectors working to make Ulster County the healthiest county in New York State. There have been over 43 radio shows, and previous episodes can be located on the County's website at www.ulstercountyny.gov/health/healthy-ulster-radio, shows like #38, which highlights access to fresh and healthy local foods with special guest Kim Kondrat, Manager of the Kingston Farmer's Market, or show #43, which provides information on tick-borne disease prevention. In addition, we welcome any suggestions for topics or guests whom you believe would have something interesting and relevant to contribute, or if there are any comments or questions, please send an email to HealthyUlsterRadio[at]gmail[dot]com. 
Have a fun and safe summer!
 Mike Hein
County Executive
CLICK HERE for the August 2017 Newsletter
UCOFA in the Community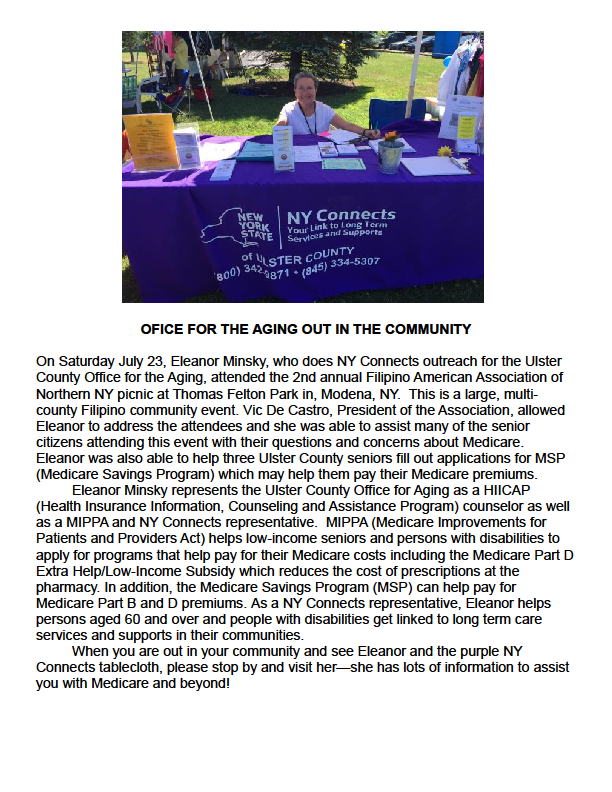 For pictures of UCOFA in the community visit our Photo Gallery page.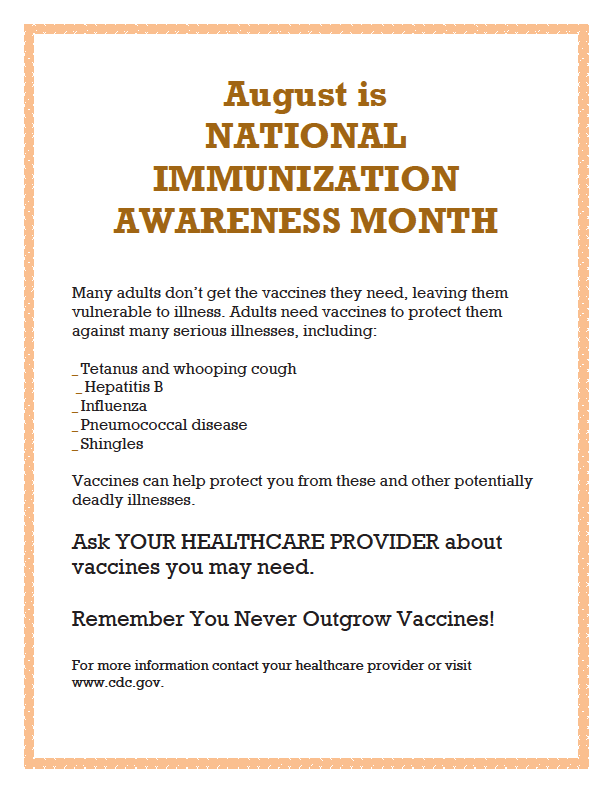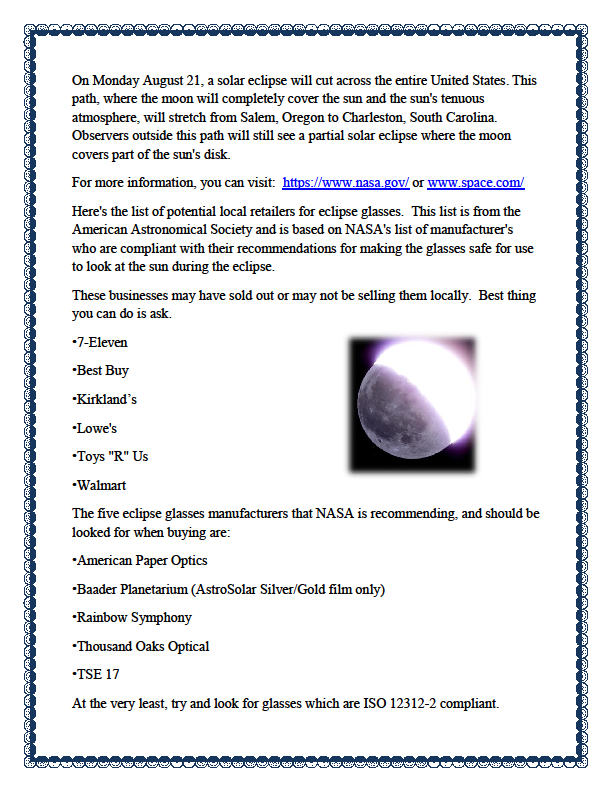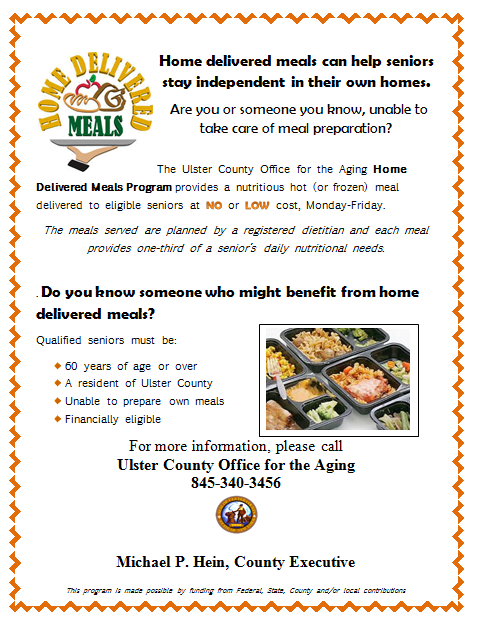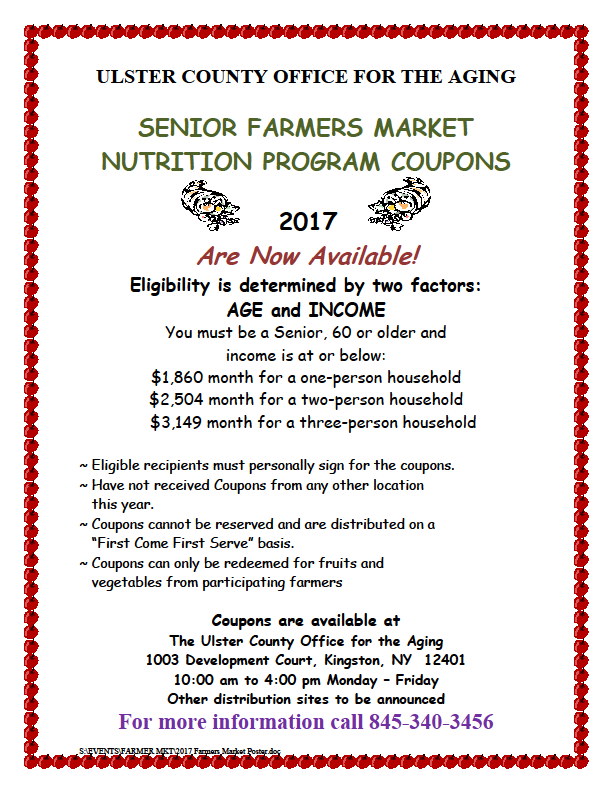 Upcoming Events