Kim Butwell, Interim Director                                                                                                                                                                                                 

1003 Development Court
Kingston, NY 12401
Phone: 845-340-3456 or Toll Free at 1-877-914-3456
Fax: 845-340-3583
Email: kbut[at]co.ulster.ny[dot]us
The Office for the Aging is a department that assists Ulster County seniors to be as independent as possible, for as long as possible in their own home with support. We work as advocates for seniors, offering information and referrals, as well as providing programs for a variety of services.
We have been helping the residents of Ulster County age with dignity for over 38 years.  Please call for additional information.
The UCOFA Volunteer Program helps change lives:
Ulster County Executive Michael P. Hein saved the The Volunteer Program. Read below the wonderful work our volunteers are doing and how it's changing lives:
Linda Young of Highland, NY, has been using the Neighbor to Neighbor program, a component of the UCOFA Volunteer Program for almost four years. Below is a quote from her. We hope it motivates you to want to be apart of our team as we are always looking for more drivers:
"I can't tell you enough how grateful I am for everything you do. Everybody at Neighbor to Neighbor does such a great job…Marvin, Phil, Cathie…all of them. I've been calling for more appointments than normal lately, and they are always there for me. I have to tell you that time riding with all that good energy has helped. I got really great news today, I'm clear of cancer. You don't need to know that I guess, but I feel so happy today. I feel like Neighbor to Neighbor, and the drivers who are all volunteers, and their attitude about taking people where they need to go, has been part of my healing process. I'm sure it's part of the healing process for a lot of others too. When something really good happens, I think that deserves a huge thank you. And so I'm calling to thank you for your assistance with this process that I've gone through. The help you've given me has been superior. All of your drivers are not only wonderful drivers, they're always on time, they're good conversationalists, and I can't say enough good things about them. I just wanted to tell you that I am grateful for all you have given me."
To learn more about the UCOFA Volunteer Program and on how you can become a volunteer click here:
A Message from Kim Butwell, Acting Director
Dear Ulster County Seniors,
Hope everyone is doing well as we approach the cooler and colorful season of autumn.  One of my favorite programs happens in September—Falls Prevention. Our mission at the OFA is to make sure people get the support they need to age with dignity in their home.  Staying well-informed and socially engaged is an important part of overall well-being. We have a great group of presenters for this senior Lunch & Learn program on September 27th at the American Legion in Highland.  We are adding a new component that I think is really important—The Fear of Falling.  Come hear what we need to do to stay engaged and active.  Call the OFA to RSVP- 845-340-3456.
Caregiving can be both rewarding and difficult at the same time.  The OFA wants to help support caregivers. We are offering several programs around caregiving in September:
•             Try our pilot caregiver program, Virtual Dementia Tour.  This is an interactive experience for caregivers to help them understand what it is like for their loved one.  Please call the OFA to reserve your spot.
•             Caregiver Support Group starting September 25 at Golden Hill.  This is a safe place where you can talk to other caregivers and be guided by a professional social worker from JFS.  RSVP to the OFA.
•             Respite Education and Support 2-day training.  Learn about the network offering a break to caregivers. Call 585-287-6393 for more information.
Looking ahead—we are planning THREE locations for Tai Chi Starting in October.  We have our Annual Hearing on October 3rd in Esopus and we want to hear from YOU!  Medicare Open Enrollment starts October 15th!  Our Volunteer Recognition Luncheon is October 24th —save that date all you wonderful volunteers!!
Keep in touch—let me know what the OFA can do for you.
Warmly,
Kim Butwell
Acting Director
The Monthly Message from Ulster County Executive Michael P. Hein
Dear Ulster County Seniors,
September is National Preparedness Month (NPM).  This important initiative encourages everyone to make a plan in order to know what to do during an emergency.  This year's theme of "Disasters Don't Plan Ahead. You Can." reminds us that "We should all take action to prepare! We are all able to help first responders in our community by training how to respond during an emergency and what to do when disaster strikes – where we live, work, and visit."    
This is a nationwide, month-long effort started by the Ready Campaign, and is in its 14th year, encouraging households, businesses and communities to prepare and plan for emergencies. Unfortunately, we never know when an emergency will take place as we have witnessed in the past with Hurricane Irene and Superstorm Sandy, and now with the devastating destruction of Hurricane Harvey in Texas.  National Preparedness Month provides us with a great reminder to be proactive and be prepared because a disaster or emergency could have life threatening implications. 
I urge you to assemble an emergency kit and create a plan.  To find out more information on how to do so please visit or call:
•             The Ready Campaign: https://www.ready.gov/kit, 1-800- BE-READY (1-800- 237-3239)
•             The Federal Emergency Management Agency:  www.community.fema.gov
•             The Center for Disease Control and Prevention: https://emergency.cdc.gov/preparedness/kit/disasters/ or 1-800-CDC-INFO (1-800-232-4636) 
•             Ulster County Department of Health's Public Health Preparedness Program at (845) 334-5540.
Having an emergency plan and being prepared will benefit ourselves, our families, neighbors and communities when faced with a crisis.
 Mike Hein
County Executive
CLICK HERE for the September 2017 Newsletter
UCOFA in the Community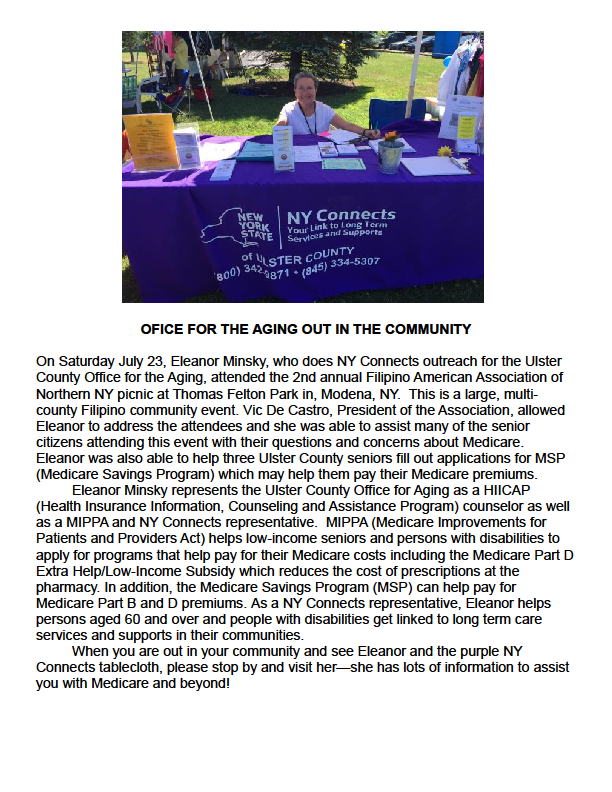 For pictures of UCOFA in the community visit our Photo Gallery page.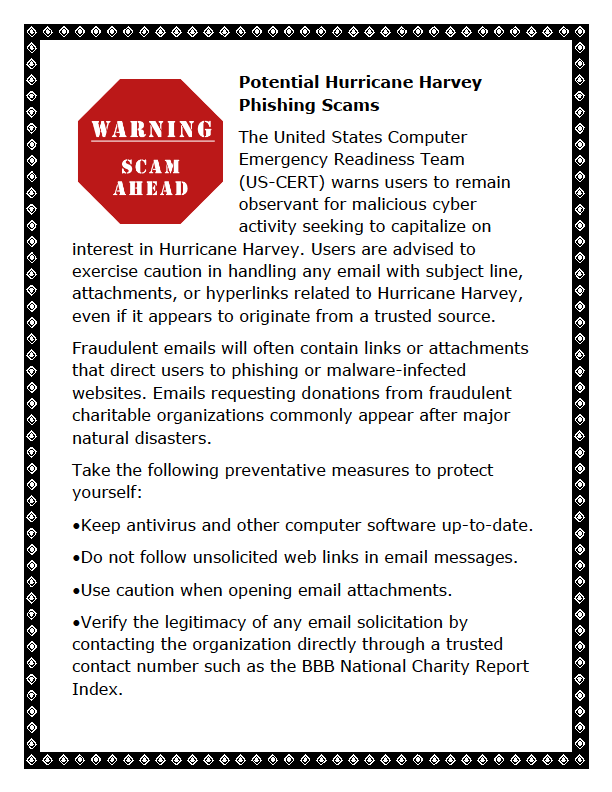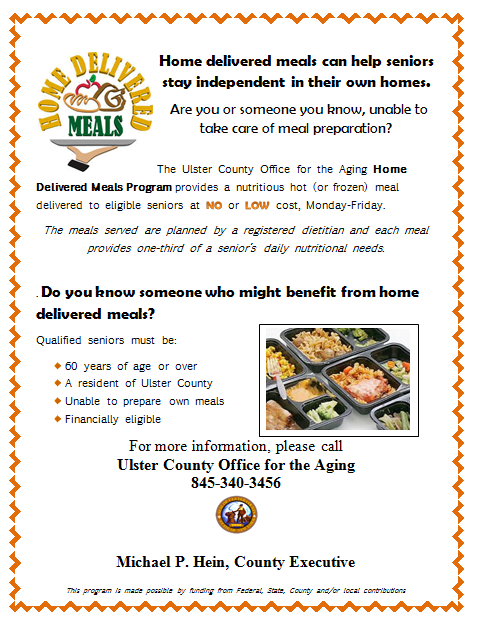 Upcoming Events