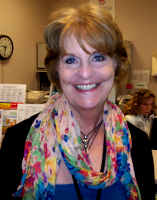 Kelly McMullen

Kelly McMullen, Director
1003 Development Court
Kingston, NY 12401
Phone: 845-340-3456 or Toll Free at 1-877-914-3456
Fax: 845-340-3583
Email: kmcm[at]co.ulster.ny[dot]us
The Office for the Aging is a department that assists Ulster County seniors to be as independent as possible, for as long as possible in their own home with support. We work as advocates for seniors, offering information and referrals, as well as providing programs for a variety of services.
We have been helping the residents of Ulster County age with dignity for over 38 years.  Please call for additional information.
The UCOFA Volunteer Program helps change lives:
Ulster County Executive Michael P. Hein saved the The Volunteer Program. Read below the wonderful work our volunteers are doing and how it's changing lives:
Linda Young of Highland, NY, has been using the Neighbor to Neighbor program, a component of the UCOFA Volunteer Program for almost four years. Below is a quote from her. We hope it motivates you to want to be apart of our team as we are always looking for more drivers:
"I can't tell you enough how grateful I am for everything you do. Everybody at Neighbor to Neighbor does such a great job…Marvin, Phil, Cathie…all of them. I've been calling for more appointments than normal lately, and they are always there for me. I have to tell you that time riding with all that good energy has helped. I got really great news today, I'm clear of cancer. You don't need to know that I guess, but I feel so happy today. I feel like Neighbor to Neighbor, and the drivers who are all volunteers, and their attitude about taking people where they need to go, has been part of my healing process. I'm sure it's part of the healing process for a lot of others too. When something really good happens, I think that deserves a huge thank you. And so I'm calling to thank you for your assistance with this process that I've gone through. The help you've given me has been superior. All of your drivers are not only wonderful drivers, they're always on time, they're good conversationalists, and I can't say enough good things about them. I just wanted to tell you that I am grateful for all you have given me."
To learn more about the UCOFA Volunteer Program and on how you can become a volunteer click here:
A Message from Kelly McMullen
Director of the Office for the Aging-- 
I want to remind you of the importance of Advanced Directives such as your will, health care proxy, power of attorney and end of life decisions. I know it can be difficult to talk to loved ones about this topic and it is up to you to take the initiative and express your wishes. One way to approach the subject is to talk about why you have decided to talk about this matter. For example, did an article in the newspaper or something that happened to friend make you think about it?
Sharing your end-of-life care decisions with your loved ones and filling out the necessary paperwork will help ensure that your wishes are understood and followed. When family and loved ones are left to guess your wishes, there can be disagreement and conflict. This conflict can negatively affect relations between family members, sometimes forever.  Research indicates that when these conversations have not been had prior to a medical crisis, family members tend to ask for any and all medical intervention, even if these are likely to leave a person with an extremely limited quality of life.  Having your wishes understood prior, can calm loved ones in the event of a crisis where quick decisions are presented by health professionals. 
Life is full of personal choices. Education about your options is essential to help understand your choices. Start researching now and share your wishes with family and with health care professionals. Make sure to review and update periodically.  You can change your plan as many times as you wish.  
Here are a few helpful websites on the topic:
http://www.nyc.gov/html/doh/html/living/adv-dir.shtml
https://www.everplans.com/articles/new-york-advance-directive-form - (Has all the different states listed with their laws.)
http://www.nysba.org/Healthcareproxy/ - (New York State Health Care Proxy Forms provided in different languages.)
https://www.easychoiceny.com/advance_directives - (Has direct hot-line phone numbers for help filling out forms.)
And remember—you have a friend at the Office for the Aging!
Warmly,
Kelly
Director
CLICK HERE for the April 2016 Newsletter
A Message from Ulster County Executive Michael P. Hein
Upon taking office in 2009, I set forth an aggressive goal to make Ulster County the healthiest county in New York State.   This goal was no small task because in 2010, the first year of the Robert Wood Johnson Foundation national health rankings, Ulster County was ranked #33 out of 62 Counties in New York State.  Now, I am pleased to announce that Ulster County is ranked #16 in New York State by the 2016 Robert Wood Johnson Foundation national health rankings, a better than 50% improvement.   The rankings compares counties within each state, throughout the country, on more than 30 factors that impact health, including social determinants such as education, jobs, housing, exercise, transportation, and more.
There is no doubt that a healthy community is a desirable place to live, work, raise a family, and to grow a business.  Achieving the goal of a healthy community has helped shape many of the decisions that we make every single day.  We have invested substantial resources in positively impacting the factors that influence community health. We have improved our environment by investing in renewable energy and becoming one of the first net carbon neutral counties in the nation. We are continuing to build a world class trail system and supporting bike and pedestrian friendly infrastructure throughout our local municipalities. And, to address the substantial negative health impacts associated with generational poverty, we have provided innovative and successful job training programs plus we've made affordable, college level education readily available right in Mid-town Kingston.  All this in addition to leading successful efforts to implement cutting edge health related public policy.  This has been an amazing community partnership and I thank everyone involved for their tremendous contributions. Ulster County continues to make incredible progress and that is something we can all be very proud of. 
Michael P. Hein
County Executive
Upcoming Events
New York State Senior Citizen's Day Recognition Event in Albany, Tuesday, May 10, 2016. There are two senior citizens from our area that will be honored at this event. Read about them below: