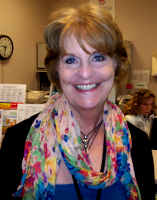 Kelly McMullen

Kelly McMullen, Director
1003 Development Court
Kingston, NY 12401
Phone: 845-340-3456 or Toll Free at 1-877-914-3456
Fax: 845-340-3583
Email: kmcm[at]co.ulster.ny[dot]us
The Office for the Aging is a department that assists Ulster County seniors to be as independent as possible, for as long as possible in their own home with support. We work as advocates for seniors, offering information and referrals, as well as providing programs for a variety of services.
We have been helping the residents of Ulster County age with dignity for over 38 years.  Please call for additional information.
The UCOFA Volunteer Program helps change lives:
Ulster County Executive Michael P. Hein saved the The Volunteer Program. Read below the wonderful work our volunteers are doing and how it's changing lives:
Linda Young of Highland, NY, has been using the Neighbor to Neighbor program, a component of the UCOFA Volunteer Program for almost four years. Below is a quote from her. We hope it motivates you to want to be apart of our team as we are always looking for more drivers:
"I can't tell you enough how grateful I am for everything you do. Everybody at Neighbor to Neighbor does such a great job…Marvin, Phil, Cathie…all of them. I've been calling for more appointments than normal lately, and they are always there for me. I have to tell you that time riding with all that good energy has helped. I got really great news today, I'm clear of cancer. You don't need to know that I guess, but I feel so happy today. I feel like Neighbor to Neighbor, and the drivers who are all volunteers, and their attitude about taking people where they need to go, has been part of my healing process. I'm sure it's part of the healing process for a lot of others too. When something really good happens, I think that deserves a huge thank you. And so I'm calling to thank you for your assistance with this process that I've gone through. The help you've given me has been superior. All of your drivers are not only wonderful drivers, they're always on time, they're good conversationalists, and I can't say enough good things about them. I just wanted to tell you that I am grateful for all you have given me."
To learn more about the UCOFA Volunteer Program and on how you can become a volunteer click here:
A Message from Kelly McMullen
Director of the Office for the Aging-- 
Dear Ulster County Seniors-
November means Thanksgiving to me—one of my favorite holidays because it's about family and food and I don't have to go shopping for unwanted presents!  It's also the beginning of the colder weather and longer nights.  Making sure seniors are safe is really important to me.  That is one of the reasons I love the Neighbor to Neighbor program which coordinates transportation for seniors who need a ride to the doctor.  In just over a year we have more than doubled the rides we are able to provide. I am so grateful to the County Executive, Mike Hein, who made it possible to keep this amazing network of volunteers intact and allowed the OFA to grow various volunteer programs. Research demonstrates that volunteering leads to improved health and more overall happiness.  The right match can help you reduce stress, find friends, and learn new skills, all while helping your community. If you are not a volunteer with the OFA yet, please call Pat McDonough, our volunteer coordinator, 845-802-7935, we might have a volunteer opportunity for you!
Join us for our Annual Public Hearing on Monday, November 7at 2 p.m.. This is a great opportunity to meet me and hear about what the Office for the Aging is doing around the County.  We try to get to different spots across the county with our outreach, and this year we will be at the Woodstock Jewish Congregation, 1682 Glasco Turnpike, Woodstock.  Call our office to RSVP 845-340-3456—we want to have enough cake and coffee!
Reminders…It is Open Enrollment for Medicare—Call our office to make a one-on-one appointment to review your coverage and make sure you are in the right plan.  We are offering appointments at the OFA and at some local libraries throughout the county.  We have additional hours for our legal services.  Call the OFA Front Desk for more info and an appointment 845-340-3456. If you would like accommodation such as a sign language interpreter or translation service for any of our events or services,  please let us know!
Wishing you a happy Thanksgiving and remember, you have a friend at the Ulster County Office for the Aging!
Kelly
Director
The Monthly Message from Ulster County Executive Michael P. Hein
I had the privilege to be the keynote speaker at our Ulster County Office for the Aging Volunteer Recognition Luncheon on Tuesday, October 25th.  There were over 200 people in attendance who were volunteers or were there to honor the volunteers.   I had the pleasure of meeting and thanking many of our amazing seniors.  Their dedication and commitment to volunteering in our community is truly appreciated. 
There are volunteer opportunities for all interests and skill levels with many of the volunteers working at multiple sites.   Some of the seniors I met are volunteering to drive seniors to doctor's appointments, engage children as a tutor or Pen Pal, make calls to the homebound, or help at hospitals, libraries and a whole host of other organizations. 
Once again, I would like to thank all of our volunteers for all they do and encourage seniors who may be interested in volunteering to contact our Office for the Aging.  Volunteers make such a great difference in the lives of our residents and our non-profit community simply could not function without their services.  Volunteers are not free—they are PRICELESS!  They are truly committed to making Ulster County the finest place anywhere to live, work and raise a family.
For more information on becoming a Volunteer with the Ulster County Office for the Aging please call 845-443-8836.
Mike Hein
County Executive
CLICK HERE for the November 2016 Newsletter
UCOFA in the Community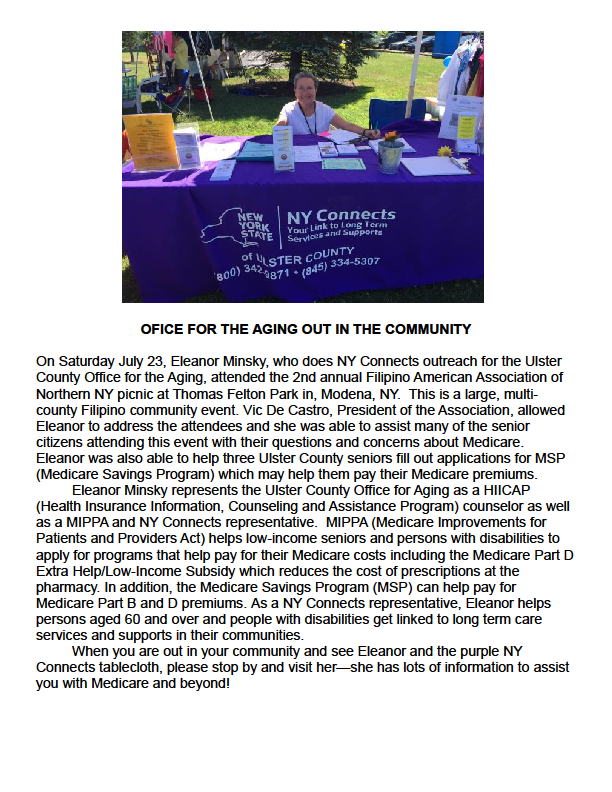 To my pictures of UCOFA in the community visit our Photo Gallery page.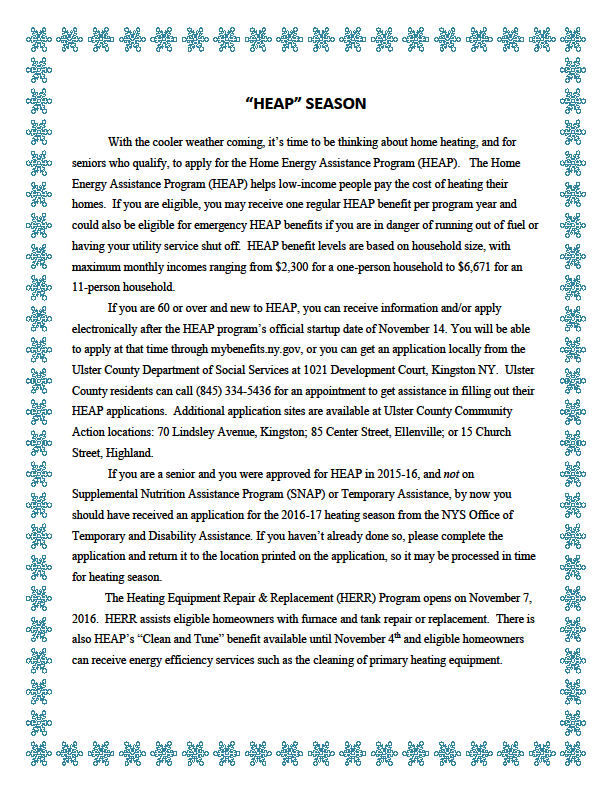 Upcoming Events