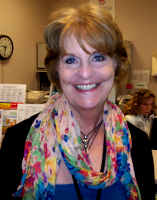 Kelly McMullen

Kelly McMullen, Director
1003 Development Court
Kingston, NY 12401
Phone: 845-340-3456 or Toll Free at 1-877-914-3456
Fax: 845-340-3583
Email: kmcm@co.ulster.ny.us
The Office for the Aging is a department that assists Ulster County seniors to be as independent as possible, for as long as possible in their own home with support. We work as advocates for seniors, offering information and referrals, as well as providing programs for a variety of services.
We have been helping the residents of Ulster County age with dignity for over 38 years.  Please call for additional information.
  A Message from Office for Aging Director, Kelly McMullen-- 
I am so happy Spring is here!  I am looking forward to some relief from all this cold and snow so people can get out and about again!  We want you to mark your calendar:
Don't hesitate to call with questions at 845-340-3578.
Warmly,
Kelly McMullen
Director
Medicare Saving Program
The Medicare Savings Program (MSP) helps millions of people on Medicare save money each year. MSP can pay some or all of your Medicare premiums and may pay Medicare deductibles and coinsurance. The maximum gross income for MSP is $1333/single; $1790/couple; your resources are not counted. If you know of someone you think may be eligible for MSP, please call the Office for the Aging for a HIICAP appointment. 845-340-3456.  
BEWARE!  TAXPAYERS TARGETED BY IRS PHONE SCAM  
 If you get a call from someone from the IRS demanding that you pay up or else, hang up. According to the Ulster County District Attorney's Division of Consumer Affairs, these individuals are out to cheat you.
This phone scam has hit taxpayers in nearly every state in the country. Callers claiming to be from the IRS tell intended victims they owe taxes and must pay using a pre-paid debit card or wire transfer. They often threaten those who refuse to pay with arrest, deportation or loss of a business or driver's license.
The truth is that the IRS will first contact people by mail – not by phone – about unpaid taxes. And the agency won't ask for payment using a pre-paid debit card or wire transfer.  The IRS will NOT ask for a credit card number over the phone.
If you get such a call, Consumer Affairs (340-3260) offers these suggestions:
·       If you owe Federal taxes, or think you might owe taxes, hang up and call the IRS at 800-829-1040. IRS workers can help you with payment questions.
·       If you don't owe taxes, call and report the incident to TIGTA (Treasury Inspector General for Tax Administration) at 800-366-4484.
TIGTA and the IRS encourage taxpayers to be alert for phone and e-mail scams that use the IRS name. The IRS will never request personal or financial information by e-mail, texting or any social media. These scam e-mails should be forwarded to phishing@irs.gov. Don't open any attachments or click on any links in those e-mails.