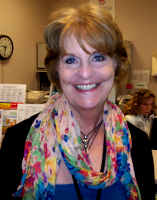 Kelly McMullen

Kelly McMullen, Director
1003 Development Court
Kingston, NY 12401
Phone: 845-340-3456 or Toll Free at 1-877-914-3456
Fax: 845-340-3583
Email: kmcm[at]co.ulster.ny[dot]us
The Office for the Aging is a department that assists Ulster County seniors to be as independent as possible, for as long as possible in their own home with support. We work as advocates for seniors, offering information and referrals, as well as providing programs for a variety of services.
We have been helping the residents of Ulster County age with dignity for over 38 years.  Please call for additional information.
The UCOFA Volunteer Program helps change lives:
Ulster County Executive Michael P. Hein saved the The Volunteer Program. Read below the wonderful work our volunteers are doing and how it's changing lives:
Linda Young of Highland, NY, has been using the Neighbor to Neighbor program, a component of the UCOFA Volunteer Program for almost four years. Below is a quote from her. We hope it motivates you to want to be apart of our team as we are always looking for more drivers:
"I can't tell you enough how grateful I am for everything you do. Everybody at Neighbor to Neighbor does such a great job…Marvin, Phil, Cathie…all of them. I've been calling for more appointments than normal lately, and they are always there for me. I have to tell you that time riding with all that good energy has helped. I got really great news today, I'm clear of cancer. You don't need to know that I guess, but I feel so happy today. I feel like Neighbor to Neighbor, and the drivers who are all volunteers, and their attitude about taking people where they need to go, has been part of my healing process. I'm sure it's part of the healing process for a lot of others too. When something really good happens, I think that deserves a huge thank you. And so I'm calling to thank you for your assistance with this process that I've gone through. The help you've given me has been superior. All of your drivers are not only wonderful drivers, they're always on time, they're good conversationalists, and I can't say enough good things about them. I just wanted to tell you that I am grateful for all you have given me."
To learn more about the UCOFA Volunteer Program and on how you can become a volunteer click here:
A Message from Kelly McMullen
Director of the Office for the Aging-- 
Hello Ulster County Seniors!
I am sad to say this is my last message to you as Director of the Office for the Aging because I am getting ready to retire.  I am so grateful to County Executive Mike Hein for allowing me to serve in this position and advocate for the seniors of Ulster County.  I loved working for and with the senior population and I want to thank each of you for the support and wisdom you have shared with me. 
My Deputy Director, Kim Butwell, will be here to provide leadership and maintain continuity while the County Executive processes the appointment of a new Director.   I feel totally confident leaving you in Kim's capable hands.  If you have any questions or concerns, give her a call at the office or stop by—her door is always open.
A few reminders for June… I am proud to report that there is a chapter of Statewide Senior Action Council starting up in Ulster County.  If you have issues or concerns about aging in New York State this is your way to be part of a larger voice.  Call 800-333-4374 for more information about the Ulster County Statewide Senior Action Council Chapter.   We have a Lunch and Learn at the BRC around Mental Agility and a Chronic Disease Self-Management program in Port Ewen starting June 15 and Tai Chi starting in Esopus on July 11.  Call the Office to reserve your spot!  There is an Ombudsman training starting in June—you can be a voice for people in assisted-living facilities and adult homes.  We need more than a few ombudsmen for Ulster facilities.  Please help us find volunteers.  Call Hudson valley Long Term Care Program at 845-229-4680 for more info. 
You can get one-on-one unbiased information on Medicare insurance and Pooled Trusts (Medicaid Spend Down) and Alzheimer's disease consultations in partnership with the Alzheimer's Association. Please call our office for more details on any of these programs or to make an appointment: 845-340-3456. 
Kelly
Director
The Monthly Message from Ulster County Executive Michael P. Hein
The month of May concluded with many memorial ceremonies held throughout the County to remember and pay respect to our fallen soldiers and their families for protecting our Country and our freedom.  On May 26th, Ulster County, Area Veterans, and members of the community gathered in front of the County Office Building to honor Ulster County Service Members at a beautiful candlelight ceremony at the Ulster County Memorial Roll of Honor.  The bravery of those who made the ultimate sacrifice is something we will never forget.
On the Homefront, Ulster County continues to work to improve government operations, deliver high quality services, and deliver a government worthy of the sacrifices made by so many.  And as Ulster County continues to hold down your countywide real property taxes, we are pleased to be selected 1 of 6 governments eligible for a New York State $20 million government efficiency grant to help deliver sweeping reforms that will improve our communities now and long into the future.  It is a rare opportunity to receive significant additional resources that would allow the County and its local government partners to develop a comprehensive plan to reimagine how services are delivered while working to reduce county property taxes. This opportunity was made possible due to my administration's hard work, sound financial management, and commitment to provide state-of-the art services while protecting the taxpayers of Ulster County.    
On a final note, as you may have heard, our Director of the Office for the Aging, Kelly McMullen, has retired.  We appreciate her many years of service to Ulster County and especially her dedication and commitment to the seniors in our community.  She will be missed and we wish her all of the best in her future endeavors.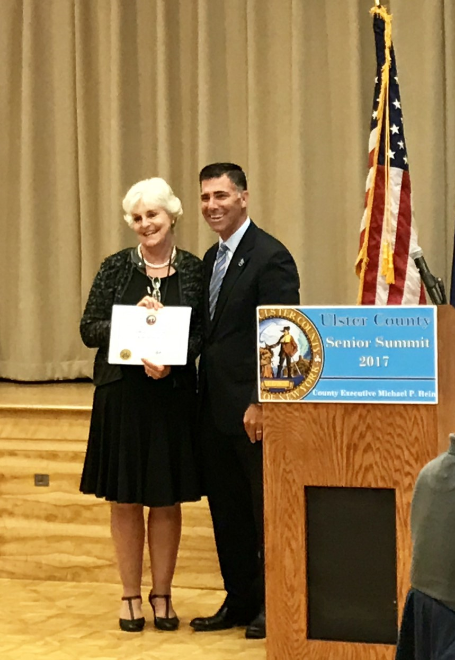 Ulster County Executive, Michael P. Hein presenting Kelly McMullen, Director of the Office for the Aging, with a Certificate of Appreciation noting her forthcoming retirement.   Senior Summit on May 22, 2017.
Mike Hein
County Executive
CLICK HERE for the June 2017 Newsletter
UCOFA in the Community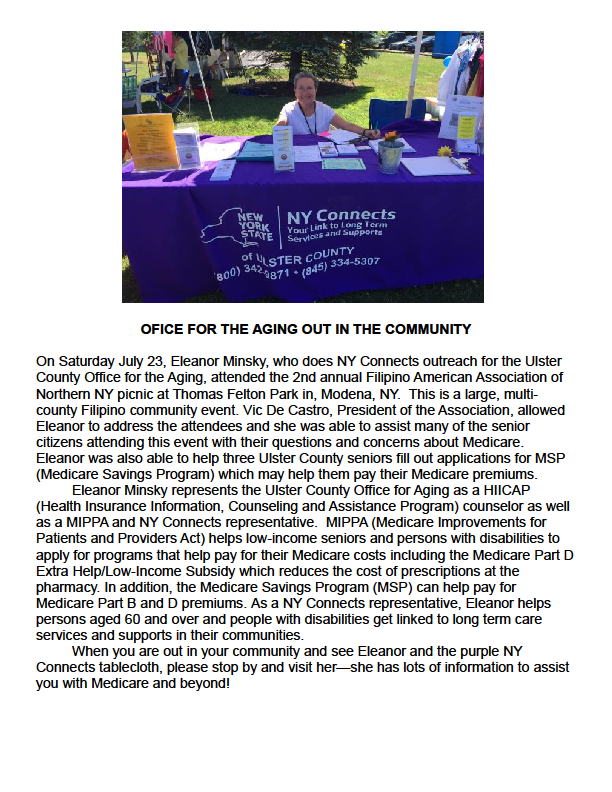 For pictures of UCOFA in the community visit our Photo Gallery page.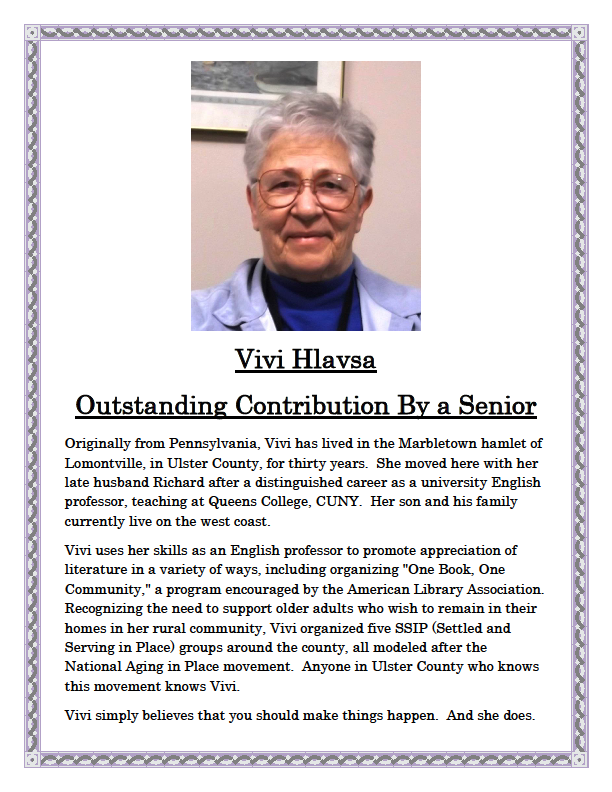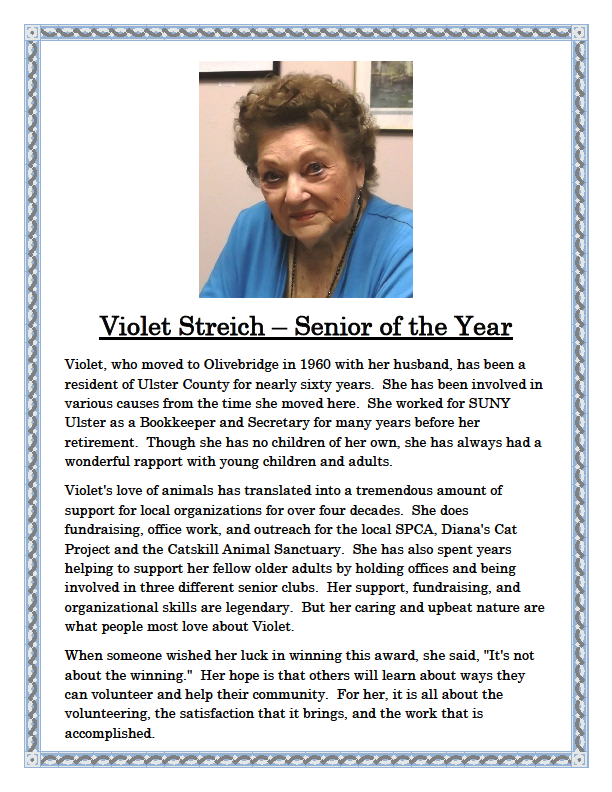 You know Violet, but do you know Violet? Little Violet was named after Violet, a 91 year-old who has been volunteering at Catskill Animal Sanctuary for nearly a decade! Here she is frolicking with Violet the goat, who was named after her.   
Upcoming Events