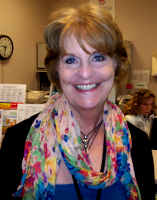 Kelly McMullen

Kelly McMullen, Director
1003 Development Court
Kingston, NY 12401
Phone: 845-340-3456 or Toll Free at 1-877-914-3456
Fax: 845-340-3583
Email: kmcm[at]co.ulster.ny[dot]us
The Office for the Aging is a department that assists Ulster County seniors to be as independent as possible, for as long as possible in their own home with support. We work as advocates for seniors, offering information and referrals, as well as providing programs for a variety of services.
We have been helping the residents of Ulster County age with dignity for over 38 years.  Please call for additional information.
The UCOFA Volunteer Program helps change lives:
Ulster County Executive Michael P. Hein saved the The Volunteer Program. Read below the wonderful work our volunteers are doing and how it's changing lives:
Linda Young of Highland, NY, has been using the Neighbor to Neighbor program, a component of the UCOFA Volunteer Program for almost four years. Below is a quote from her. We hope it motivates you to want to be apart of our team as we are always looking for more drivers:
"I can't tell you enough how grateful I am for everything you do. Everybody at Neighbor to Neighbor does such a great job…Marvin, Phil, Cathie…all of them. I've been calling for more appointments than normal lately, and they are always there for me. I have to tell you that time riding with all that good energy has helped. I got really great news today, I'm clear of cancer. You don't need to know that I guess, but I feel so happy today. I feel like Neighbor to Neighbor, and the drivers who are all volunteers, and their attitude about taking people where they need to go, has been part of my healing process. I'm sure it's part of the healing process for a lot of others too. When something really good happens, I think that deserves a huge thank you. And so I'm calling to thank you for your assistance with this process that I've gone through. The help you've given me has been superior. All of your drivers are not only wonderful drivers, they're always on time, they're good conversationalists, and I can't say enough good things about them. I just wanted to tell you that I am grateful for all you have given me."
To learn more about the UCOFA Volunteer Program and on how you can become a volunteer click here:
A Message from Kelly McMullen
Director of the Office for the Aging-- 
Hello Ulster County Seniors!
It is my pleasure to announce our two "Seniors of the Year" from Ulster County: Vivi Hlavsa of Lomontville and Violet Streich of Olivebridge. We thank them for their outstanding service to the community, and we look forward to celebrating them in Albany with the other winners from across New York State.  We will also be hosting a picnic on June 5th at Robert E. Post Memorial Park in Kingston to celebrate all the nominees.  Hope you can join us!
Statewide Senior Action Council provides information to educate the community, as well as state and federal policymakers, and has a track record of successful advocacy on issues of importance to older New Yorkers. Call 1-800-333-4374 for more info.
One of my focuses this past year has been to make sure seniors know how important it is to complete advanced care directives.  These include your will, healthcare proxy and living will.  It is a great gift to your family to have your wishes understood before a health crisis occurs.  Doctor Jose Sotolongo, a retired physician, is available to come out to speak to groups of seniors about this important topic. 
The Office for the Aging offers one-on-one appointments for legal assistance and unbiased information on Medicare and Pooled Trusts (Medicaid Spend Down).  We also offer Alzheimer's disease consultations in partnership with the Alzheimer's Association. Please call our office for more details: 340-3456.
We wish you a very happy spring!  
Kelly
Director
The Monthly Message from Ulster County Executive Michael P. Hein
Healthy Ulster County Week is May 6-May14, 2017 and we have a variety of activities planned for the week thanks to our local businesses and organizations providing special events and promotions throughout the week.  Take a class, participate in a walk, or enjoy a healthy meal and so much more as we continue our efforts to may Ulster County the healthiest County in New York State.  The Calendar of Events can be found on our websites: www.UlsterCountyNY.gov; www.HealthyUlsterCounty.net; www.UlsterCountyAlive.com; or call us at 845-340-3800 for a printed copy or more information.
In addition, you may have heard that recent weeks have seen Ulster County evolving into a hotbed for major movie productions. A new feature film titled "Departures" and starring Maisie Williams of the "Game of Thrones" and Nina Dobrev of "The Vampire Diaries" just began filming in uptown Kingston with shooting expected to last 24 days.  This comes on the heels of another film wrapping up production just last week; the comedy "Furlough" was on site in Kingston and the Town of Ulster, including scenes at the Ulster County Law Enforcement Center and featuring three Academy Award winners, Whoopi Goldberg, Anna Paquin and Melissa Leo.  The 2017 film production season in Ulster County kicked off with a bang earlier in the year as Kingston welcomed legendary director and producer Martin Scorsese who is serving as the executive producer of the feature film "Diane."
The dramatic increase in Ulster County's film production industry comes as a direct result of my Administration's efforts to push to include Ulster County in the New York State Upstate Film Tax Credit program that provides critical tax incentives to grow the motion picture industry.  The legislation was passed in November and as a result, the entire Mid-Hudson region was included and will benefit.  This now provides high value opportunities for our workers with low impact on our environment, while delivering millions to our economy.
Enjoy the spring and once again, thank you for all you do!
Mike Hein
County Executive
CLICK HERE for the May 2017 Newsletter
UCOFA in the Community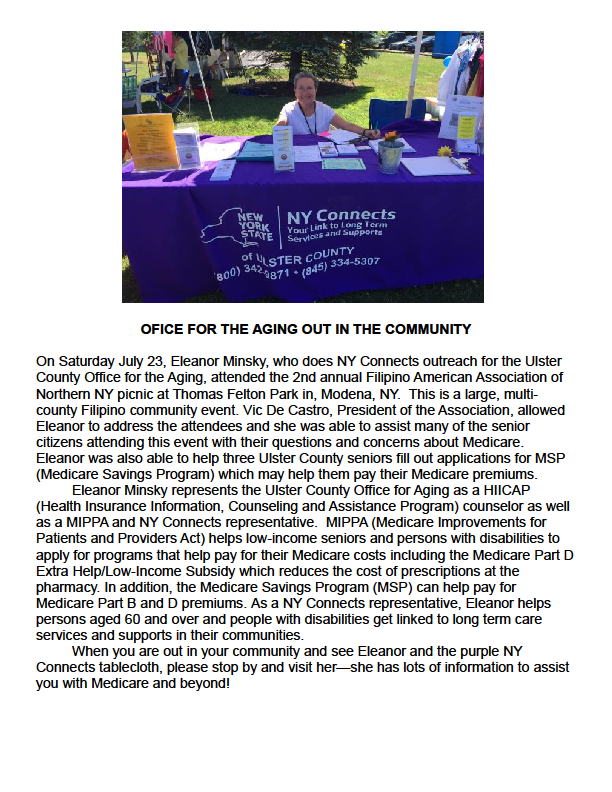 For pictures of UCOFA in the community visit our Photo Gallery page.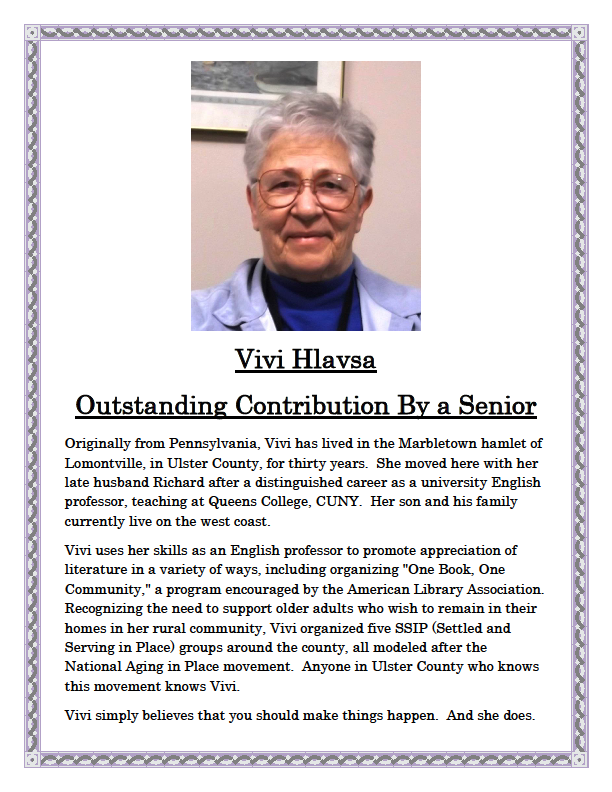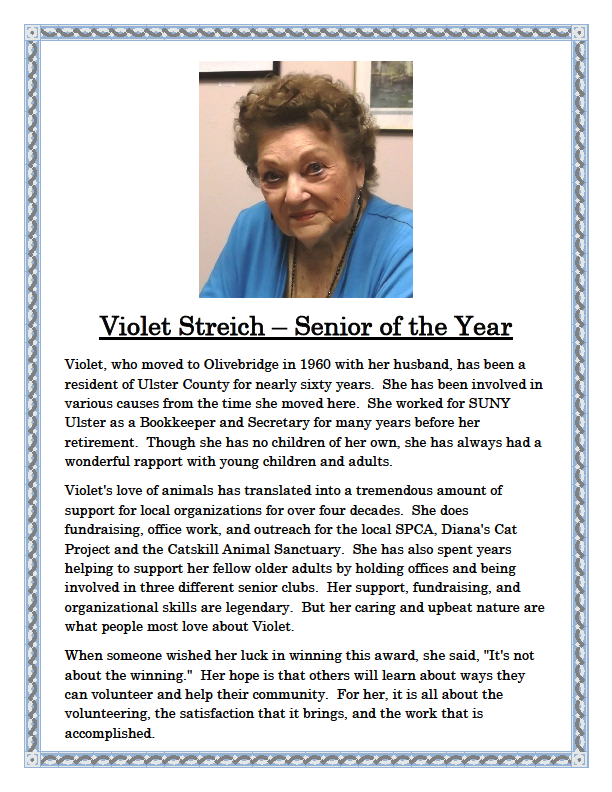 You know Violet, but do you know Violet? Little Violet was named after Violet, a 91 year-old who has been volunteering at Catskill Animal Sanctuary for nearly a decade! Here she is frolicking with Violet the goat, who was named after her.   
Upcoming Events