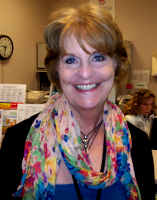 Kelly McMullen

Kelly McMullen, Director
1003 Development Court
Kingston, NY 12401
Phone: 845-340-3456 or Toll Free at 1-877-914-3456
Fax: 845-340-3583
Email: kmcm@co.ulster.ny.us
The Office for the Aging is a department that assists Ulster County seniors to be as independent as possible, for as long as possible in their own home with support. We work as advocates for seniors, offering information and referrals, as well as providing programs for a variety of services.
We have been helping the residents of Ulster County age with dignity for over 38 years.  Please call for additional information.
The Volunteer Program is Saved: A Message from Ulster County Executive Michael P. Hein - Read More Here!
A Message from Kelly McMullen
Director of the Office for the Aging-- 
Hello Ulster County Seniors!
Wow – Office for the Aging was busy all over the county in October- from Fall Festivals in Woodstock and Kingston to a Public Hearing in Marlboro , a Falls Prevention event in Highland and our first volunteer recognition luncheon in  Kingston—Plus we have added Medicare outreach at various libraries throughout the county to help more seniors during Open-enrollment. –BUSY—and loving it!!   We want to see more senior!
This newsletter is chock full of interesting things happening in November.  It is Care Giver Awareness Month and we want to acknowledge and support care givers in our community. There are two excellent events happing (see above)—please join us and our partners who are making these events possible. 
With the holidays and cold weather just around the corner we want to make sure seniors are safe and prepared.  Remember, you have a friend at the Ulster County Office for the Aging- We want to hear from you!
I wish you all a very Happy Thanksgiving and look forward to seeing you soon!
Kelly
Director
CLICK HERE for the November Newsletter
A Message from Ulster County Executive Michael P. Hein
Be Informed.  Be Prepared.  Be Safe.
It is that time of year again when the weather becomes cooler and we are more at risk for hurricanes and other extreme weather conditions. 
Below is some helpful information from our Department of Health with some important ideas on how to be prepared in the case of an emergency.
Mike Hein
County Executive

Additional Items: If you use eyeglass, hearing aids and hearing aid batteries, wheelchair batteries or oxygen, be sure you always have extras in your kit. Also have copies of your medical insurance, Medicare and Medicaid cards readily available. If you have a service animal, be sure to include food, water, collar with ID tag, medical records and other emergency pet supplies. For more information, visit ready.gov or call 1-800-BE-READY or click here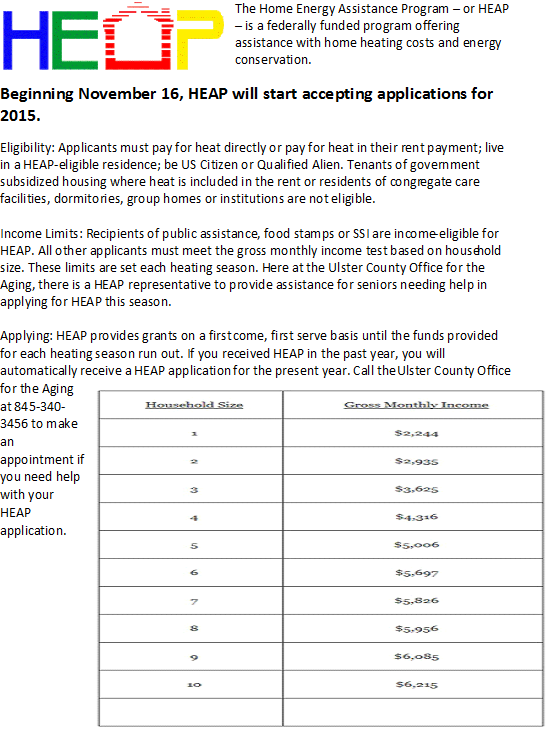 For more HEAP information CLICK HERE!
Upcoming Events