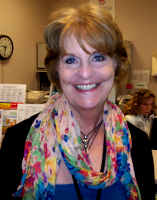 Kelly McMullen

Kelly McMullen, Director
1003 Development Court
Kingston, NY 12401
Phone: 845-340-3456 or Toll Free at 1-877-914-3456
Fax: 845-340-3583
Email: kmcm@co.ulster.ny.us
The Office for the Aging is a department that assists Ulster County seniors to be as independent as possible, for as long as possible in their own home with support. We work as advocates for seniors, offering information and referrals, as well as providing programs for a variety of services.
We have been helping the residents of Ulster County age with dignity for over 38 years.  Please call for additional information.
A Message from Office for Aging Director, Kelly McMullen--
Nominate a Senior of the Year for 2015!
Dear Friends,
Please take a moment to nominate a senior citizen who deserves recognition as a"Senior Citizen of the Year for 2015".Selected seniors, two from each county across the entire state of New York, are honored as part of the annual Celebration of Aging in May. This celebration involves a luncheon held in Albany where the seniors are publically recognized and honored by dignitaries including the Commissioner of the NY State Office for the Aging.
Last year, one of our two honorees, Donald Dubois, at the age of 100 years old, was the state wide senior of the year.Donald passed away in 2014.His family accompanied him to the Albany celebration last spring and told me how meaningful the honor was and how special the opportunity to be together in this way was for Donald and the family alike.
I encourage you to nominate a notable senior in your life or that you have admired from a far.  Please use the link above to print out a nomination form.
Don't hesitate to call with questions at 845-340-3578.
Warmly,
Kelly McMullen
Director
Ulster County Office for the Aging is focusing on Healthy New Year's Resolutions
The Chronic Disease Self-Management Program is a FREE community-based self-management program that assists people with chronic illness.  Participants who took the Program, when compared to those who did not, demonstrated significant improvements in exercise, cognitive symptom management, communication with physicians, self-reported general health, health distress, fatigue, disability, and social/role activities limitations. They also spent fewer days in the hospital, and there was also a trend toward fewer outpatient visits and hospitalizations. People with different chronic health problems attend together. Workshops are facilitated by two trained leaders. 
These FREE workshops are for people living with a chronic disease and their caregivers. Illnesses such as asthma, blood pressure, arthritis, diabetes  and heart disease are  typical conditions that  participants of these workshops have shown  proven health benefits.  Call the OFA to reserve your spot! 845-340-3456
Ellenville Senior Housing, Feb 2- Mar 9, Mondays at 1:30 p.m.
Vineyard Commons, Highland, Feb 6- Mar 13, Fridays at 2p.m.
Andy Murphy Neighborhood Center,267 Broadway Kingston,
Feb 13-Mar 20, Fridays at 12:30
Birches at Saugerties, Rte 9W, Feb 16- Mar 23, Mondays at 12:30
DIABETESE SPECIFC Workshop  at YMCA, Kinston, Feb 3-Mar 10 at 12:30