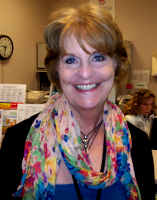 Kelly McMullen

Kelly McMullen, Director
1003 Development Court
Kingston, NY 12401
Phone: 845-340-3456 or Toll Free at 1-877-914-3456
Fax: 845-340-3583
Email: kmcm[at]co.ulster.ny[dot]us
The Office for the Aging is a department that assists Ulster County seniors to be as independent as possible, for as long as possible in their own home with support. We work as advocates for seniors, offering information and referrals, as well as providing programs for a variety of services.
We have been helping the residents of Ulster County age with dignity for over 38 years.  Please call for additional information.
The UCOFA Volunteer Program helps change lives:
Ulster County Executive Michael P. Hein saved the The Volunteer Program. Read below the wonderful work our volunteers are doing and how it's changing lives:
Linda Young of Highland, NY, has been using the Neighbor to Neighbor program, a component of the UCOFA Volunteer Program for almost four years. Below is a quote from her. We hope it motivates you to want to be apart of our team as we are always looking for more drivers:
"I can't tell you enough how grateful I am for everything you do. Everybody at Neighbor to Neighbor does such a great job…Marvin, Phil, Cathie…all of them. I've been calling for more appointments than normal lately, and they are always there for me. I have to tell you that time riding with all that good energy has helped. I got really great news today, I'm clear of cancer. You don't need to know that I guess, but I feel so happy today. I feel like Neighbor to Neighbor, and the drivers who are all volunteers, and their attitude about taking people where they need to go, has been part of my healing process. I'm sure it's part of the healing process for a lot of others too. When something really good happens, I think that deserves a huge thank you. And so I'm calling to thank you for your assistance with this process that I've gone through. The help you've given me has been superior. All of your drivers are not only wonderful drivers, they're always on time, they're good conversationalists, and I can't say enough good things about them. I just wanted to tell you that I am grateful for all you have given me."
To learn more about the UCOFA Volunteer Program and on how you can become a volunteer click here:
A Message from Kelly McMullen
Director of the Office for the Aging-- 
Hello Seniors!
Hope you are all having a great summer.  I have been here a little over two years and WOW, have we been busy bringing you lots of new exciting programs!  Many of you have come to our events in the community-- picnics, proms, Lunch & Learns and public hearings.  You have joined us for walking in the mall and our Chronic Disease Self-Management Programs as well as Tai Chi and Stretch Bands—We LOVE seeing you at all of these programs and events!!
Many of you know we now have the Ulster County volunteer program under our umbrella and we have grown that program as well.  We have doubled our Neighbor to Neighbor transportation program-- helping more seniors get rides to doctor appointments. One of my personal favorites is a program called "Ulster Checks-In", offering telephone reassurance and support.  Your warm voice could make all the difference to a lonely home-bound senior.  We are providing an informational session on Thursday, August 25, 2016 at 2 p.m..  Come hear about our Warm Call Program, a compassionate and flexible volunteer opportunity.  We also have some new, innovative outreach volunteer collaborations that we are supporting in the community including recruitment of ombudsman, the Raising Hope mentoring program, and the Compeer program!  Please join us for coffee and cake to hear more about these programs and to meet our new Warm Call Coordinator, Claire O'Brien.  Please call Pat McDonough to RSVP at 845-802-7935.
Just a reminder, Senior Day at the Ulster County Fair is August 4th-- Free admission for seniors from 10 a.m. – 4 p.m.!  Our signature event, LIVE, LAUGH AND LEARN, is August 18th— remember to sign up for a great day!!
I look forward to seeing you!
Warmly,
Kelly
Director
The Monthly Message from Ulster County Executive Michael P. Hein
It's summertime and there are so many great events and festivals around our beautiful County to enjoy such as: the Ulster County Fair in New Paltz; HITS-on-the-Hudson in Saugerties; the 7th Annual Phoenicia International Festival of the Voice; the 12th Annual Hudson Valley Rib Fest at the Ulster County Fairgrounds; the Blueberry Festival in Ellenville; and the Hooley on the Hudson Irish Festival at the Kingston waterfront - to name just a few.  Please visit www.UlsterCountyAlive.com for a more complete listing of events taking place throughout our County this summer.
Also, I would like to invite you to the Ulster County Office for the Aging's "Live, Laugh and Learn" a day of fun and interesting workshops on August 18th. This year it is being held at the Kingston Center of SUNY Ulster located at 94 Mary's Avenue in Kingston.  For more information please call the Office for the Aging at 845-340-3456 or visit our website at http://ulstercountyny.gov/aging.
Whether it is attending an outdoor festival or enjoying a picnic near the Hudson River, please remember to take care in the hot weather by drinking plenty of water and wearing sunscreen and a hat to avoid sunburn and overheating. 
With Best Regards for a fun and safe summer.
Mike Hein
County Executive
CLICK HERE for the August 2016 Newsletter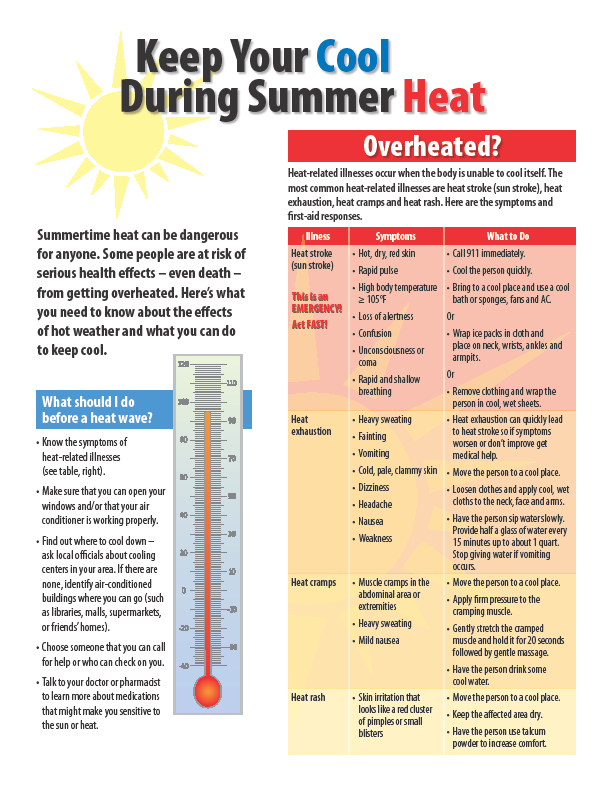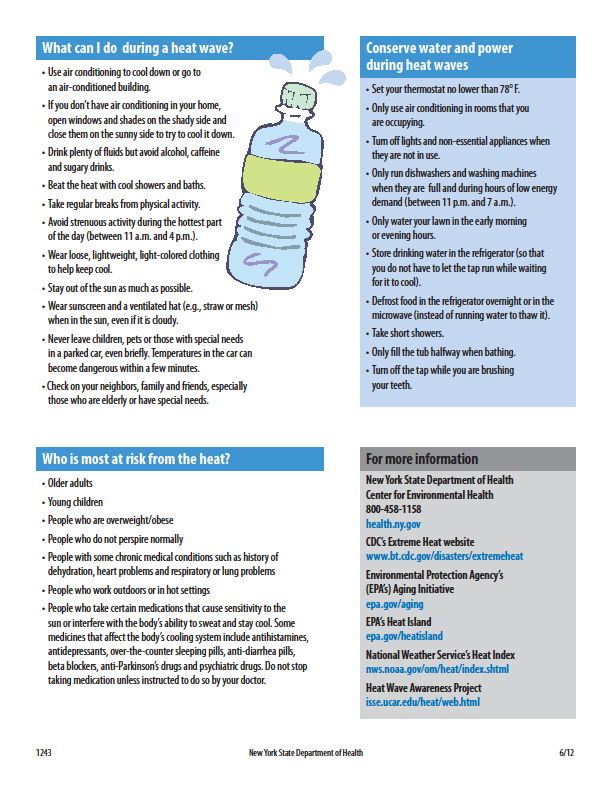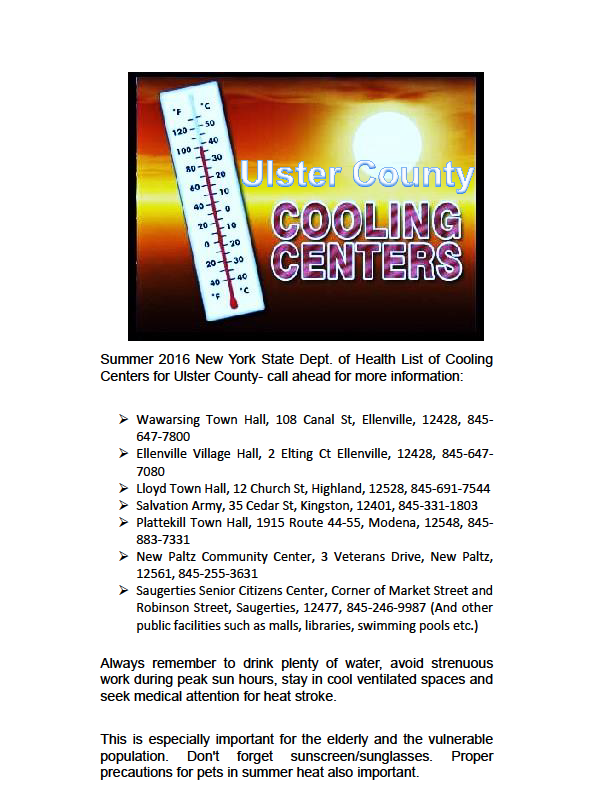 UCOFA in the Community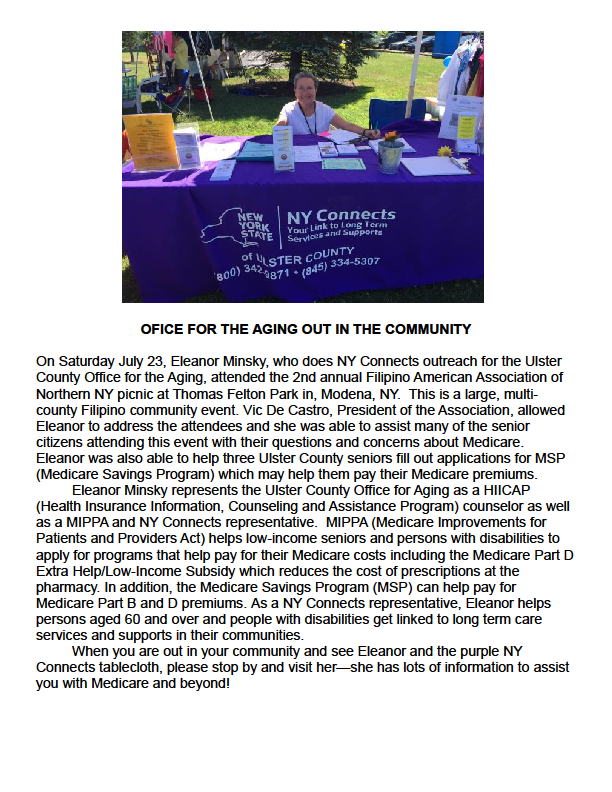 To my pictures of UCOFA in the community visit our Photo Gallery page.
Upcoming Events