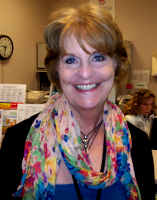 Kelly McMullen

Kelly McMullen, Director
1003 Development Court
Kingston, NY 12401
Phone: 845-340-3456 or Toll Free at 1-877-914-3456
Fax: 845-340-3583
Email: kmcm[at]co.ulster.ny[dot]us
The Office for the Aging is a department that assists Ulster County seniors to be as independent as possible, for as long as possible in their own home with support. We work as advocates for seniors, offering information and referrals, as well as providing programs for a variety of services.
We have been helping the residents of Ulster County age with dignity for over 38 years.  Please call for additional information.
The UCOFA Volunteer Program helps change lives:
Ulster County Executive Michael P. Hein saved the The Volunteer Program. Read below the wonderful work our volunteers are doing and how it's changing lives:
Linda Young of Highland, NY, has been using the Neighbor to Neighbor program, a component of the UCOFA Volunteer Program for almost four years. Below is a quote from her. We hope it motivates you to want to be apart of our team as we are always looking for more drivers:
"I can't tell you enough how grateful I am for everything you do. Everybody at Neighbor to Neighbor does such a great job…Marvin, Phil, Cathie…all of them. I've been calling for more appointments than normal lately, and they are always there for me. I have to tell you that time riding with all that good energy has helped. I got really great news today, I'm clear of cancer. You don't need to know that I guess, but I feel so happy today. I feel like Neighbor to Neighbor, and the drivers who are all volunteers, and their attitude about taking people where they need to go, has been part of my healing process. I'm sure it's part of the healing process for a lot of others too. When something really good happens, I think that deserves a huge thank you. And so I'm calling to thank you for your assistance with this process that I've gone through. The help you've given me has been superior. All of your drivers are not only wonderful drivers, they're always on time, they're good conversationalists, and I can't say enough good things about them. I just wanted to tell you that I am grateful for all you have given me."
To learn more about the UCOFA Volunteer Program and on how you can become a volunteer click here:
A Message from Kelly McMullen
Director of the Office for the Aging-- 
Spring is finally here and many homeowners will be embarking on home improvement projects. I want to share this information with our seniors from The Ulster County District Attorney's Division of Consumer Affairs and help AVOID HOME IMPROVEMENT SCAMS.
Warning signs that a home improvement contractor may not be reputable:
The contractor is hesitant to provide a written contract (or will not put verbal promises in writing).

The written contract does not have the name, address or telephone number of the contractor.

The contractor is located out of county or out of state.

The contractor shows up uninvited and offers to seal your driveway, repair your roof or cut down a tree.

The consumer is asked to pay for the entire job in advance, or to pay in cash.

The contractor uses high pressure sales tactics, stating a special price is "only available today".

The contractor is hesitant to furnish references.

The contractor has many judgments against him (judgments are filed with the County Clerk).

The contractor has unresolved consumer complaints on file with Consumer Affairs.
Doing some homework prior to hiring a contractor can save you lots of time and money. Ulster County Consumer Affairs can be reached at 845-340-3260.
Remember, you have a friend at the Ulster County Office for the Aging!
Warmly,
Kelly
Director
CLICK HERE for the May 2016 Newsletter
A Message from Ulster County Executive Michael P. Hein
The Ulster County Senior of the Year Award is an annual recognition of two outstanding Ulster County's senior citizens.  Nominations are sent to the County from numerous groups and individuals telling us about exceptional seniors throughout the County.  This year we are pleased to announce that James Gregston Greer of Walker Valley is the "Ulster County Senior Citizen of the Year," and Barbara Sarah of Kingston is being recognized for the "Most Outstanding Contribution by a Senior Citizen" in 2016.   Ms. Sarah and Mr. Greer are two inspiring senior citizens who are appreciated for their dedication and endless contributions to our community.  I would like to congratulate these extraordinary individuals and extend my deepest gratitude for their commitment in helping make Ulster County the finest place anywhere to live, learn, work, and raise a family. I feel proud that both these award winners will be representing Ulster County at the annual recognition luncheon in Albany on May 10th as part of New York State's celebration of Older Americans Month.                                             
Michael P. Hein
County Executive
Upcoming Events