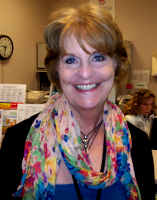 Kelly McMullen

Kelly McMullen, Director
1003 Development Court
Kingston, NY 12401
Phone: 845-340-3456 or Toll Free at 1-877-914-3456
Fax: 845-340-3583
Email: kmcm[at]co.ulster.ny[dot]us
The Office for the Aging is a department that assists Ulster County seniors to be as independent as possible, for as long as possible in their own home with support. We work as advocates for seniors, offering information and referrals, as well as providing programs for a variety of services.
We have been helping the residents of Ulster County age with dignity for over 38 years.  Please call for additional information.
The UCOFA Volunteer Program helps change lives:
Ulster County Executive Michael P. Hein saved the The Volunteer Program. Read below the wonderful work our volunteers are doing and how it's changing lives:
Linda Young of Highland, NY, has been using the Neighbor to Neighbor program, a component of the UCOFA Volunteer Program for almost four years. Below is a quote from her. We hope it motivates you to want to be apart of our team as we are always looking for more drivers:
"I can't tell you enough how grateful I am for everything you do. Everybody at Neighbor to Neighbor does such a great job…Marvin, Phil, Cathie…all of them. I've been calling for more appointments than normal lately, and they are always there for me. I have to tell you that time riding with all that good energy has helped. I got really great news today, I'm clear of cancer. You don't need to know that I guess, but I feel so happy today. I feel like Neighbor to Neighbor, and the drivers who are all volunteers, and their attitude about taking people where they need to go, has been part of my healing process. I'm sure it's part of the healing process for a lot of others too. When something really good happens, I think that deserves a huge thank you. And so I'm calling to thank you for your assistance with this process that I've gone through. The help you've given me has been superior. All of your drivers are not only wonderful drivers, they're always on time, they're good conversationalists, and I can't say enough good things about them. I just wanted to tell you that I am grateful for all you have given me."
To learn more about the UCOFA Volunteer Program and on how you can become a volunteer click here:
A Message from Kelly McMullen
Director of the Office for the Aging-- 
Dear Ulster County Seniors-
Happy Holidays!! This year went by so fast and I love reflecting on all the wonderful things the Office for the Aging has been able to accomplish over the past twelve months. My staff and I were out to over 100 senior clubs, groups and events to meet a lot of you in person this year. Many seniors are no longer able to get out to groups or events and I am happy to say we provided over 72,000 home delivered meals to over 500 people in 2016. We also started a program called "Ulster Checks-In", offering telephone reassurance and support from OFA volunteers. We reached out to over 40 isolated seniors across the county in 2016. Most of you know about our Neighbor to Neighbor program that matches up volunteers to drive seniors to doctor appointments or shopping. We doubled the rides we were able to provide in 2016! We can always use more volunteers—Call Patrick 802-7935 to talk about being part of our volunteer team. Our County Executive, Mike Hein is so supportive of the work we do at the Office for the Aging and I am grateful to him for his support and to my staff, who work really hard to help home bound seniors as well as the Ulster County seniors who are able to attend our events in the community.
For those who can join us, we are having two holiday cabaret celebrations. The cabaret at the Town of Ulster Senior Center filled up so quickly we found a second location at the American Legion in Highland on December 21st. We ask that you choose one or the other as we have so many people who want to attend! Call to RSVP--845-340-3456 —space is limited!
We have additional hours for our legal services. Call the OFA Front Desk for more info and an appointment 845-340-3456. If you would like accommodation such as a sign language interpreter or translation service for any of our events or services, please let us know!
We look forward to seeing you at our parties and events in the coming year! Wishing you the happiest of holidays from your friends at the Ulster County Office for the Aging!
Kelly
Director
The Monthly Message from Ulster County Executive Michael P. Hein
I am pleased to let our great residents know that Ulster County is the featured supplement in the December 2016 issue of National Geographic Magazine. This supplement is a beautiful pull-out, full color map entitled "Dreaming Green" that highlights some of the County's amazing environmental achievements. As you may know, National Geographic is a leading authority on geography, history and world culture and is circulated world-wide in 40 different languages and is read by 6.7 million people every month. We are very excited to be highlighted by National Geographic which can be found on newsstands worldwide. You may view the Ulster County Supplement "Dreaming Green: A Case Study" on National Geographic's website at http://www.nationalgeographic.com/magazine/2016/12/green-spaces-supplement/.
At this special time of year, I'd also like to wish you and your families a healthy and safe holiday season. I deeply appreciate the contributions all our seniors make in the community, as they continuously dedicate their time, talent and knowledge. We are all very fortunate to have such an amazing and caring group of seniors here in Ulster County.
Thank you for all you do. On behalf of my family and the entire Ulster County Government, I wish you and yours a wonderful holiday season and a very Happy New Year!
Mike Hein
County Executive
CLICK HERE for the January 2017 Newsletter
UCOFA in the Community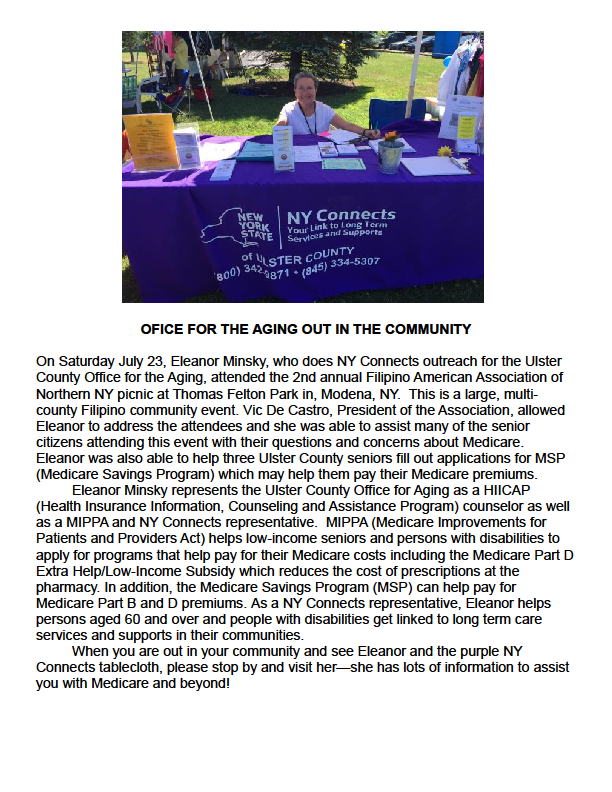 To my pictures of UCOFA in the community visit our Photo Gallery page.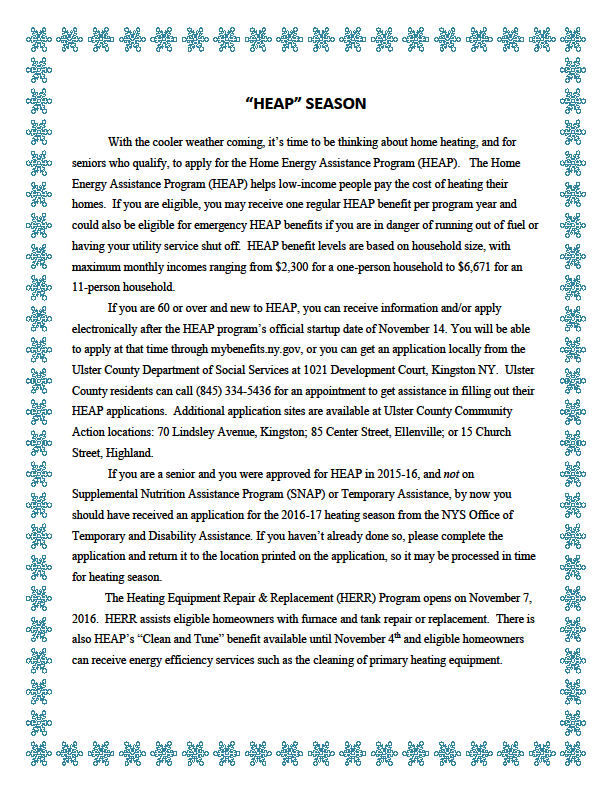 Upcoming Events