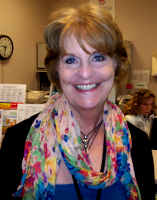 Kelly McMullen

Kelly McMullen, Director
1003 Development Court
Kingston, NY 12401
Phone: 845-340-3456 or Toll Free at 1-877-914-3456
Fax: 845-340-3583
Email: kmcm[at]co.ulster.ny[dot]us
The Office for the Aging is a department that assists Ulster County seniors to be as independent as possible, for as long as possible in their own home with support. We work as advocates for seniors, offering information and referrals, as well as providing programs for a variety of services.
We have been helping the residents of Ulster County age with dignity for over 38 years.  Please call for additional information.
The UCOFA Volunteer Program helps change lives:
Ulster County Executive Michael P. Hein saved the The Volunteer Program. Read below the wonderful work our volunteers are doing and how it's changing lives:
Linda Young of Highland, NY, has been using the Neighbor to Neighbor program, a component of the UCOFA Volunteer Program for almost four years. Below is a quote from her. We hope it motivates you to want to be apart of our team as we are always looking for more drivers:
"I can't tell you enough how grateful I am for everything you do. Everybody at Neighbor to Neighbor does such a great job…Marvin, Phil, Cathie…all of them. I've been calling for more appointments than normal lately, and they are always there for me. I have to tell you that time riding with all that good energy has helped. I got really great news today, I'm clear of cancer. You don't need to know that I guess, but I feel so happy today. I feel like Neighbor to Neighbor, and the drivers who are all volunteers, and their attitude about taking people where they need to go, has been part of my healing process. I'm sure it's part of the healing process for a lot of others too. When something really good happens, I think that deserves a huge thank you. And so I'm calling to thank you for your assistance with this process that I've gone through. The help you've given me has been superior. All of your drivers are not only wonderful drivers, they're always on time, they're good conversationalists, and I can't say enough good things about them. I just wanted to tell you that I am grateful for all you have given me."
To learn more about the UCOFA Volunteer Program and on how you can become a volunteer click here:
A Message from Kelly McMullen
Director of the Office for the Aging-- 
Hello Seniors!
It's time to think about Medicare!  We will be offering one-on-one Medicare counseling for Ulster seniors during Open Enrollment, which is October 15- December 7th.  We are partnering with libraries around the County to bring these services to where people live—Saugerties, Olive, West Hurley and more.  This is the time that you are able to change you Medicare plan.  The Ulster County Office for Aging has a whole team of volunteers who specialize in assisting seniors with Medicare options.  Give us a call and we can get you scheduled 845-340-3456.
OFA is partnering with Jewish Family Services to offer Caregiver and Care Receiver Support Groups Starting in October.  They will be held at Always There Home Care Agency in Kingston and will include peer support, information on community resources and support in problem solving. These support groups will be on Thursdays, from 11 am to noon -- Please call JFS to register 845-338-2980.
Good News! We are adding more hours to our legal program to help meet the growing requests for legal appointments.  Our attorneys can assist with preparation of wills, health care proxies, living wills and Powers of Attorney. Call the OFA for an appointment—845 340-3456.
We are hosting our Annual Public Hearing on November 7th at the Woodstock Jewish Congregation, 1682 Glasco Turnpike, Woodstock, NY at 2 p.m..  We will be serving coffee and cake and we would love to see you there! 
I try to get out to all parts of the County to hear from seniors and let you know what we are doing at the OFA.  If you would like me to come to your senior group to share what's happening at the OFA, just give me a call. Remember, you have a friend at the OFA—call if we can do anything for you or your neighbors.
Warmly,
Kelly
Director
The Monthly Message from Ulster County Executive Michael P. Hein
On September 30, 2016, I presented Ulster County's Executive Budget for 2017 at the Business Resource Center in the Town of Ulster.  I chose this location to allow the public an opportunity to see the vacant space available at the BRC that could be utilized as the new Family Court facility before the November 8th public referendum that seeks the public's approval to move the court from its current location.
To view information regarding the proposed relocation of Family Court please visit: http://ulstercountyny.gov/referendum-relocation-ulster-county-family-court.
The 2017 Executive Budget reduces property taxes again protecting our taxpayers and providing high quality services for our residents.  I am proud to say that the tax levy will now be less than it was in 2010 while we continue to provide more services than ever before, make unprecedented infrastructure investments, while also providing for our Veterans, Seniors and those most vulnerable.  Our residents and our taxpayers deserve and should expect that their County Government tighten its belt and be responsible with their tax dollars.  For more information on the 2017 Executive Budget please visit: http://ulstercountyny.gov/budget/ or call 845-340-3800.
As County Executive I have proclaimed October as Domestic Violence Awareness Month in Ulster County and my office and the Ulster County Inter-Agency Council on Domestic Violence are sponsoring the 4th Annual Domestic Violence Information Forum, featuring storytelling performances by TMI Project.  In addition, presentations will be made by various agency representatives discussing their roles in the domestic violence process.  The public is invited to this free event which will be held on October 27, 2016 at the SUNY Ulster College Lounge, Stone Ridge, NY from 8:30 a.m. – 12:00 p.m.  Pre-registration is required at http://www.sunyulster.edu/TMI_Project.  Domestic violence is a national epidemic that affects millions of people and many right here in our own community. It is important to shine a light on this difficult topic and let people know that there are resources available to help if they find themselves in an abusive relationship.   I urge anyone in need of help to call the 24 hour hotline at 845-338-2370.   
Mike Hein
County Executive
CLICK HERE for the October 2016 Newsletter
UCOFA in the Community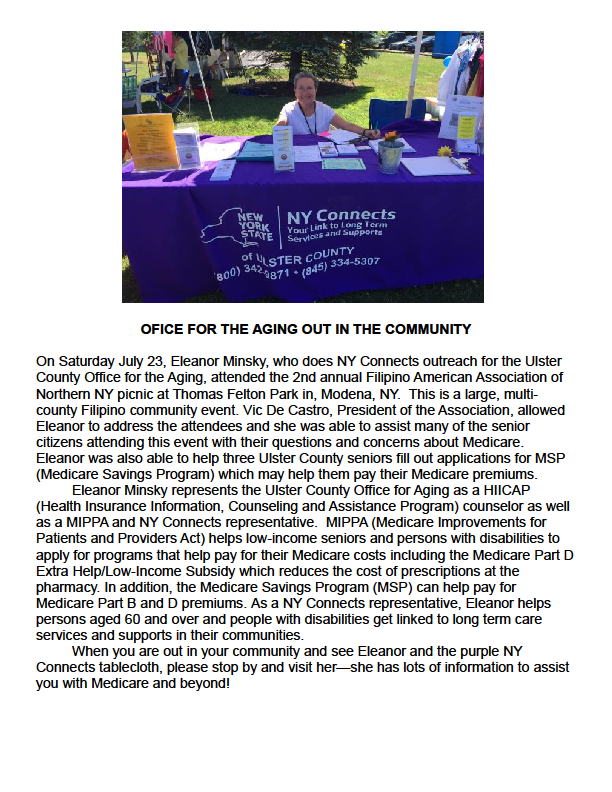 To my pictures of UCOFA in the community visit our Photo Gallery page.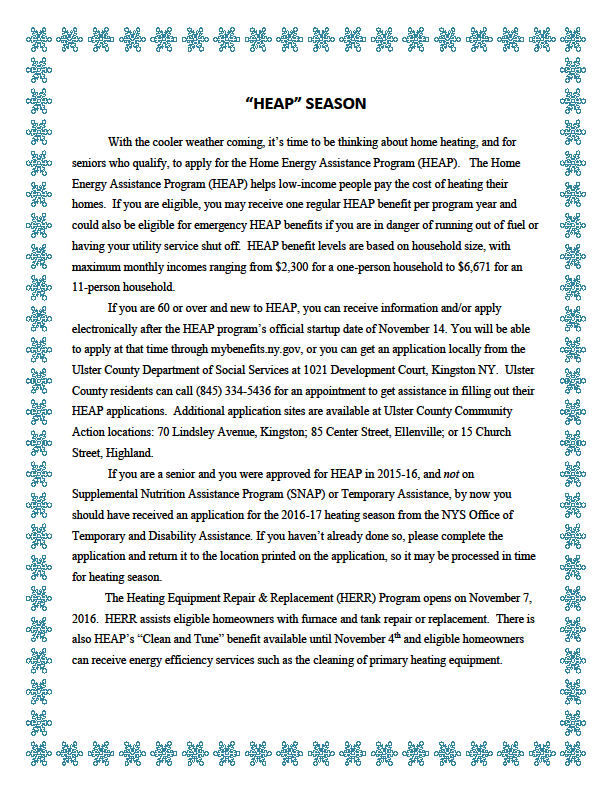 Upcoming Events