Posted December 18, 2013
Kingston, NY – Ulster County Executive Mike Hein thanks the members of Ironworkers Local #417 and community Veterans who braved the early snow and cold temperatures this past Thursday to help install the foundation for a wheelchair ramp at UlsterCounty's "Patriots Project" Veteran house at 67 Wurts Street in Kingston. Local #417 organized the donation of their time and talents to assist with the renovations at the Wurts Street location, which when completed, will provide transitional housing services for homeless Veterans in UlsterCounty.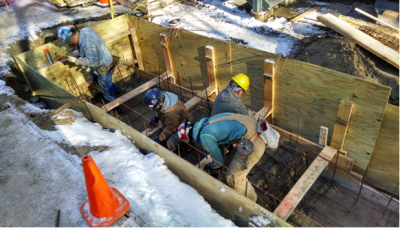 "It is wonderful to see everyone working together for such an important cause," said County Executive Hein. "Our local Veterans have sacrificed so much to protect our freedoms and liberty which is why the Patriots Project is such an important endeavor. I want to thank all those who contributed their time and talents to help complete the wheelchair ramp last week, as well as everyone else involved in this project. Working as a community we are one step closer to welcoming all of our Veterans home."
The Patriots Project will afford UlsterCounty the ability to provide Veterans the service they deserve. The total project is estimated to cost approximately $330,000 and will be a state of the art facility after fully rehabilitating the building. The County received approximately $150,000 from the sale of the SUNY Ulster President's Home and is receiving donations from both private and community partners. The CountyExecutive formed a Veterans Advisory Council earlier this year to oversee the project.
Those pictured installing rebar for the wheelchair ramp foundation are Veterans Joe Roddy and Bob Black from American Legion Post 1219, and Lou Maglanto, Jr, and John Pedrosa, members of Ironworkers Local #417. Those who helped but are not pictured include John Nilsen and John Creegan who are both Veterans from American Legion Post 1219 as well as members of Ironworkers Local #417. John Nilsen also serves on the CountyExecutive's Veteran Advisory Council. Individuals or businesses interested in supporting the Patriots Project may contact Ulster County Veteran Services for more information at 340-3190.