Funded by the NYS Office of Children and Family Services, the Ulster County Safe Harbour program seeks to raise public awareness and educate human services and law enforcement professionals about the exploitation and trafficking of youth for both sex and labor.  Our ultimate goal is to identify, respond to, and empower at-risk and trafficked youth with trauma-informed rehabilitative services including food, clothing, shelter, medical care, crisis intervention, educational and vocational counseling, and legal services.  In addition to providing services to youth, the Safe Harbour program has developed a robust Outreach and Prevention Education program.  Please see the  "Contacts and Services" tab for more information.
Click here to refer a youth for case management services
"The signing into law of the New York State Safe Harbour for Exploited Children Act in 2008 was a pivotal moment in protecting and securing services for sexually exploited youth.  Prior to the Act's passage, sexually exploited youth involved in illegal activities did not receive the protection of the Family Court and were instead prosecuted criminally, which did little more than to re-traumatize these victims.   Furthermore, once incarcerated, sexually exploited youth had no access to services that could address their specific social and emotional needs, and thus they often would return to a life on the streets once released.  The passage of the Act guaranteed that sexually exploited youth would be treated as child victims and be offered services that could pave the way for better outcomes." (NYS Office of Children and Family Services)
The Safe Harbour For Exploited Children Act (2008) defines a sexually exploited child as any person less than 18 years of age who has been subject to sexual exploitation as a result of their loitering for the purposes of prostitution or their engagement in an offer to exchange sexual conduct in return for food, clothing, a place to stay, drugs, or a fee.
Forms of commercial sexual exploitation of children can include images of sexual abuse (pornography), exotic dance or performance, cyber-enticement, sex tourism, and domestic minor sex trafficking.
*This law was created to protect sexually exploited children from being charged with a juvenile delinquent (JD) offense in appropriate cases. 
NYS Definition for Labor Trafficking
Compelling or inducing another to engage in labor, or recruiting, enticing, harboring or transporting another by providing drugs, withholding or destroying government documents, debt servicing, force, or a plan or pattern of coercive conduct.
---
2017 Trainings/Events
 FEATURED SPEAKERS/WORKSHOPS ANNOUNCED - REGISTER TODAY!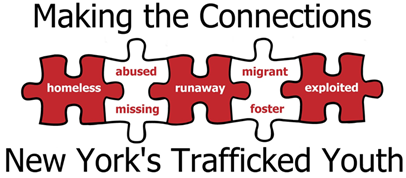 TUESDAY, MAY 9th 2017, 8:30AM-5PM
At the Best Western Conference Center in Kingston, NY 
Making the Connections for New York's Trafficked Youth is designed to prevent and resolve incidents of child sex trafficking in New York State by fostering the collaboration and cooperation among professionals, local and state law enforcement agencies, and social services providers who serve vulnerable children at risk of or already victims of sex trafficking. The day-long, multidisciplinary event of panel presentations and workshops will be focused on the statewide inter-connectedness of New York's missing, exploited, runaway, homeless, and trafficked youth.  
Featured Speakers and Workshops include:
Afua Addo, Women's Services Coordinator at The Center for Court Innovation's Gender J​ustice Team and Lead for the Hidden Victims Project
Nehal Raval, The New York Women's Foundation, Sex Trafficking of Minors in New York: Increasing Prevention and Collective Action
NY's Safe Harbour Programs: Learning from Success
Barriers to Identifying Trafficking Survivors in LGBTQ Communities, Lynly Egyes, Esq., Sex Workers Project at the Urban Justice Center
Creating Impactful Residential and Aftercare Services, Dr. David Crenshaw, Ph.D, ABPP - Clinical Director and Lori Stella, LCSW - Safe Harbour Program Director for the  Children's Home of Poughkeepsie
Human Trafficking is a Public Health Issue, Dr. Hanni Stoklosa. Emergency medicine physician at Brigham and Women's Hospital, co-founder of HEAL Trafficking in 2013, an independent, interdisciplinary network of healt                                                                         professionals working to combat human trafficking
Vulnerable Youth: Runaways and Transitioning From Care: Family of Woodstock (Ulster County) and The Center for Youth from (Monroe County)
State and Federal Resources
The Best Western Conference Center is conveniently located just off Kingston Thruway Exit 19 and across from the Trailways Bus Station. Rooms are available to participants at a special rate of $109/night.
$75 Conference Registration Fee includes Breakfast and Lunch.
To register online go to: https://making-the-connections-for-ny-trafficked-youth.eventbrite.com 
Child Find of America presents this conference with assistance from planning committee members:
Ulster County Department of Social Services' Safe Harbor program; the NY Office for Children and Family Services; the Stronger Families NY Coalition of the USDHHS, Region II, ACF; NYS Missing Persons Clearinghouse, and Give Way to Freedom.

For more information, call Child Find at 845-883-6060 or email:  donnalinder[at]childfindofamerica[dot]org 
Child Labor, Forced Labor, and Human Trafficking
June 6, 2017
TWO IDENTICAL SESSIONS!!
9:00AM - 12:00 PM
OR
2:00PM - 5:00 PM
Ulster County Department of Social Services Downstairs Conference Rooms A,B, and C
PLEASE RSVP TO JACKIE ARSENUK, SAFE HARBOUR COORDINATOR AT ULSTER.SAFEHARBOUR[at]GMAIL[dot]COM OR 845-390-3927
Worker Justice Center of New York has been leading the fight against human trafficking in agriculture for over 30 years. Having presented their work nationally and internationally, their staff and organization have gained respect and recognition as the leader in investigations of human trafficking in agriculture. They have now expanded their focus to other industries, both urban and rural.
This training will be facilitated by Renan Salgado, Human Trafficking Specialist and Cheryl Ghee, Domestic and Sexual Violence Project Coordinator/Case Manager.