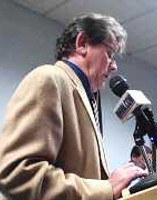 Dennis
Doyle
Dennis Doyle, Director
County Office Building
244 Fair Street, 6th Floor
Kingston, NY 12401
Phone: (845) 340-3340
Email: planning@co.ulster.ny.us
Latest Updates:
Ulster County Planning Board's May 6th Agenda is Now Available.
The Agricultural and Farmland Protection Board met on May 14th and issued its recommendation for this year's agricultural district inclusions.
The Ulster County Legislature voted to remove land parcels from Agricultural District #2  Click here for more information.