Posted October 19, 2017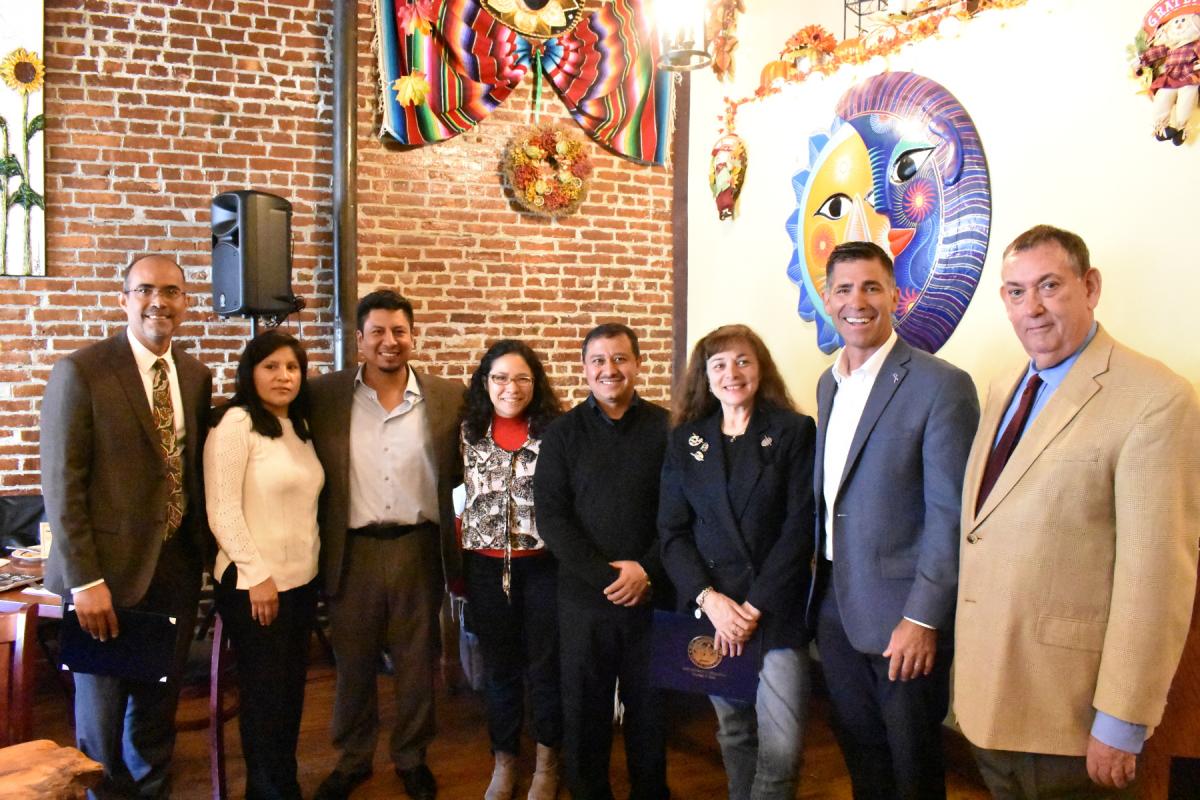 Ellenville, N.Y. – Ulster County Executive Mike Hein was joined by Arnaldo Sehwerert, Ph.D., Regional Director of the Mid-Hudson Small Business Development Center and members of the community at Gaby's Café in Ellenville to celebrate Hispanic Heritage in Ulster County and recognize local leaders in the Hispanic community.  The County Executive recognized the following individuals for their cultural and economic impact on the community:  Mariel Fiori, Marco Ochoa, Genaro Garcia, Antonio Bonilla, and Eliza Pritzker.
Michael P. Hein, Ulster County Executive
"As we highlight our local history during Ulster County's Cultural Heritage Week and as Hispanic Heritage Month concludes, it is important to recognize individuals in our community who are truly making a difference," said County Executive Mike Hein.  "The honorees are outstanding individuals who impact everyone around them whether it is through education, art, business or their leadership and communication skills. It is a privilege to recognize these exceptional community leaders for their commitment and dedication to cultural heritage and the contributions they make to all the people of Ulster County." 
Arnaldo Sehwerert, Ph.D., Regional Director of the Mid-Hudson Small Business Development Center
"Our Latino neighbors continue to make important contributions to the economic wellness, business development and cultural diversity in Ulster County and, in return, have received acceptance and support from one of the most welcoming communities in their adopted country," said Arnaldo Sehwerert, Ph.D., Regional Director of the Mid-Hudson Small Business Development Center.  "I appreciate County Executive Hein's efforts to recognize those leaders in our community who are making a difference."
The honorees are:
Mariel Fiori, MBA, Co-Founder and Managing Editor, La Voz – Mariel Fiori is a journalist, translator, educator and an entrepreneur. She co-founded and is the managing editor of the Bard-sponsored La Voz, cultura y noticias hispanas del Valle de Hudson. Since 2004 the award- winning La Voz is the only Spanish language magazine serving the 140,000 Latinos living in the Mid-Hudson Valley and Catskill mountains. She also co-hosts a weekly Spanish language news radio show for WVKR and WHDD.  Mariel is originally from Buenos Aires and prior to coming to the United States in 2003, she lived and worked in Spain for two years.  Fiori holds an MBA from NYU, Stern School of Business and a bachelor's degree in Spanish and Latin American and Iberian Studies from Bard College and has worked with different mass media groups and independent media in Argentina, Spain and the United States as a researcher, writer, translator, editor and radio and television producer.  In addition to La Voz, Mariel is Chair of the Ulster County Hispanic Advisory Board Mano a Mano Coalition, member of the National Association of Hispanic Journalists (NAHJ), the American Association of University Women (AAUW), and the American Translators Association (ATA). She also serves on the advisory board of Re-Think Local Hudson Valley and Arts Mid-Hudson, and is a board member of the newly created Radio Kingston.
"As journalists, we have been given a great responsibility to fill the role of the "fourth power." This is to say that in today's democracy, which includes the executive power, the legislative power, and the judicial power, the power of the press is to inform the citizens so that they can make the best decisions about their government and about their lives. At La Voz, we have been doing our part since 2004 to build an informed, Spanish-speaking public in our region of the Hudson Valley (and now in the Catskills as well). I am thankful for this honor from County Executive Hein, and I hope to see more Latinos receiving this award in years to come," said Mariel Fiori, Co-Founder and Managing Editor of La Voz Magazine.
Marco Antonio Ochoa, Kingston Business Owner and Community Leader – Marco Antonio Ochoa is an immigrant from Mexico who received his formal education at the Universidad Nacional Autonoma de Mexico, a place that provided him with a high level of social awareness.  As a new immigrant, Marco worked in restaurants and gardening, learned English and studied plumbing and electricity.  He began his own construction company, M&A Ochoa Home Improvements and Land Maintenance and also owns a business managing eight rental properties in the area.  Although Marco was successful, he felt that true happiness is found in helping others.  Marco felt he needed to return something to his community and he is known as "the voice of the community."  He serves as an interpreter and liaison between the Hispanic community and the Kingston Police Department to assist with communicational issues, he is a community activist and a member of the Ulster County Youth Board.
"It is an honor to receive this award from the Ulster County Executive, and have the opportunity to live and work in a welcoming and inclusive city with great leadership," said Marco Ochoa, Kingston Business Owner and Community Leader. "I am looking forward for a better tomorrow for everyone."
Genaro Garcia, Ellenville Business Owner and Community Leader – Genaro Garcia immigrated to Queens, New York from Mexico in 1988 at the age of 13. He began as a dishwasher at the coffee shop in downtown Manhattan and later moved up the ranks from bussing and waiting tables to kitchen prep, cooking and bartending, gaining the necessary skills to own and successfully manage his restaurants with the help and support of his wife Maria.  With her help, vision and dedication they have been able to grow from the original small Gaby's Cafe located in Ellenville to open another larger location in Rhinebeck, and thereafter acquiring and building a much larger location in Ellenville to meet demand. In the midst of all this business growth, there were many hurdles like language, economic and cultural concerns; barriers which he conquered without forgetting his roots and identity.  Therefore, whenever the chance arises for him to contribute to the community he takes full advantage of it.  Regularly, he is involved with the Cinco de Mayo Festival and Parade in Ellenville which is partnered with the Ellenville Public Library and Museum.  This year marks the 7th consecutive year.  The Shadowland Theatre in Ellenville is another organization where Genaro can be found giving regular support.  Whether it is at the concession facility or sponsoring a show, he feels that the theatre benefits the community as a whole and it is important to be supportive.  Genaro can be found supporting many other local organizations such as the Police Department, Sheriff's Department, Fire Department, Ellenville School District, along with the Hospital. 
"Nos sentimos honrados por este reconocimiento a la contribucion de la comunidad Latina al bienestar de Ulster County y le damos las gracias al Ejecutivo Mike Hein for su apoyo y reconocimiento," Genaro Garcia, Ellenville Business Owner and Community Leader.
"We are honored by this acknowledgment of the contributions of the Latino community to the wellbeing of Ulster County and thank County Executive Mike Hein for his support and recognition," said Genaro Garcia, Ellenville Business Owner and Community Leader.
Antonio Bonilla, Director, Educational Opportunity Program at SUNY New Paltz - Antonio "Tony" Bonilla arrived in the United States from the Republica Dominicana at age 10.  His mother worked hard to support her children and provide them a path to the opportunities that an American education would provide.  Tony was an eager learner, adapted to his English-speaking surroundings and excelled in school and volleyball.  Upon acceptance to SUNY New Paltz through the Educational Opportunity Program (EOP), Tony worked on his degree while becoming one of the top ranked volleyball players in the country and was on his way to the beginning of a coaching career.  At New Paltz Tony found the love of his life: his wife Raquel.  Tony has worked for EOP for the past 24 years in various positions, worked in prisons to help inmates work toward a college education, and as SUNY New Paltz's Volleyball Coach for the Men's and Women's team, leading the men's team to the campus' first National Championship.  He has received the NCAA Assistant Coach of the Year for two consecutive years as well as national recognition for his work with EOP.  However, Tony's biggest source of pride is his family:  his children Nyah and Anthony, who he calls "the treasures of my heart."
"Celebrating Hispanic Heritage is important and I want to thank County Executive Hein for this recognition," said Antonio Bonilla, Director, Educational Opportunity Program at SUNY New Paltz.  "This Country is truly the land of opportunity with education and hard work serving as the cornerstone for a bright future.  I am fortunate to assist providing educational opportunities to SUNY New Paltz students who may otherwise not be able to afford to attend college."
Elisa Pritzker, Visual Artist and Independent Curator - Elisa Pritzker was born in Argentina where she studied at the School of Ceramics and the Superior School of Visual Arts earning her Master of Fine Arts degree in 1987.  She then went on to teach at both schools.  She moved to the Hudson Valley in 1993 where she embarked on a series of projects using non-traditional materials. She co-founded the Highland Cultural Center with her husband Enrique Rob Lunski and has operated her own studio and art gallery since 2000.  Elisa is a regular contributor featuring other Latino artists in her monthly column "The Corner of the Arts" in La Voz Magazine and ABClatino. Her work has been exhibited at the MoMA, the Queens Museum, and the Dorsky Museum. Her art is in permanent collections from the Dorsky Museum; Jean Cherqui Art Collection, Paris and New York; the Argentine Consulate in New York City; the Wiseman Gallery/Rogue Community College; and the Luz & Alfonso Castillo Foundation. Elisa also represented the U.S. at the international art project, "The Pyramids of Naxos," during the 2004 Olympics in Greece.  She has appeared in publications such as Hyperallergic, CNN-in Spanish, Chronogram Magazine, The Huffington Post, PBS, and the New York Times.  Elisa continues to influence the regional arts scene with her work, the Highland Cultural Center, and the Pritzker Gallery at Casa del Arte.  She has received a number of recognitions including two Congressional Service Awards from former Rep. Maurice Hinchey.
"I feel humbled and honored to receive a 2017 Ulster County Executive Hispanic Heritage Award. As an American born in Argentina and as a long-time resident of Ulster County, it is a privilege to serve my larger community and share the art boundless of the County with everybody," said Elisa Pritzker, Visual Artist & Independent Curator.
Pictured above (from left):  Tony Bonilla, Maria Garcia with husband Genaro Garcia, Mariel Fiori, Marco Ochoa, Eliza Pritzker, County Executive Mike Hein, and Arnaldo Sehwerert.