Susan Koppenhaver, Director
1003 Development Court
Kingston, NY 12401
Phone: 845-340-3456 or Toll Free at 1-877-914-3456
Fax: 845-340-3583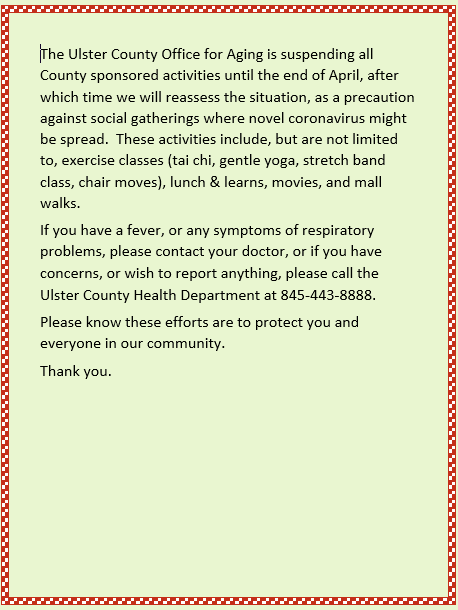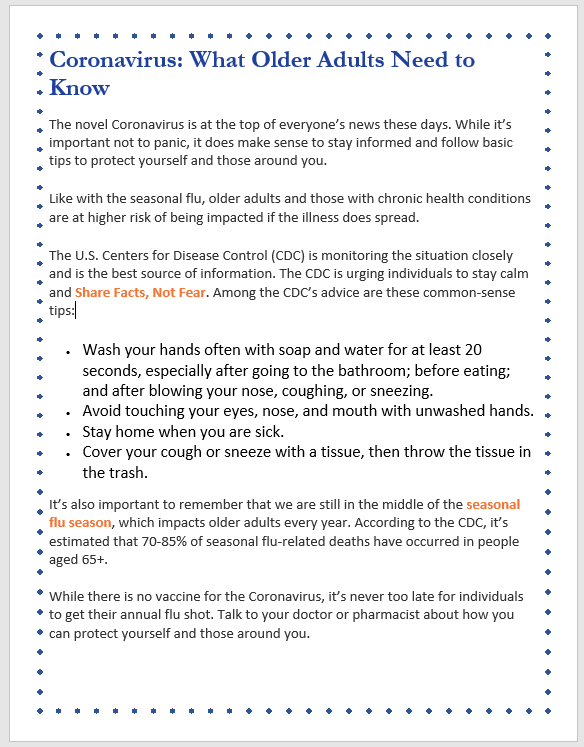 It is the mission of the Ulster County Office for the Aging to assist Ulster County seniors to be as  independent as possible, for as long as possible.  This is accomplished through advocacy, development and delivery of person-centered, consumer-oriented, and cost-effective policies, programs and services which support and empower the elderly and their families.  We accomplish this in partnership with the network of public and private organizations that serve them.
To view the Ulster County Senior-Friendly Community Action Plan please click here.
A Message from Director Susan Koppenhaver
We appreciate your understanding and patience during this very difficult time for our County.  We understand that many citizens are frustrated by cancellations and inconveniences, but we are trying to limit the exposure to all staff, seniors, and their families. The sooner the virus is contained, and people are properly tested, the sooner people can recover, and we can get back to our lives. Due to this situation April's activities will probably be subject to postponement or cancellation. Please stay well, everyone. Susan Koppenhaver, Director, Ulster County OFA.
Dear Ulster County Seniors:
Stay Healthy and wash your hands often, get plenty of sleep, drink lots of water, and try and rest.  Those are simple, effective ways of staying healthy through this virus outbreak.  The County has already opened the Emergency Operations Center to ensure that all are on the same communications page, the Health Department is seeing people and tracking numbers, and we watch hourly to see what is happening both within and outside of New York State.  We saw what happened in other countries and areas, and want to make sure we are completely on top of this.
That being said, the Senior Hub Game Day opening went very well, lots of folks came and played games, all had fun, and Mah Jongg is a very complicated game!
We embark on ramping up our season of Lunch and Learn programs, in May the first Picnic will happen, we are busy planning our Live, Laugh and Learn day, and we have more Cabarets planned for the fall and beginning of Holiday season!  Our planning staff has been very productive, and have programs all over the County, in new spots, with new topics!  Spring has sprung and we also have a couple of gardening presentations for you coming up, along with Emergency Preparedness, financial planning, Dietician advice and shopping and cooking planning, and lots of other subjects!
We hope you can come and enjoy them. 
Always remember to R.S.V.P. for any program – thanks!
And don't  forget to COMPLETE YOUR CENSUS!  Very important for community budgets and planning!  USE YOUR VOICE!
Stay healthy everyone!
Susan Koppenhaver
Director
For many seniors seeking a way to get low-impact exercise that improves health and requires no special equipment, Tai Chi is an excellent solution. Many seniors throughout Ulster County are enjoying the benefits of Tai Chi. Research is showing that an extremely effective way for older adults to improve balance, fitness, and flexibility, and to reduce the risk of falls. Attending group Tai Chi classes is a great way to socialize with others. Watch local Tai Chi instructor Celeste Graves lead a class.
 CLICK HERE for the April 2020 newsletter