Susan Koppenhaver, Director
1003 Development Court
Kingston, NY 12401
Phone: 845-340-3456 or Toll Free at 1-877-914-3456
Fax: 845-340-3583
It is the mission of the Ulster County Office for the Aging to assist Ulster County seniors to be as  independent as possible, for as long as possible.  This is accomplished through advocacy, development and delivery of person-centered, consumer-oriented, and cost-effective policies, programs and services which support and empower the elderly and their families.  We accomplish this in partnership with the network of public and private organizations that serve them.
To view the Ulster County Senior-Friendly Community Action Plan please click here.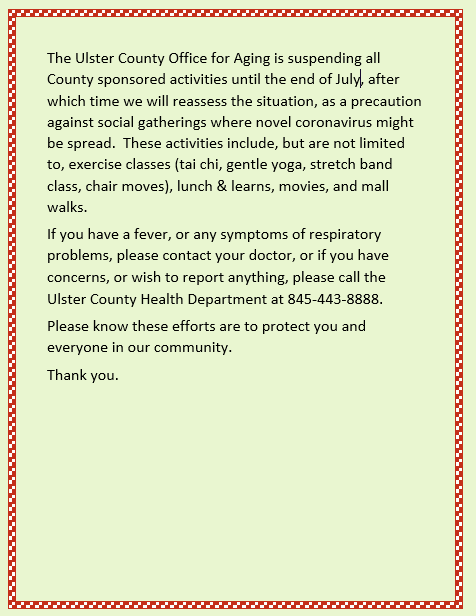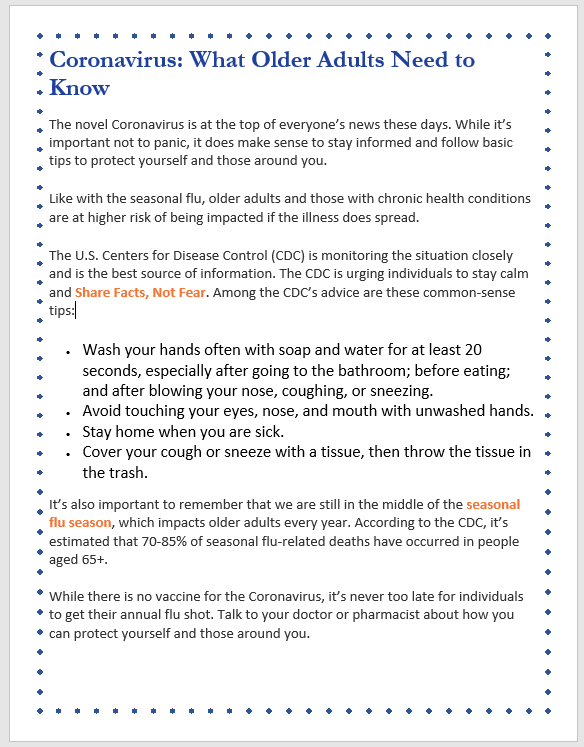 COVID-19 Archived webinar -  Why COVID-19 is especially dangerous to older adults: https://www.giaging.org/news-events/tester/archived-webinar/why-covid-19-preys-on-older-adults-what-the-science-says-and-doesnt-say/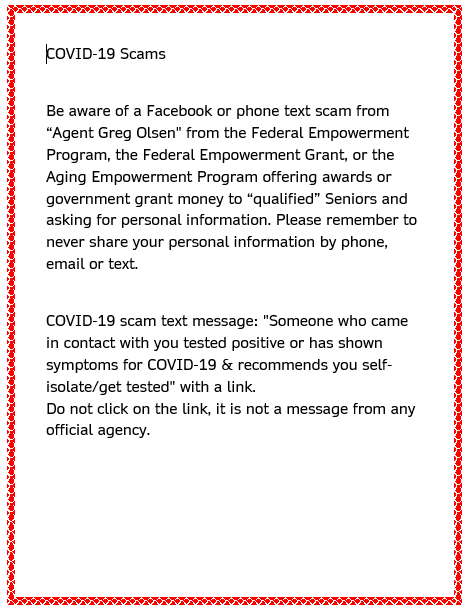 A Message from Director Susan Koppenhaver
We appreciate your understanding and patience during this very difficult time for our County.  We understand that many citizens are frustrated by cancellations and inconveniences, but we are trying to limit the exposure to all staff, seniors, and their families. The sooner the virus is contained, and people are properly tested, the sooner people can recover, and we can get back to our lives. Due to this situation August's activities will probably be subject to postponement or cancellation. Please stay well, everyone. Susan Koppenhaver, Director, Ulster County OFA.
To all the Ulster Seniors:
We are still here, answering your calls, referring people for help, making appointments for legal, HIICAP counselors, Neighbor to Neighbor rides, help for shopping, COVID19 meals, along with our regular client meals and case management.  Our aides are starting to go back to their original assignments, and we are starting to discuss the idea of congregate meals again, albeit in a different way, and adhering to all mandates.  By the time you get this letter, there will be scheduled Farmer's Market coupon distribution sites scheduled around the County through the end of September – as we add dates and times, we will let everyone know, or call the office to ask for future dates. 
Please know that we are still assessing and meeting folks virtually, with no contact.  However, we hope that with the opening of the OFA in the County Phase 3, we will be able to start meeting you all again in the Senior Hub, where there is much more room to both wait and meet, and easier to set up with barriers.  We will also be able to restart Legal and HIICAP appointments once we are given the go-ahead with opening.  We will let you know about that as well.
 Please, everyone continue to stay safe, observe the mandates, wear your masks, wash your hands, isolate when you can, stay apart, and we will all get through this together!
Susan Koppenhaver
Director
The Ulster County Office for the Aging offices remain open 9:00 A.M. to 5:00 P.M. Monday through Friday (July 3rd).  We are able to accept visitors only under strict limitations. Call before visiting 845-340-3456 – many issues can be resolved without having to leave the safety of your home. We are NOT OPEN for REGULAR BUSINESS YET.  PLEASE DO NOT STOP BY AND EXPECT TO SEE STAFF,  YOU MUST CALL FIRST. When we reopen, staff and visitors will be required to use masks and barriers and meet in a more open space (Senior Hub).  Thank you.
Please know that the Office for the Aging is taking every precaution to keep the public safe as well as our own staff.  When we do reopen, all staff and visitors will be screened before entering the building and will have their temperature taken. All staff and visitors will be required to wear masks and use appropriate social distancing measures.  In addition, OFA public meeting areas will be outfitted with shield barriers.  We strongly encourage anyone wanting to come to our office to call and make an appointment as it is important to limit walk-ins for safety concerns.  We will also be meeting with people in the Senior Hub where we will strategically space out areas.  If you have any questions or concerns, please feel free to call our office at 845-340-3456.  Thank you. 
Recovery Service Center 845-443-8888  RSC[at]co.ulster.ny[dot]us
Ulster County Executive Pat Ryan has established the Recovery Service Center in the wake of COVID-19.  The Recovery Service Center will assist the public on a wide range of topics including: helping direct callers to county and community resources and will allow callers to submit general inquiries and complaints.  The hotline will be able to assist callers with programs and services related to: food, housing, mental health support, employment, business, as well as continuing COVID-19 assistance. The RSC hotline will be available Monday - Saturday 9:00 A.M. to 5:00 P.M.
The Gen to Gen program matches Ulster County seniors and high school students for a mutual learning experience, where the senior gets to learn (from HS mentors) interviewing skills, some tech skills, while they ask a comprehensive set of questions of the seniors who agree to be interviewed, and perhaps create a montage of video and audio information about that senior and the richness of their lives.  It has been a project wish of Pat Ryan since he started.  We are currently working on the project now in conjunction with Ulster Corps and local HS guidance counselors and students in different areas.  If you wish to be interviewed, and want to take part, please call the office at 845-340-3456.
For many seniors seeking a way to get low-impact exercise that improves health and requires no special equipment, Tai Chi is an excellent solution. Many seniors throughout Ulster County are enjoying the benefits of Tai Chi. Research is showing that an extremely effective way for older adults to improve balance, fitness, and flexibility, and to reduce the risk of falls. Attending group Tai Chi classes is a great way to socialize with others. Watch local Tai Chi instructor Celeste Graves lead a class.
  CLICK HERE for the August 2020 newsletter
 If you are interested in an OFA Online Learning and are unable to participate online but would like to participate by phone – please call the OFA at 845-340-3456 for the "call-in" information for the presentation.