Susan Koppenhaver, Director
1003 Development Court
Kingston, NY 12401
Phone: 845-340-3456 or Toll Free at 1-877-914-3456
Fax: 845-340-3583
It is the mission of the Ulster County Office for the Aging to assist Ulster County seniors to be as  independent as possible, for as long as possible.  This is accomplished through advocacy, development and delivery of person-centered, consumer-oriented, and cost-effective policies, programs and services which support and empower the elderly and their families.  We accomplish this in partnership with the network of public and private organizations that serve them.
To view the Ulster County Senior-Friendly Community Action Plan please click here.
The Office for the Aging is open and looks forward to seeing you.  Please be advised that visitors must wear a mask upon entering the building and maintain social distance guidelines unless they provide proof of vaccination.   If you are not feeling well please stay home. 
In addition, appointments may be made ahead of time by calling 845-340-3456.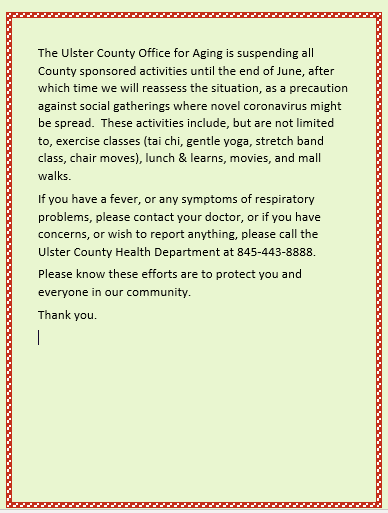 To our stalwart, patient Seniors of Ulster:
Our patience and self-care is starting to pay off!  Things are opening up, we have some activities and things to share with you, and we urge those who have not yet done so, to get a vaccine.Thursday, June 24 from 1:30 on – we are having a big Bingo game! At Robert Post Park!  Birthday Bingo, to be exact, and cake and punch will be served.  Trivia games, themed Bingo games, and prizes available!  Registration is limited!
There will also be senior picnics at Robert Post Park on August 26, and Lippman Park in the town of Wawarsing on July 22 (rain date 7/29).
Our offices are ready to serve you, and will be open starting June 1.  All fully vaccinated visitors will be allowed to shed their mask after showing proof of either a vaccination card, or a NYS Excelsior Pass.  Otherwise any visitors will be expected to wear a mask and stay socially distant. 
We will once again be distributing Farmer's Market Coupons – they usually start in June, and we are hopeful that we will be able to give them out at the office again!
Our program folks are here and willing to take your calls – we have a new Meals Manager from Gateway, so we are also hopeful that some of our wait list will decrease, as he accepts new clients onto the meals program.
We are considering opening congregate dining again!  Slowly at first, perhaps a day a week, but it's something!
We will begin offering A Matter of Balance, and other evidenced-based exercise and balance and strength programs soon, thanks to a grant we were just awarded!
We are also looking at the Mall Walk, the movies, and other types of events we can safely have!
Crossing our fingers at seeing everyone soon, I am,
Yours in health and safety,
Susan Koppenhaver
Director
Recovery Service Center 845-443-8888  RSC[at]co.ulster.ny[dot]us
Ulster County Executive Pat Ryan has established the Recovery Service Center in the wake of COVID-19.  The Recovery Service Center will assist the public on a wide range of topics including: helping direct callers to county and community resources and will allow callers to submit general inquiries and complaints.  The hotline will be able to assist callers with programs and services related to: food, housing, mental health support, employment, business, as well as continuing COVID-19 assistance. The RSC hotline will be available Monday - Saturday 9:00 A.M. to 5:00 P.M.
The Gen to Gen program matches Ulster County seniors and high school students for a mutual learning experience, where the senior gets to learn (from HS mentors) interviewing skills, some tech skills, while they ask a comprehensive set of questions of the seniors who agree to be interviewed, and perhaps create a montage of video and audio information about that senior and the richness of their lives.  It has been a project wish of Pat Ryan since he started.  We are currently working on the project now in conjunction with Ulster Corps and local HS guidance counselors and students in different areas.  If you wish to be interviewed, and want to take part, please call the office at 845-340-3456.
For many seniors seeking a way to get low-impact exercise that improves health and requires no special equipment, Tai Chi is an excellent solution. Many seniors throughout Ulster County are enjoying the benefits of Tai Chi. Research is showing that an extremely effective way for older adults to improve balance, fitness, and flexibility, and to reduce the risk of falls. Attending group Tai Chi classes is a great way to socialize with others. Watch local Tai Chi instructor Celeste Graves lead a class.
CLICK HERE for the June 2021 newsletter