Susan Koppenhaver, Director
1003 Development Court
Kingston, NY 12401
Phone: 845-340-3456 or Toll Free at 1-877-914-3456
Fax: 845-340-3583
It is the mission of the Ulster County Office for the Aging to assist and empower older adults and their families to live as independently as possible, with dignity and purpose.
Ulster County will strive to reach more older adults and expand upon its current services by bringing them to remote and  underserved areas of the County.  This includes new educational health promotion, service enrollment and Senior advocacy program opportunities so they can stay in, and contribute to, their community.
To view the Ulster County Senior-Friendly Community Action Plan please click here.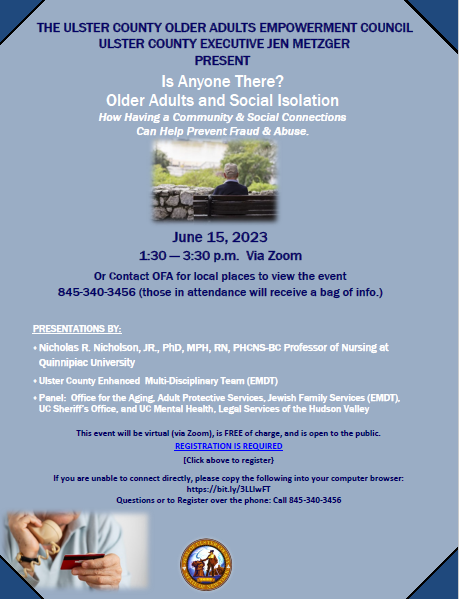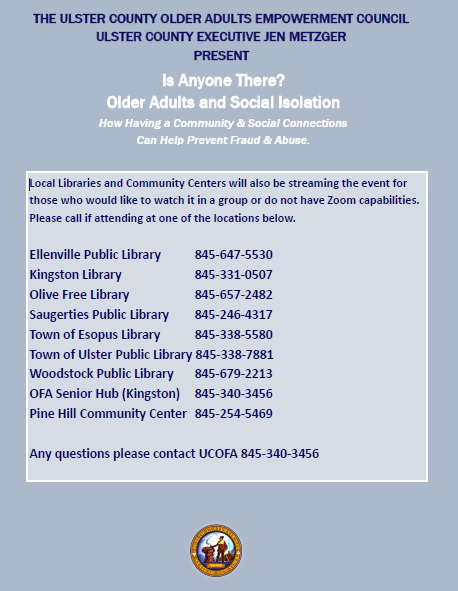 Greetings to the Older Adults of Ulster County!
Welcome to June!  "May June bring you joy, happiness, love, and lots of sunshine." "March into May to witness that fullness of life in June." "Life is better in flip-flops. Life is better in June."  Not that I advocate flip-flops if you are having balance problems, or feet issues!  But they are cooler when it's hot out!
Hope some of you have planted gardens if you can, or at least a nice pot of flowers to keep growing in your space.  Things are heating up in this month as well – we have a nice Lunch and Learn speaking about gardening in June in Rosendale (on the 6th), an Older Adults Empowerment Council Forum on the 15th speaking to Social Isolation (recently quoting the Surgeon General that social isolation is at least as bad for your health as smoking!!)  - all online, or if you want to come to a local library or watch in our Hub, and a Senior Prom at the end (6/29) . We are co-sponsoring an event (with Statewide Senior Action Council) with a representative from HHS on June 20 here in our Hub who will come speak about government plans for assisting seniors.  Call 845-340-3456 for more details. Busy month!
We will be soon receiving our Farmers' Market coupons we get every year, to begin distributing them in July and August, so look for us at a gathering place near you!
We also have the ability to bring Balance and Fall Prevention classes to you, so let us know if that is something your senior complex might want, or your senior group has been discussing – we'd love the opportunity to offer these classes around the County to those who know their importance!
Our staff has slowly been growing – we have a new Case Manager – some of you will meet her, I'm sure, and we will be adding to our Homemaker staff – those lovely folks who help so many of you stay safe at home by doing the tasks that you might not handle as well anymore, but allow you to stay there.  Our County has been very supportive of these additions, and know how important it is for our older neighbors to stay at home, live in their own house, and remain a vibrant member of the community. 
Here's to our gardens, their eventual bounty, and the lovely fireflies we will soon see at night!
Susan Koppenhaver
Director
New York State GetSetUp free online classes for Seniors at https://www.getsetup.io/partner/NYSTATE
CLICK HERE for June 2023 The BUZZ NEWSLETTER  
Click here for the 2023 Senior of the Year nomination letter and form