Susan Koppenhaver, Director
1003 Development Court
Kingston, NY 12401
Phone: 845-340-3456 or Toll Free at 1-877-914-3456
Fax: 845-340-3583
It is the mission of the Ulster County Office for the Aging to assist Ulster County seniors to be as  independent as possible, for as long as possible.  This is accomplished through advocacy, development and delivery of person-centered, consumer-oriented, and cost-effective policies, programs and services which support and empower the elderly and their families.  We accomplish this in partnership with the network of public and private organizations that serve them.
To view the Ulster County Senior-Friendly Community Action Plan please click here.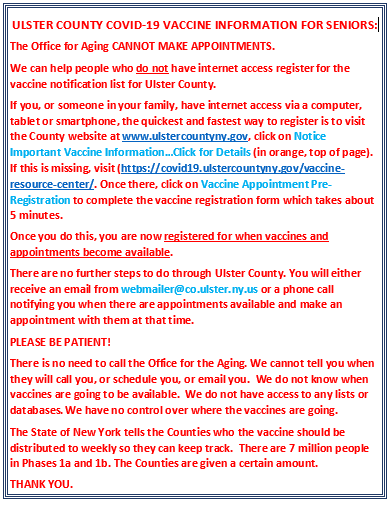 COVID-19 Archived webinar -  Why COVID-19 is especially dangerous to older adults: https://www.giaging.org/news-events/tester/archived-webinar/why-covid-19-preys-on-older-adults-what-the-science-says-and-doesnt-say/
COVID-19 SCAM: Be aware of a Facebook or phone text scam from "Agent Greg Olsen" from the Federal Empowerment Program, the Federal Empowerment Grant, or the Aging Empowerment Program offering awards or government grant money to "qualified" Seniors and asking for personal information. Please remember to never share your personal information by phone, email or text. COVID-19 scam text message: "Someone who came in contact with you tested positive or has shown symptoms for COVID-19 & recommends you self-isolate/get tested" with a link. Do not click on the link, it is not a message from any official agency.
SCAM Alert: There is a company advertising on TV that is telling folks they can save them money on their Medicare premium – they ask for personally identifying information INCLUDING YOUR DATE OF BIRTH, AND THEY WILL NOT CONTINUE THE CALLWITHOUT IT. The Medicare Savings Plan program is a structured plan offered by Offices for Aging to help you save this.  Please do NOT give out your personal identifying information to people who advertise on TV and want that information over the phone.  THIS IS A SCAM.
COVID-19 vaccine SCAM Alert from U.S. Department of Health and Human Services, Administration for Community Living:  Though we've only seen one COVID-19 vaccine scam at this point, we know that this this type of fraud will move very quickly, very soon, and will take many forms. Scammers rapidly alter their tactics and adapt their schemes to the changing landscape, and we anticipate that they will leverage the pending COVID-19 vaccine to prey on unsuspecting beneficiaries. At this point, it is essential that we alert the public of likely schemes and provide them with information on how they can protect themselves:
You likely will not need to pay anything out of pocket to get the vaccine during this public health emergency.
You cannot pay to put your name on a list to get the vaccine.
You cannot pay to get early access to the vaccine.
No one from Medicare or the Health Department with contact you.
No one from a vaccine distribution site or health care payer, like a private insurance company, will call you asking for your Social Security number or your credit card or bank account information to sign you up to get the vaccine.
Beware of providers offering other products, treatments, or medicines to prevent the virus. Check with your health care provider before paying for or receiving any COVID-19-related treatment.
If you get a call, text, email — or even someone knocking on your door — claiming they can get you early access to the vaccine, STOP. That's a scam. 
As you receive specific vaccine fraud case information, please notify the SMP Mailbox (smp[at]acl.hhs[dot]gov) via email.
SCAM Alert: Inspector General for the Social Security Administration (SSA), Gail Innis, urges Americans to be very cautious of calls from a government agency telling you about a problem you don't recognize. Real government officials will NEVER:
Threaten arrest or legal action against you if you don't immediately send money.
Promise to increase your benefits or resolve identity theft if you pay a fee or move your money into a protected account.
No matter what the problem is, the government will never require payment with retail gift card, wire transfer, internet currency, or by mailing cash.
Text or email you messages that contain your personal information.
Hang up when a "government official" threatens you on the phone.  If you ever owe money to Social Security, the agency will mail you a letter with payment options and appeal rights. Social Security doesn't suspend Social Security numbers or demand secrecy from you to resolve a problem—ever.  Visit https://oig.ssa.gov/scam for more information Social Security-related phone scams. You can also visit https://www.ssa.gov/antifraudfacts/ for additional scam resources.
A Message from Director Susan Koppenhaver
We appreciate your understanding and patience during this very difficult time for our County.  We understand that many citizens are frustrated by cancellations and inconveniences, but we are trying to limit the exposure to all staff, seniors, and their families. The sooner the virus is contained, and people are properly tested, the sooner people can recover, and we can get back to our lives. Due to this situation February's activities will probably be subject to postponement or cancellation. Please stay well, everyone. Susan Koppenhaver, Director, Ulster County OFA.
To our Ulster County Seniors:
Spring has sprung and has brought with it a plethora of vaccines available to all!  We are able to make appointments weekly for anyone who wants them.  So that's some good news we have been waiting for.
 e are already filled up with some outdoor Tai Chi classes where we can FINALLY get together in person.  We are planning some outdoor activities/events for our seniors in June, July and August, so stay tuned for those dates!  We look forward to seeing you!
We urge you to stay sharp about scams – the people doing them are very crafty, and keep coming up with things to try and rip you off.  Call our office if something doesn't sound right – it probably isn't.  There are many – some are mailed, some are phone calls, etc.
We are still offering learning seminars via Zoom monthly – please contact our office.  Our office continues to offer legal services, Medicare counseling, Medicare Savings Plans, Case Management, Home Delivered Meals, Medicaid application assistance, PERS services, resources, referral, help with HEAP and SNAP, nutritional one on one counseling, access to mental health services, caregiver support, education, evidenced-based programming for health, and lots of knowledge to help you get what you need.  We've been plugging along via phone, or Zoom, or sometimes by mail. Keep track through our monthly newsletter!
Call us if any of these services are needed.  Let us know how you are!
In health and wellness and hope,
Susan Koppenhaver
Director
The Ulster County Office for the Aging offices remain open 9:00 A.M. to 5:00 P.M. Monday through Friday (July 3rd).  We are able to accept visitors only under strict limitations. Call before visiting 845-340-3456 – many issues can be resolved without having to leave the safety of your home. We are NOT OPEN for REGULAR BUSINESS YET.  PLEASE DO NOT STOP BY AND EXPECT TO SEE STAFF,  YOU MUST CALL FIRST. When we reopen, staff and visitors will be required to use masks and barriers and meet in a more open space (Senior Hub).  Thank you.
Please know that the Office for the Aging is taking every precaution to keep the public safe as well as our own staff.  When we do reopen, all staff and visitors will be screened before entering the building and will have their temperature taken. All staff and visitors will be required to wear masks and use appropriate social distancing measures.  In addition, OFA public meeting areas will be outfitted with shield barriers.  We strongly encourage anyone wanting to come to our office to call and make an appointment as it is important to limit walk-ins for safety concerns.  We will also be meeting with people in the Senior Hub where we will strategically space out areas.  If you have any questions or concerns, please feel free to call our office at 845-340-3456.  Thank you. 
Recovery Service Center 845-443-8888  RSC[at]co.ulster.ny[dot]us
Ulster County Executive Pat Ryan has established the Recovery Service Center in the wake of COVID-19.  The Recovery Service Center will assist the public on a wide range of topics including: helping direct callers to county and community resources and will allow callers to submit general inquiries and complaints.  The hotline will be able to assist callers with programs and services related to: food, housing, mental health support, employment, business, as well as continuing COVID-19 assistance. The RSC hotline will be available Monday - Saturday 9:00 A.M. to 5:00 P.M.
The Gen to Gen program matches Ulster County seniors and high school students for a mutual learning experience, where the senior gets to learn (from HS mentors) interviewing skills, some tech skills, while they ask a comprehensive set of questions of the seniors who agree to be interviewed, and perhaps create a montage of video and audio information about that senior and the richness of their lives.  It has been a project wish of Pat Ryan since he started.  We are currently working on the project now in conjunction with Ulster Corps and local HS guidance counselors and students in different areas.  If you wish to be interviewed, and want to take part, please call the office at 845-340-3456.
For many seniors seeking a way to get low-impact exercise that improves health and requires no special equipment, Tai Chi is an excellent solution. Many seniors throughout Ulster County are enjoying the benefits of Tai Chi. Research is showing that an extremely effective way for older adults to improve balance, fitness, and flexibility, and to reduce the risk of falls. Attending group Tai Chi classes is a great way to socialize with others. Watch local Tai Chi instructor Celeste Graves lead a class.
CLICK HERE for the May 2021 newsletter