Susan Koppenhaver, Director
1003 Development Court
Kingston, NY 12401
Phone: 845-340-3456 or Toll Free at 1-877-914-3456
Fax: 845-340-3583
It is the mission of the Ulster County Office for the Aging to assist Ulster County seniors to be as  independent as possible, for as long as possible.  This is accomplished through advocacy, development and delivery of person-centered, consumer-oriented, and cost-effective policies, programs and services which support and empower the elderly and their families.  We accomplish this in partnership with the network of public and private organizations that serve them.
To view the Ulster County Senior-Friendly Community Action Plan please click here.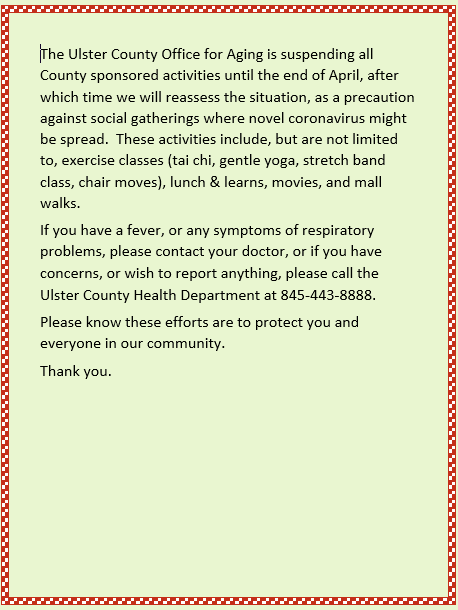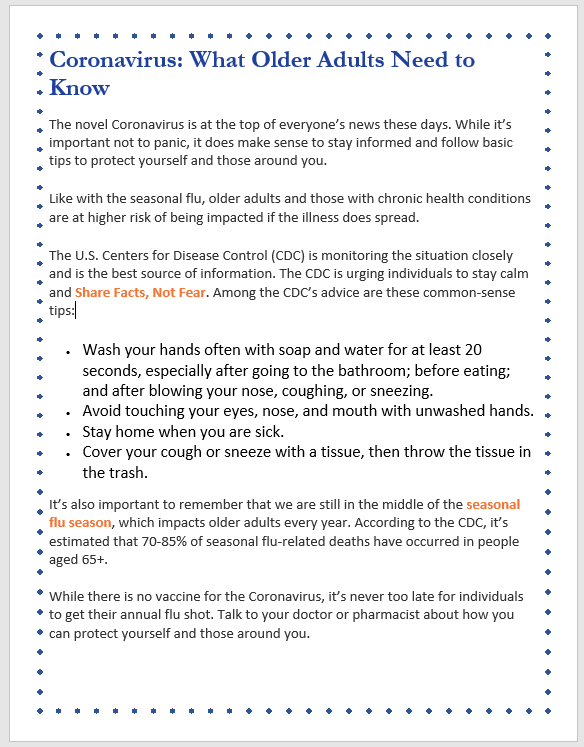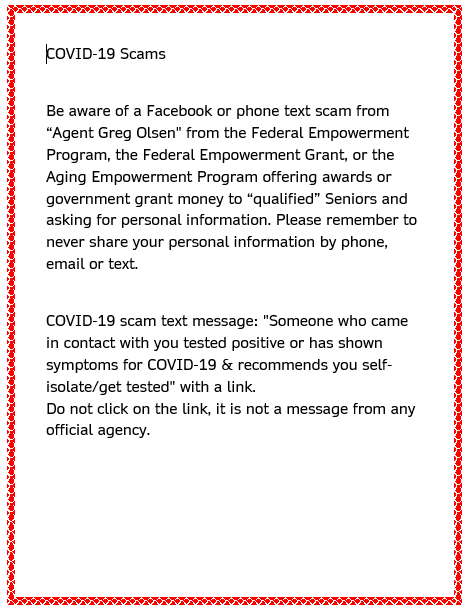 A Message from Director Susan Koppenhaver
We appreciate your understanding and patience during this very difficult time for our County.  We understand that many citizens are frustrated by cancellations and inconveniences, but we are trying to limit the exposure to all staff, seniors, and their families. The sooner the virus is contained, and people are properly tested, the sooner people can recover, and we can get back to our lives. Due to this situation May's activities will probably be subject to postponement or cancellation. Please stay well, everyone. Susan Koppenhaver, Director, Ulster County OFA.
Dear Elder Friends in Ulster County:
We have all had a very challenging and trying month or so.  We all hope you are staying safe at home, and we have been stretching ourselves and our staff to try and get shopping done, meals delivered, and sometimes laundry done for hundreds of you who have called.  Gateway Hudson Valley, our meals purveyor, has been very flexible and great to work with all the requests as this virus has taken us by surprise at its rapidity of spread, and its lethal ends for some.  It has been a very scary time, and we understand many of you are afraid to leave your houses.  We all are, but folks have to eat, and so we have had brave staff and volunteers go out and shop for you, pick up your meals for you and help you manage your household.  Please thank them when you get a moment, or send a note to the County Executive's office about your gratitude.  Nothing feels better to helpers than to know their help is appreciated.
The Office for Aging staff has also been working at home to help keep all the office functions going as best we can – we miss you all, and unfortunately had to cancel April functions, events that the staff worked very hard to make interesting and informative, or maybe even just fun!  But when we can get back together, we will re-plan events, lunches, movies, games and all the other things we hope to offer!  Our office staff look forward to help get everything going again.
 Everyone stay well, please!
Susan Koppenhaver
Director
For many seniors seeking a way to get low-impact exercise that improves health and requires no special equipment, Tai Chi is an excellent solution. Many seniors throughout Ulster County are enjoying the benefits of Tai Chi. Research is showing that an extremely effective way for older adults to improve balance, fitness, and flexibility, and to reduce the risk of falls. Attending group Tai Chi classes is a great way to socialize with others. Watch local Tai Chi instructor Celeste Graves lead a class.
 CLICK HERE for the May 2020 newsletter