Posted July 21, 2016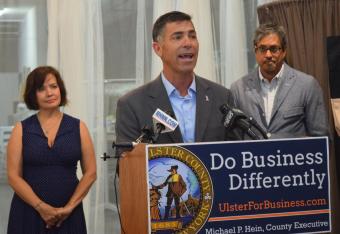 KINGSTON, N.Y. – Today Ulster County Executive Mike Hein visited Karina Dresses in uptown Kingston, a business that recently relocated from Brooklyn, to announce the launch of two advertising campaigns by the Ulster County Economic Development Alliance focused on promoting Ulster County as the ideal place to live and develop and grow business in today's always connected economy.
The first campaign, titled "Do Business Differently in Ulster County," picks up on the theme launched last year targeting New York City technology entrepreneurs with a message to relocate, expand, or start up their businesses in Ulster County.  Tech entrepreneurs are encouraged to visit Ulster County.  Seven popular events and festivals, including the Garlic, Rib, and Blueberry Festivals, O+ Festival, Woodstock Film Festival, Taste of New Paltz, and Phoenicia Festival of the Voice, have offered to host them so they can see all that living in Ulster County has to offer. 
The second campaign, "Ulster All Week Long," is focused on weekenders and second homeowners who have already discovered the advantages of Ulster County but who continue to commute to New York City for work.  The campaign's message encourages and facilitates weekenders to make the transition to staying all-week-long by working remotely from Ulster County or opening a business here. The "Ulster All Week Long" campaign website includes lists of publicly accessible wireless internet locations in Ulster County, tips for successful remote and home-office working, lists of local business services especially useful for remote and home-office working, and networking opportunities to foster stronger local business and community ties. 
Ulster County Executive Mike Hein
"Ulster County is amazing and we are in a time of great progress.  Today's business trends are ideal for Ulster County.  Growth in remote and at-home working, the increasingly prohibitive costs of living in New York City, especially for young families, the movement towards a more sustainable, higher quality of life, and close access to major markets all make Ulster County the ideal place to live and do business," said Ulster County Executive Mike Hein. "These campaigns help to tap into these trends, showcase the beauty and way of life our residents enjoy, and build sustainable business growth for Ulster County."
Julie Cohen Lonstein, Chairperson of the Ulster County Economic Development Alliance
"As a resident of Ulster County and a small business owner, I have the pleasure to engage daily in a vigorous business enterprise while living and working in the shadow of the Shawangunk Mountains with incomparable views and immeasurable recreational opportunities," said Julie Cohen Lonstein, Chairperson of the Ulster County Economic Development Alliance.  "Ulster County is uniquely situated, close enough to New York City so that it remains convenient for business people to travel to, but far enough removed that the cost of doing business is considerably less while the quality of life is high.  We are excited about these campaigns and the success stories that showcase Ulster County, its opportunities and demonstrate that entrepreneurs can in fact have it all and 'Do Business Differently'."
The announcement took place at the local business of Ulster County dress entrepreneur and resident Karina Cousineau, at her store at Wall St. in Kingston, Karina and Company. Cousineau, a former Brooklyn resident, relocated and opened her successful dress company in Ulster County.  "I could not be happier with my decision to open and develop Karina Dresses here in Ulster County. It is a wonderful place to start and grow a business and I am grateful to be a part of the thriving local Ulster County business community."
One of the featured video testimonials in the campaign is Dennis Crowley, new resident of Ulster County and the Founder and Chairman of the successful software company, Foursquare. "We are currently splitting our time between New York and here," says Crowley. "Since moving here, we started getting connected to other entrepreneurs in the tech industry and noticed an opportunity to help. I would have never guessed I would have ended up building a soccer team and helping to build this community."  This past year, Crowley formed the Kingston Stockade Football Club, a new semi-professional soccer club based in Kingston which just finished a successful inaugural season at Dietz Stadium and competing in the National Premier Soccer League.
Both campaigns showcase websites and video testimonials, promote networking opportunities, and advertise online, social media and print, event sponsorships and exhibitions.  For more on the campaigns please visit www.UlsterForBusiness.com or to view the videos https://www.youtube.com/watch?v=yIjDXUqdHAs ; or https://www.youtube.com/watch?v=pzHMDINecpY.
The Ulster County Economic Development Alliance (UCEDA) supports the promotion of Ulster County as the premier location to expand and grow business for the creation of wealth, fostering strong, sustainable, diverse economic opportunities for Ulster County and its communities.
Pictured Above:  County Executive Mike Hein with Karina Cousineau and Garnet Heraman of Karina Dresses.