Posted January 9, 2017
Kingston, NY – Mary Stuart Masterson presented Ulster County Executive Mike Hein with the first annual 'Stockade Works Star' award for his continuous support of Stockade Works at the Stockade Works "Light the Way" holiday launch at the Senate Garage in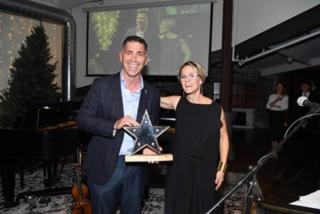 Kingston. 350 guests including actors Paul Rudd, Vera and Taissa Farmiga, Daphne Rubin-Vega and Tim Guinnea were at the event.
Michael P Hein, Ulster County Executive
"Mary Stuart Masterson's list of accomplishments is long.  Not only is she an outstanding actor, director and creative visionary, she is working to bring millions in sustainable investment to Ulster County and she lives right here in the Hudson Valley.  I am tremendously honored that she presented me with the first annual "Stockade Works Star" award.    I am pleased that our campaign to bring the NYS film tax credit to this region was successful and I am humbled by this recognition.  As County Executive, I understand and support the vital role all of the arts play in our economy and I look forward to continuing to partner with Stockade Works and the film and TV industry, as they grow and thrive in Ulster County."
Mary Stuart Masterson, Founder, Executive Director, Stockade Works
"I am over the moon that Governor Cuomo has put his faith in us! Thanks to Ulster County Executive Mike Hein's tireless work on behalf of our shared vision to bring big time production to the Mid-Hudson Valley, the future is bright indeed! With this added 10% bump in the film tax credit, the Mid-Hudson Valley will be a go-to location for series television and film production.  We have the locations, the talent, the workforce, and the amenities producers want when choosing where to base their productions.  Now, they also have the economic incentive to say "yes" to the Mid-Hudson Valley. I can't wait to work where I live."