Posted November 14, 2016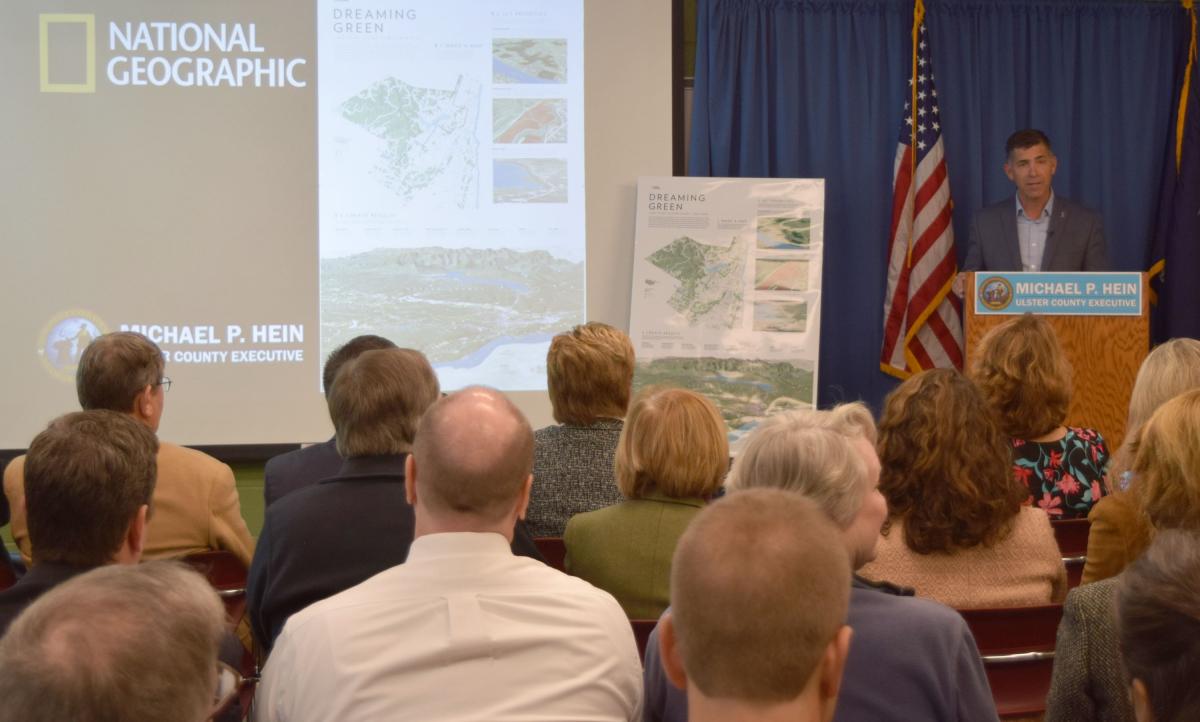 Ulster County Recognized For Extensive Environmental Results 
Kingston, NY- Ulster County Executive Mike Hein is proud to announce that Ulster County has been selected by National Geographic and will be prominently featured in the magazine's December 2016 issue on newsstands at the end of the month.  Ulster County is the featured supplement - a beautiful pull-out, full color map entitled "Dreaming Green" that highlights some of the County's environmental achievements.  National Geographic is a leading authority on geography, history and world culture.  The acclaimed magazine has been continuously published since 1888, is circulated world-wide in 40 different languages and is read by 6.7 million people every month.
The featured map "Dreaming Green" reflects our ecology, highlights conservation areas and includes a selection of the County's environmental efforts.  It also contains information on: the County's work with Scenic Hudson as they create the John Burroughs Black Creek Corridor; the leading edge agricultural work taking place at the Hudson Valley Farm Hub, and the infrastructure improvements under the "Building A Better Ulster County" initiative to widen road shoulders for pedestrians and bicyclists and connect trail networks.  It also mentions the Shawangunks, Sundown Wild Forest, Binnewater Lakes, Upper Esopus Watershed, Ashokan Outflow, Kingston Center at SUNY Ulster, and the County's Electric-Vehicle Charging Network and Utility Scale Solar Project. 
Michael P. Hein, Ulster County Executive 
"The fact that Ulster County is featured in such an iconic and globally significant publication as National Geographic is extraordinary for our community, humbling for my administration and a source of great pride for everyone involved in our environmental initiatives," said Ulster County Executive Mike Hein.  "I firmly believe that we have a fundamental obligation to protect our pristine environment for all our citizens as well as for future generations.  The work my Administration has done in conjunction with our many partners, especially the Ulster County Legislature, has helped deliver responsible environmental stewardship as the only net carbon neutral county in the State plus the highest concentration of municipal electric vehicle charging stations and the purchasing of all our electricity from renewable sources."
"Anyone who lives in Ulster County already knows about the beauty of our pristine environment, and this recognition from National Geographic is proof positive that others across the country are becoming aware of just how remarkable a place Ulster County is as well," continued County Executive Hein.  "There is no doubt that this amazing recognition will positively impact our $533 million tourism industry.  While the acknowledgment from the magazine is deeply appreciated and my administration is proud of our environmental accomplishments, there are still more exciting projects underway such as a utility scale solar  array that is going to be built on approximately eight acres at the former landfill site and will supply an estimated 20% of the county governments electricity, and the creation of a world-class interconnected rail trail system that will link the Walkway Over the Hudson to the breathtaking views of the Ashokan Reservoir."
Amanda LaValle, Coordinator of the Ulster County Department of the Environment
"County Executive Hein set forth a vision in Ulster County to protect our environment and implement leading edge environmental initiatives countywide," said Amanda LaValle, Coordinator of the Ulster County Department of the Environment.  "The acknowledgment of National Geographic is a special recognition of all that hard work, results and opportunity.  As the Ulster County Environmental Coordinator, I am proud to be part of his team as we work to protect future generations."
Some of Ulster County's environmental initiatives:
Becoming the first and only County in New York State to become Net Carbon Neutral;

Becoming the only County that gets 100% of our Electricity from renewable resources;

Converting the County's fleet to alternate fuel vehicles;

Creating an electric vehicle charging network;

Embarking on a Utility-Scale Solar Project at the Community College in Stone Ridge and at the former Landfill site in the Town of Ulster with the potential to ultimately generate 20% of the County's electric;

Creating a Green Campus at the Kingston Center of SUNY Ulster by using adaptive reuse and practical green building techniques which included installing a Green Wall, Rain Gardens and bio-retention areas, and using permeable pavers and asphalt in order to control stormwater runoff;

Creating a World-Class Interconnected Rail Trail System; and

County light fixtures were replaced with LEDs, bottled water was replaced with energy efficient water fountains, and environmentally friendly cleaning supplies used.
Some of the environmental awards received by Ulster County include:
2015 Recipient of a U.S. EPA Green Power Leadership Award;

U.S. EPA continues to rank Ulster County as a leader in Green Power Use (most currently ranked 26th nationally among local governments);

2015 National Achievement Award from the National Association of Counties for County Resiliency and Sustainability for the "Carbon Footprint Reduction program;"

Awarded the Bronze Level Certified Climate Smart Community by the NYS Department of Environmental Conservation (one of three municipalities, and the only county, in the state to reach this level which is the highest that has been achieved through the program);

The Hudson Valley Trail Network, which Ulster County hosts sections of, was the most recent inductee into the Rails-to-Trails Conservancy's Rail-Trail Hall of Fame; and

Earlier this month, the "White House" recognized Ulster County for its commitment to reducing Green House Gas Emissions with the deployment of alternate fuel vehicles as well as expanding the County's charging station network.
 Photos of County Executive Mike Hein