Posted July 21, 2015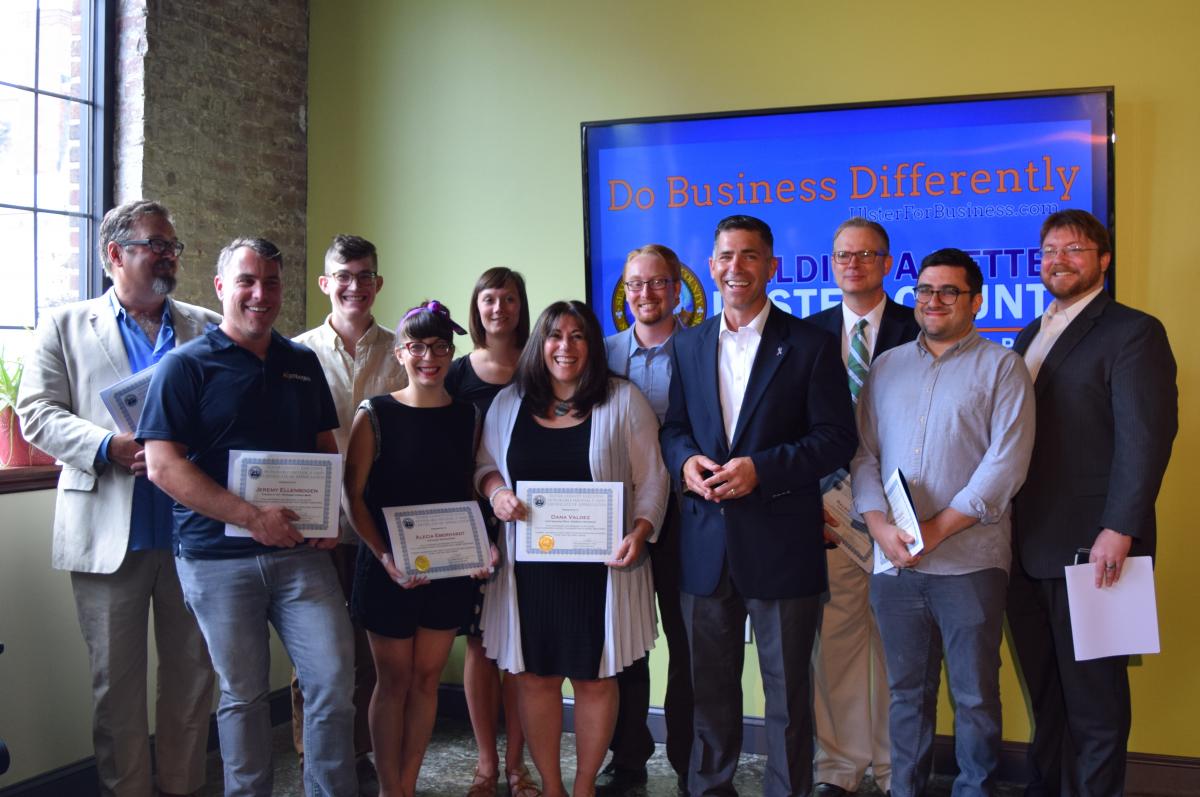 Kingston, NY – This morning, County Executive Mike Hein launched a comprehensive marketing initiative titled "Do Business Differently in Ulster County" with the goal of attracting tech entrepreneurs from New York City to relocate themselves, their families and their businesses to Ulster County.  He was joined by members of Ulster's growing tech community.  
The "Do Business Differently in Ulster County" initiative includes various complimentary components including a new website: www.ulsterforbusiness.com, testimonial videos featuring local tech entrepreneurs: https://youtu.be/gTJcyYVui6M, a new brochure: http://ulstercountyny.gov/sites/default/files/Ulster%20County%20Techpren..., print and online advertising, event sponsorships, and a special one day tour for technology entrepreneurs to visit Ulster County in September.   
As part of this project, Ulster County will showcase the growing opportunity for tech entrepreneurs at the NY Tech Meetup to be held on August 4th at the Skirball Center for the Performing Arts in New York City.  Over 500 people in the tech industry are expected to attend and learn about what Ulster County has to offer.  The September 12th visit, titled 'Techpreneur Red Carpet Tour,' is expected to include roundtrip transportation of up to 50 technology entrepreneurs from New York City for the day.  "We will bring them to Ulster County, showcase numerous sites around the County and provide several networking opportunities with local tech industry leaders, real estate representatives, investors and more," stated County Executive Hein. 
"Technology business owners are interested in Ulster County," continued County Executive Hein.  "They realize the benefits of living in such a magnificent place that is in close proximity to New York City and other major metropolitan areas.  'Ulster County's affordability, four-season recreational opportunities and close proximity to major metropolitan areas' is a strong message that appeals to business owners looking for a work life balance.  I want to thank three Ulster County based agencies: Raleigh Green Inc., Evolving Media and Ellenbogen Creative Media, who took the vision of our team and created these unique promotional pieces."  
"This is the perfect time for the County Executive to kick off this initiative," stated Office of Economic Development Director Suzanne Holt.  "An exciting synergy currently exists between many of the tech entrepreneurs in Uptown Kingston and around the County which has created an inviting place for others to join." 
"For someone who comes from the New York City advertising world, it's a real treat to now be able to find the same caliber of creative collaborator right here in the shadow of the Catskills," said Norm Magnusson, a local tech entrepreneur who is featured in the campaign video. Highlighting the beauty of Ulster County, Eileen Uchitelle, another tech entrepreneur in the campaign's video added, "Working remotely in Ulster County lets me have access to amazing restaurants and beautiful hiking right in my backyard." 
Vice Chair of the Ulster County Legislative Committee on Economic Development, Tourism, Housing, Planning & Transit Committee and Ulster County Economic Development Alliance Member James Maloney stated, "I am extremely happy that the next generation of tech entrepreneurs is choosing to relocate to Ulster County. Ulster County has what it takes to make them happy there.  And this campaign is going help us to continue to attract the successful and creative entrepreneurs." 
"We have a fantastic quality of life and a rapidly growing tech startup ecosystem here in Ulster County," stated Kale Kaposhilin, Co-founder of Evolving Media Network and Co-founder of Hudson Valley Tech Meetup.  "Whether you are a startup or a developer you can really have the proverbial live/work lifestyle as a tech entrepreneur in Ulster County. It's a very special community and we'll happily welcome any new arrivals to join the co-working party." 
This initiative is being funded and overseen by the UCEDA, which supports the promotion of Ulster County as the premier location to expand and grow business for the creation of wealth and fostering strong, sustainable, diverse economic opportunities for Ulster County and its communities.  It began on July 7, 2015 and runs through September 12, 2105.
To visit the new website: www.ulsterforbusiness.com
To watch the interesting videos featuring local tech entrepreneurs: https://youtu.be/gTJcyYVui6M
To view the new brochure: http://ulstercountyny.gov/sites/default/files/Ulster%20County%20Techpreneur.pdf
Pictured above: (from left) - Norm Magnusson, Freelance Creative Director; Jeremy Ellenbogen, President & CEO of The Ellenbogen Group, Inc.; Tom Smith, Co-Founder of Eberhardt Smith;  Alecia Eberhardt, Co-Founder of Eberhardt Smith; Eileen Uchitelle, Programmer at Basecamp; Dana Valdez, Director of Operations at Statebook.com; Abe Uchitelle, Senior Vice President at DragonSearch; County Executive Mike Hein; Raleigh Green, President & CEO Raleigh Green Inc.; Aaron Quint, Chief Scientist at Paperless Post; and Kale Kaposhilin, Principal at Evolving Media Network