Posted October 11, 2017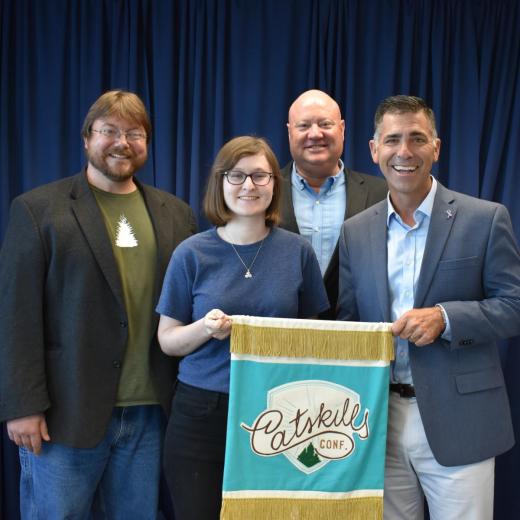 Catskills Conf Is An Annual Conference And Retreat Weekend For Makers, Technologists And Entrepreneurs To Celebrate Creative Innovation At The Ashokan Center In Ulster County
Kingston, N.Y. — On Tuesday, October 10th, Ulster County Executive Mike Hein, AT&T External Affairs Director Ed Bergstraesser and Catskills Conf Co-organizers Kale Kaposhilin and Shauna Keating met at the County Executive's office to kick off the 3rd Annual Catskills Conf.
The Catskills Conf runs from Friday, October 13 through Sunday, October 15 at The Ashokan Center in Olivebridge, New York.  More than 100 creative designers, software engineers, students and entrepreneurs of all types are expected to attend, to share their work and to build community.  The event is born of a shared belief amongst the organizers that by holding an accessible and inclusive space for a multi-day interaction between creative, community-minded innovators, new and exciting collaborations will emerge and take root. Attendees will be facilitated in their work by locally made music, food and beverage both inside the conference hall and around the campfire.
True to its promise to be a mix of modern high-tech and timeless low-tech, Catskills Conf will feature world renowned speakers, as well as adventures at the Ashokan Center and offerings from Ulster County's many wonderful food and beverage makers.  Some of the amazing speakers lined up for Catskills Conf this year include Jenn Schiffer @fogcreek working on @glitch; Jasmine Greenaway, a Cloud Developer Advocate @microsoft;  Kate Bradley Chernis,Co-Founder and CEO @Lately; and Michael Jovel, a Front-end Developer at the FDA.
"At Catskills Conf, technology entrepreneurs from New York City, throughout our region and around the world will get the opportunity to celebrate history, the environment and the arts, while simultaneously discussing technology, business innovation and collaboration," said Ulster County Executive Hein.  "I want to thank the organizers of Catskills Conf and AT&T for recognizing that the scenery and surroundings here are ideal for inspiring entrepreneurs and for creating a unique program that will allow them to grow together and learn. Ulster County is the perfect home for events like Catskills Conf and quite frankly, it is the perfect home for technology entrepreneurs all year round."
"Catskills Conf is a welcoming collaborative environment where we honor inspiring work that serves all people while building relationships to extend and further support both the work and the people who make it.  I'm proud of what Catskills Conf provides for all of us and I'm always excited to work with AT&T and all of our partners and sponsors to give our attendees a caring environment in which they can explore, convene, and connect" says Catskills Conf Co-founder Kale Kaposhilin.
AT&T's ongoing support for Catskills Conf grows out of the company's commitment to foster local innovation by providing opportunities for entrepreneurs, technologists, makers and developers to create new technologies and act on ideas that could positively impact their communities and strengthen the Hudson Valley's innovation economy and ecosystem. This year's event focus also aligns with AT&T's commitment to a diverse workforce and inclusive culture and closing the gender and diversity gaps in the technology industry by supporting education and community based programing and events that encourage both girls and students of color to study STEM related fields and peruse technology related jobs.  For more information, or to purchase tickets for this weekend of community innovation and technology discussions, visit www.catskillsconf.com 
Pictured above (from left): Catskill Conf organizers Kale Kaposhilin and Shauna Keating, AT&T External Affairs Director Ed Bergstraesser, and Ulster County Executive Mike Hein.