Posted May 1, 2017
 Event Coincides With Kickoff of $800 Million Regional Economic Development Council Grant Competition
Marbletown, NY – On the Thursday, April 27, 2017 Ulster County Executive Mike Hein welcomed over 150 participants for a half-day grant writing workshop at the former Rosendale Elementary School – now a shared facility housing offices of the Towns of Rosendale and Marbletown, the Arc of Ulster-Greene and the Rondout Valley Growers' Association. At the event, grant writing experts from Choice Words, LLC and The Chazen Companies offered breakout sessions to address the unique needs of businesses, municipalities and nonprofits.
The timing of the event was designed to give Ulster County applicants a jump-start on preparations for the seventh round of Governor Cuomo's Regional Economic Development Council grant competition, which opens on Monday, May 1st.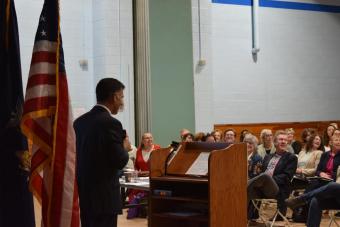 "Last year, applications from organizations in Ulster County netted over $9 million in funding to support projects that create jobs, strengthen our infrastructure, and protect our people and our environment," said County Executive Hein. "I am focused on supporting these efforts through our Office of Economic Development," he added.
"These grants are enabling projects that would not otherwise happen," continued the County Executive, who welcomed participants at Thursday's workshop and kicked-off the session. "And most of these grants require a local match from other sources, which makes each dollar won turn into two, five, or even ten dollars of economic activity here in Ulster County," Hein added.
According to Yvonne Rivera, a workshop participant and the Manager of Human Resources at Selux Corporation, "grants are an important part of the funding mix that allows Selux to grow and thrive in the Hudson Valley. We could not be more grateful that Ulster County is stepping up to help us be successful in our search for funding." Selux Corporation was the recipient of an Empire State Development grant in 2015 to purchase machinery and equipment and to expand its lighting manufacturing plant in Highland, NY, which led to the creation of several new jobs.
According to Suzanne Holt, Director of the Ulster County Office of Economic Development, 21 projects in Ulster County were awarded funding through last year's REDC competition. "County Executive Hein knows that these grant competitions are challenging, and he understands that organizations small and large can benefit from the County's assistance," explained Holt. "We work with applicants to ensure their organizations are eligible for the grant programs, we help them think through their projects to make sure they align with existing plans and regional priorities, and we can even provide letters of support to strengthen their applications," continued Holt.
 "County Executive Hein and Suzanne Holt have been so helpful in getting us up to speed on applying for state grants," said Marybeth DeFilippis, Executive Director of Historic Huguenot Street. "This workshop has jump started our Consolidated Funding Application, and simplified a complex process for those of us with fewer resources to draw on."
Steve Densmore, President and Founder of Choice Words, LLC, said "we are immensely grateful for the opportunity to assist Ulster County businesses, municipalities, and nonprofits to better navigate the grants process. Many thanks to County Executive Mike Hein and the Office of Economic Development for including us in this process," he added.
Ulster County Executive Hein emphasized the value of events like this as opportunities to strengthen partnerships between local nonprofits, businesses and local governments. "To be successful, we all need to work together," said Hein. "The very location of today's event – a shared municipal facility, funded in part by successful grant applications – is a reminder that when we do work together, we can accomplish great things for our communities."
Materials from Thursday's workshop are available on Choice Words' website at www.choicewordspr.com. Organizations that are interested in pursuing grant opportunities through the Consolidated Funding Application are encouraged to begin reviewing the funding programs and eligibility requirements for this round. The application and related information can be found online at https://regionalcouncils.ny.gov/. A list of additional grant opportunities, updated frequently by the Ulster County Planning Department, is available online at http://ulstercountyny.gov/planning/grants-anouncements-2017. The Ulster County Office of Economic Development is available to assist businesses, nonprofits, and municipalities with their grant writing efforts and can be reached by phone at 845-340-3556 or email to oed[at]co.ulster.ny[dot]us. 
 Ulster County opens doors and helps businesses excel. The Ulster County Office of Economic Development team is available to help your businesses grow and thrive and to provide critical assistance to new businesses seeking to locate here. The Office of Economic Development provides business counseling and can connect you with the best sites, the right partners for funding, and the right programs for businesses development. Learn more about how Ulster County does business differently at UlsterForBusiness.com.