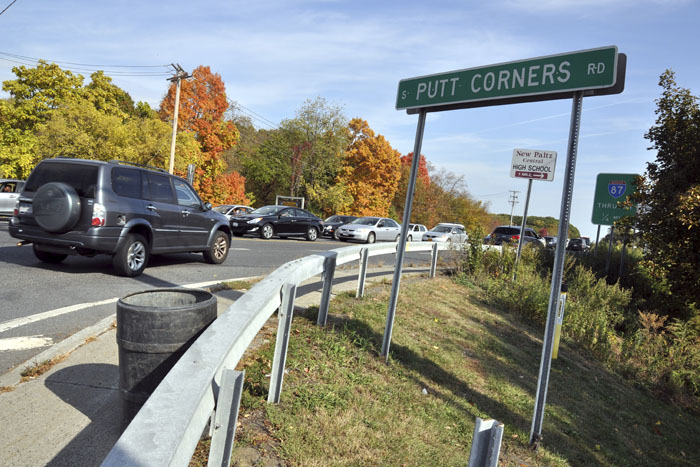 Posted May 30, 2018
Limited Traffic Disruptions Expected As South Putt Corners Portion of County Executive Hein's "Building A Better Ulster County" Initiative Ramps Up
Kingston, N.Y.- Ulster County Executive Mike Hein announces that preliminary construction is underway on South Putt Corners in the Town of New Paltz. The $4.6 million investment is part of County Executive Hein's "Building A Better Ulster County" initiative and will greatly enhance safety along this important corridor. The project will also permanently transform the road into a modern, shared use roadway.  South Putt Corners Road is a critical travel route and home to the New Paltz High School, New Paltz Police Department, the New York State Department of Environmental Conservation, as well as many homes and businesses.
As part of the forward-looking project, the entire road will be resurfaced and the shoulders on each side dramatically expanded to six feet to better accommodate pedestrians, bicyclists and motorists. The project also includes: two new dedicated left-turn lanes at the New Paltz High School, a dedicated right-turn lane at Route 299, a new safer entrance at the Sunoco, and a new crosswalk at the High School, as well as enhanced solar speed signs to improve overall safety.
Preparatory work currently underway includes relocating telephone poles and fire hydrants as well as drainage work. By late June, the full roadway construction phase is expected to begin and is anticipated to be completed by the end of 2018. The roadwork is part of the County Executive's 'Building A Better Ulster County' infrastructure improvement initiative and is one of several projects planned, completed or already underway in the New Paltz area.
Recently, County Executive Hein announced the completion of several nearby connectivity and resiliency projects, including the creation of a viewing area and public gathering place at the newly-improved Carmine Liberta Bridge, wider shoulders on Springtown Road and on State Route 299 west of the Village of New Paltz to Butterville Rd. and flood-control measures along Springtown Road that have greatly alleviated seasonal roadway flooding.
In addition to these completed efforts, additional projects now underway in the New Paltz area include an extension of the Hudson Valley Rail Trail, which will connect the Walkway Over the Hudson to New Paltz and beyond through the Wallkill Valley Rail Trail, and River to Ridge Trail.
Although every effort is being made to minimize delays, travelers on South Putt Corners Road in the Town of New Paltz should be prepared for potential traffic disruptions due to major public safety improvements and structural upgrades to the road.
Michael P. Hein, Ulster County Executive
"These improvements are first and foremost about safety. As the parent of a teenager I know how important it is to keep our kids safe as they travel to and from school," said Ulster County Executive Mike Hein. "As we move forward with these extraordinary projects, I want to thank the community for their assistance during the planning process and patience during construction. We will do everything possible to minimize traffic disruptions, just as we did with the Carmine Liberta Bridge, where we were able to greatly limit delays for the citizens of New Paltz. This is truly an exciting time and I am committed to rethinking infrastructure that will better prepare all of Ulster County for an amazing future."
Joseph Snyder, New Paltz Police Chief
"Widening the roadway on South Putt Corners Road will definitely increase safety for the entire community, but especially for our high school students who use it to walk to and from school and sporting events," said Joe Snyder New Paltz Police Chief. "I appreciate County Executive Hein's commitment to improving safety for New Paltz's residents by re-surfacing and expanding the shoulder of this crucial road as part of the 'Building A Better Ulster County' initiative. We see all around the town and the county that anytime there is an inconvenience due to construction, once the project is complete you can really see the benefits."
Maria Rice, Superintendent of New Paltz School District
"Expanding the shoulder on South Putt Corners Road near New Paltz High School is a welcomed safety measure that will also encourage activities that align with many values of our school and community. Safety, especially in the winter months when snow banks crowd pedestrians' paths, will be significantly enhanced," said New Paltz Central School District Superintendent Maria C. Rice. "Long term, my hope is that providing this safe route for students and our community to walk and bicycle will encourage more physical activity. I feel that the work of the New Paltz Transportation Committee, the Pedestrian-Bicycle Committee, and especially County Executive Mike Hein's vision has the potential to benefit not only New Paltz, but all of Ulster County."
The infrastructure projects are part of the Ulster County Transportation Council's Traffic Improvement Program (TIP) which is a five-year plan for transportation improvement throughout the County. Additional information about the TIP and the 'Building A Better Ulster County' infrastructure initiative are available online at ulstercountyny.gov.
Photo: South Putt Corners Road
Video: https://youtu.be/Q8F5hxQG5AA