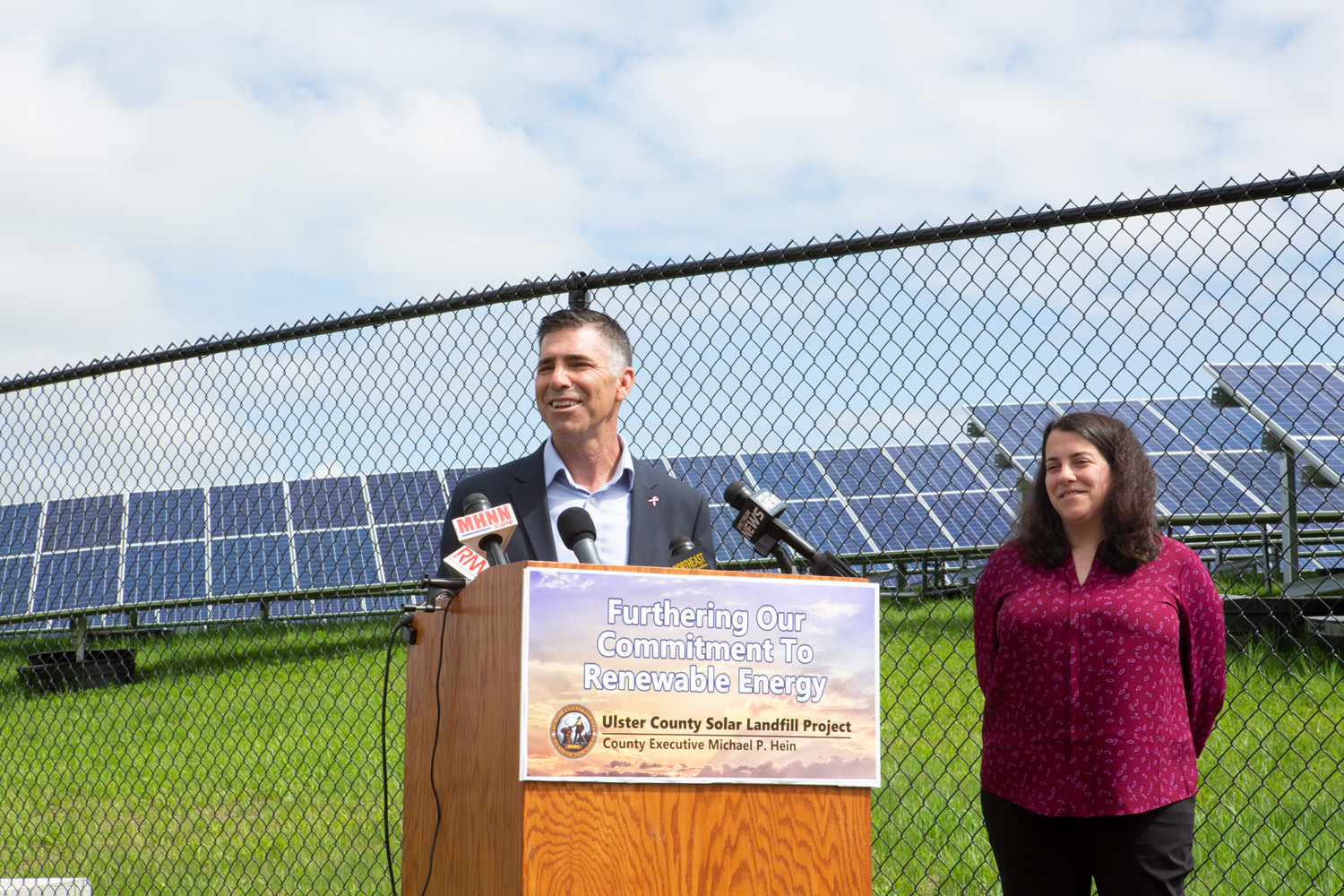 Posted May 14, 2018
Solar Project Continues County Executive's Clean Energy Commitment 
Kingston, N.Y. –Ulster County Executive Mike Hein was joined by Amanda LaValle, Ulster County Department of the Environment Coordinator, members of several environmental advocacy organizations, and members of the Ulster County Legislature to announce that Ulster County's Utility-Scale Solar Project is fully operational. Construction on the 5,940-panel array began in the Fall of 2017 and the array was given permission to operate by Central Hudson on May 10th after successful completion of required system tests.
The solar installation, located at the site of the former Town of Ulster landfill, is expected to generate 2,360 MWh of clean electricity each year, which is roughly equivalent to the electricity generated by burning 2 million pounds of coal or 4,000 barrels of oil. The array is expected to generate approximately 20% of all the electricity used by the Ulster County Government.
 Michael P. Hein, Ulster County Executive
"Ulster County is the most environmentally responsible County in the State of New York by a mile.  But that's not the point.  It's about doing everything we can to build a sustainable community while providing others with a model," said Ulster County Executive Mike Hein.  "Our goal has now moved to simply and fearlessly showing what is possible in a county government.  So yes - we are the only 'net carbon neutral' County in the State; yes - we have won countless awards and been featured in National Geographic for our environmental work; and yes - 100% of our energy comes from renewable resources.  But the fact remains, there is so much more to do, as a county government, as a community and as a nation if we are to meet the environmental challenges that face us all. 
County Executive Hein continued, "One of the key factors that sets this utility scale solar project apart from others is the fact that rather than occupying beautiful farmland and valuable property, this project was engineered specifically to be placed on an old landfill that would have sat fallow for centuries.  I also want to highlight and thank Amanda LaValle, Coordinator of the Ulster County Department of the Environment; Marc Rider, Director of the Ulster County Purchasing Department; Executive Director Tim Rose and the Board at the Ulster County Resource Recovery Agency for their assistance; but most of all, I want to thank the Ulster County Legislature for embracing my vision and helping make this project a reality."
Amanda LaValle, Coordinator of the Ulster County Department of the Environment
"Ulster County continues to lead the way in environmental stewardship through its commitment to clean energy," said Amanda LaValle, Coordinator of the Ulster County Department of the Environment. "It has always been our goal to produce more of the energy required to power our government operations through local, renewable energy projects. This project helps to reduce our collective dependence on fossil fuels, supports the distributed renewable energy generation vision, and provides a beneficial use of an otherwise unused landfill property. In 2017, Ulster County's renewable energy purchases prevented roughly 16 thousand metric tons of greenhouse gas pollution from being emitted into the atmosphere and in fact our entire government operation is 'net carbon neutral.' Climate change is a global problem, but this solar project is local response that can help have an impact." 
Basil Seggos, Commissioner of the NYS Department of Environmental Conservation
"Ulster County is one of three Silver-Level Climate Smart Communities in New York State, leading by example in developing and implementing initiatives that are bolstering community resiliency and reducing greenhouse gas emissions," said Department of Environmental Conservation Commissioner Basil Seggos. "We are pleased to have worked with Ulster County to support an adaptive reuse for a closed landfill, which will now have a positive community use as a source of clean, renewable energy. Congratulations to Ulster County Executive Mike Hein, the County Department of the Environment, and the many community organizations that worked together to help make this project a reality." 
Ulster County has accelerated its commitment to clean energy since it first pledged to become a Climate Smart Community in 2011, achieving some of the state's highest environmental honors. The Department of Environmental Conservation recognized Ulster County with an Environmental Excellence Award for its Net Carbon Neutral operations and commitment to environmental stewardship. In addition to achieving the DEC's Silver Climate Smart Community designation in 2016 (the highest yet achieved through this program), the County received international recognition for its environmental efforts when it was featured in National Geographic Magazine. Now, Ulster County is furthering its commitment to clean energy by helping to generate it. 
Pictured above: County Executive Mike Hein and Amanda LaValle, Coordinator of the Ulster County Department of the Environment; Pictured below: Ulster County's Utility-Scale Solar Project 
Video: https://youtu.be/K0M8wyFjXNs