Posted August 18, 2017
150 Seniors Attended A Variety Of Workshops At The Kingston Center Of SUNY Ulster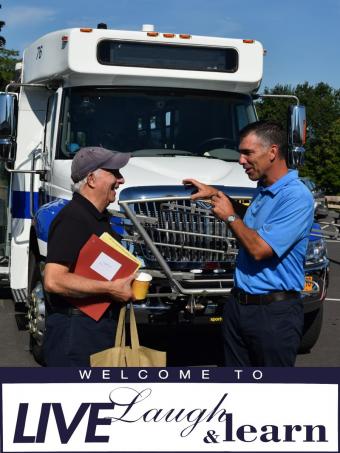 Kingston, NY – Yesterday, Ulster County Executive Mike Hein welcomed seniors to the 20th annual "Live, Laugh and Learn" day of workshops at the Kingston Center of SUNY Ulster.   Live, Laugh and Learn is hosted by the Ulster County Office of the Aging and consisted of a full day of fun workshops and exercise to promote the health and well-being of Ulster County seniors.
"`Live, Laugh, and Learn´ is a wonderful event and provides our seniors with an opportunity to participate in a variety of workshops that may be of interest to them," said County Executive Mike Hein. "I am always pleased to see so many seniors in attendance and their willingness to learn valuable information in a friendly and comfortable environment. I want to highlight and recognize Christine Noble, Ulster County's Sr. Aging Services Aide and her committee, for organizing another successful event, as well as Kim Butwell, Interim Director of the Office for the Aging, and all of the other people and organizations who helped in sponsoring or presenting the program. I thank all of the amazing seniors who participated in our incredible workshops, the presenters, and all of our partners for all they do for our community."
Several new educational, fitness, and entertaining workshops were offered this year along with some old favorites. Some of this year's workshops included: Let's Talk About Lyme Disease; I Get Around (UCAT bus service); Keeping Fit from the Neck Up; Is It a Hat or a Decoration?; LGBTQ+ Aging in the Hudson Valley; Services for Seniors from the County Clerk; Introduction to Tai Chi and Qigong; Silver Sneakers Classic; Can You Hear Me?; Is My Medicare Plan Best for Me?; and Serving Those Who Served.
Pictured above: County Executive Mike Hein with attendee