Posted September 8, 2017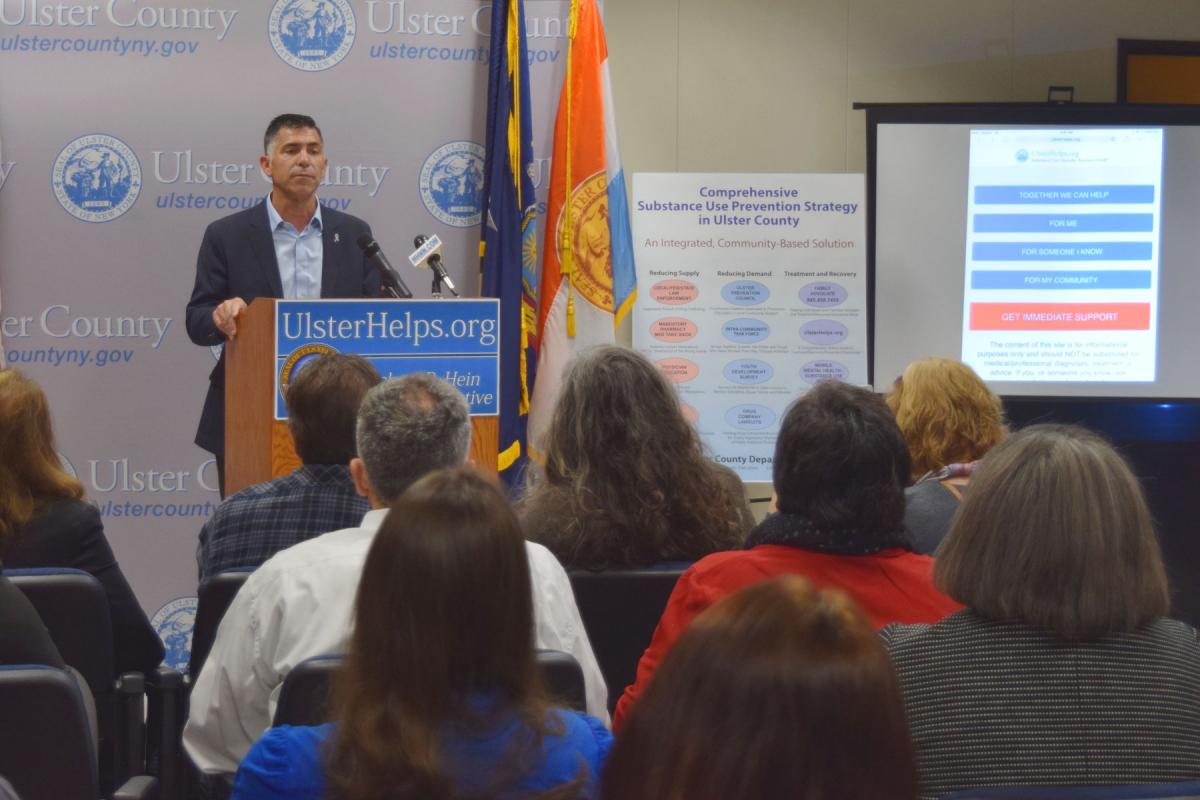 UlsterHelps.org Mobile Toolkit and Intra-Community Task Force Expand An Integrated, Community-Based Strategy to Combat Addiction in Ulster County  
Kingston, N.Y. – Surrounded by community leaders and members of the Ulster County Health Department, Ulster County Executive Mike Hein today announced two new additions to Ulster County's comprehensive strategy to combat addiction and opioid abuse. The first, UlsterHelps.org, is a comprehensive, mobile-optimized online guide to treatment, prevention, and substance abuse prevention resources across Ulster County to assist those in need and their loved ones. Additionally, the County Executive announced that he would be appointing an Intra-Community Substance Use Prevention Task Force as part of an ongoing effort to ensure that Ulster County remains on the leading edge in the fight against substance abuse and brings together medical experts, educators, community leaders, concerned family members and those who have experienced recovery firsthand to continuously evaluate and strengthen programs being offered.
"Opioid abuse is a nationwide nightmare that no one is immune from.  It's an issue that goes far beyond a law enforcement issue and is truly a public health concern for communities across our nation," said County Executive Mike Hein. "We're blessed in Ulster County to have a wealth of dedicated individuals, organizations, and professionals who have worked and continue to work tirelessly to address this crisis. My administration has worked to address this issue head on, with amazing compassionate partners. Today's initiatives build upon the foundation of existing programs and initiatives that we've brought already forward; our Substance Use Prevention Task Force is designed to be an action-oriented group, constantly updating to best practices and focusing on data driven results, while our mobile toolkit at UlsterHelps.org puts all of the available resources you need to help yourself or a loved on the long and often difficult road to recovery."
"Substance abuse is a major public health challenge across our nation that has, in one way or another, impacted every individual and family, and it's an issue that demands our attention and our action," said Ulster County Commissioner of Health and Mental Health Dr. Carol Smith. "Whether you're a parent, an educator, an employer, a community leader, a professional in the field of health or a concern citizen, everyone has a valuable role to play. I am confident that Ulster County has the leadership, the people, the expertise, and the commitment to dramatically affect change and fight back against the scourge of addiction within our communities. I'd like to commend and thank the County Executive for his leadership in recognizing the continued need for a truly comprehensive and integrated approach to strategic substance use prevention in Ulster County."
Over the past several years Ulster County has implemented several programs aimed at addressing and curtailing substance abuse. These initiatives include providing critical support for the Ulster Prevention Council, establishing a Family Advocate to help families navigate the complicated treatment and recovery process, and participating in a class-action lawsuit designed to hold pharmaceutical companies responsible for their aggressive marketing of highly addictive drugs. Additionally, County Executive Mike Hein has aggressively advocated for a state-wide law that would require chain pharmacies to take back unused portions of the very medications they dispense – an effort that would greatly expand the availability of medication collection boxes beyond the 19 currently available at law enforcement agencies across Ulster County.
Below: 1) Ulster County Comprehensive Opioid Abuse Strategy; 2) Photo above: Ulster County Executive Mike Hein