Posted May 1, 2018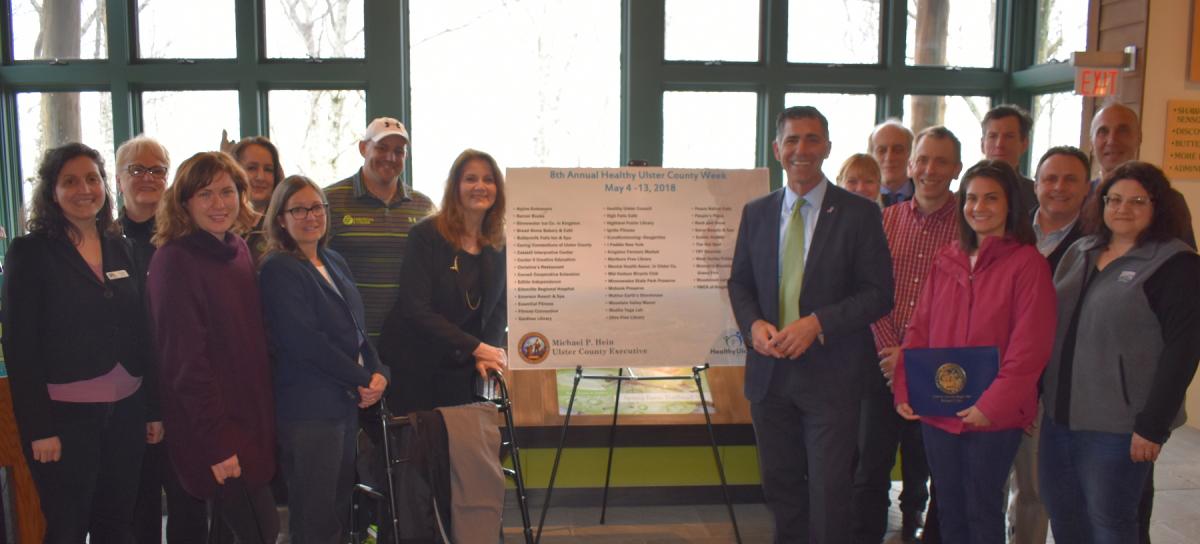 Community Organizations And Local Businesses Join With The County Executive To Offer Healthy Activities And Discounts Across Ulster County
Gardiner, NY- Ulster County Executive Mike Hein was joined by Dr. Carol Smith, Commissioner of Health and Mental Health and various Ulster County business and community organizations at the Mohonk Preserve Visitor's Center in Gardiner to officially kick-off the 8th Annual Healthy Ulster County Week May 4, 2018 – May 13, 2018. During Healthy Ulster County Week, special events, services and promotions are being offered to the public by local businesses and community organizations.  This week is designed to help Ulster County residents to live healthy lifestyles in an effort to make Ulster County the healthiest county in New York State.  This week has many special events to encourage individuals, as well as their families and friends, to eat well, exercise, and to be conscious of their overall health. 
Michael P. Hein, Ulster County Executive
"I am proud to have so many local businesses and organizations providing our residents with healthy promotions during our Healthy Ulster County Week and I thank them all for their excellent participation," said County Executive Mike Hein.  "There is something for everyone, whether you would like to enjoy a healthy lunch, climb the Shawangunks, take a fitness class, or go on a guided walk.  These are just some of the many exciting activities taking place throughout the County during the week.  Once again, I want to thank all of this year's participants and I invite our residents to take advantage of these healthy offerings.  You can find the calendar of events by visiting the following:  www.UlsterCountyNY.gov, http://ulstercountyalive.com and http://healthyulstercounty.net.
Dr. Carol Smith, Commissioner of Health and Mental Health
"Healthy Ulster County Week showcases how deeply embedded an appreciation of good health and wellness is in the very fabric of our community," said Dr. Carol Smith, Commissioner of Health and Mental Health. "We know that partaking in daily exercise and making healthy food choices are ways to help improve the length and quality of our lives. Here in Ulster County we have an abundance of options for staying fit, eating healthy, and having fun. Healthy Ulster County Week celebrates the fact that Ulster County is rich in resources such as beautiful trails, walkways, bicycle paths, and waterways. Farm markets, featuring an abundance of fresh fruits and vegetables, are accessible and conveniently located throughout the County.  Our tobacco free cafes and restaurants offer healthy and affordable dining experiences. Under County Executive Mike Hein's leadership, we are proud to be part of a community where wellness manifests in so many fun and interesting ways, and to join our numerous community partners in welcoming everyone to experience all that Ulster County has to offer."
Glenn D. Hoagland, President and Chief Executive Officer, Mohonk Preserve
"Since Ulster County Executive Mike Hein launched the Healthy Ulster initiative at our Visitor Center in 2011, we've been delighted to participate and encourage our neighbors to get into nature for healthy outdoor activities," said Mohonk Preserve Executive Director Glenn Hoagland. "To date we've distributed over 33,000 free one-month passes to Ulster County residents during our Healthy Ulster Spring and Autumn events."
Rich Gottlieb, Owner, Rock and Snow, New Paltz, NY
"Ulster County has more human powered outdoor activities to exhaust your body and lift your spirits than it ever has," said Rich Gottlieb, owner of Rock and Snow. "Whatever the season, Ulster County is the place to be. Every year there are new and expanded places to get healthy, happy, sweaty, and excited for life. Credit must go to County Executive Mike Hein for spearheading numerous healthy initiatives and giving us all a reason and opportunity to celebrate Healthy Ulster County Week."
Additional information about Healthy Ulster County Week activities can be found at www.ulstercountyny.gov, www.HealthyUlsterCounty.net, www.UlsterCountyAlive.com,  or calling at 845-340-3800.
Pictured above: County Executive Hein with representatives of some of the participating businesses and organizations.