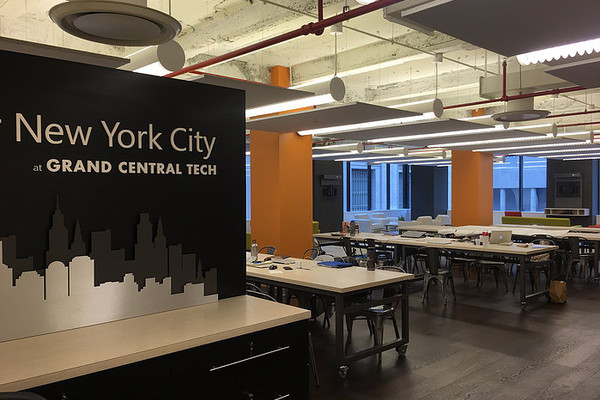 Posted May 7, 2018
County Executive Hein Announces Innovative Partnership Between Economic Development Alliance, Grand Central Tech And Hudson Valley Tech Meetup For Summer Tech Incubator in Kingston 
Kingston, NY - Ulster County Executive Mike Hein announced today that Grand Central Tech (GCT), one of the nation's premier tech incubators, has agreed to establish a satellite office in Kingston, New York this summer. This project will introduce 150+ entrepreneurs from New York City's thriving tech scene to one of the Hudson Valley's most vibrant developing communities, helping to boost the region's tech sector and build stronger connections between local and NYC tech leaders. The initiative is part of County Executive Hein's business attraction efforts, which leverage the County's tremendous scenic and cultural resources to compete with surrounding areas and small cities throughout the nation to attract highly talented, creative professionals to Ulster County's communities.
"I believe that when we show people how amazing it is to live, work and raise a family in Ulster County, they can't help but fall in love with this wonderful place and want to make it their home," explained County Executive Mike Hein. "The team at Grand Central Tech knows this, and that is why they chose Ulster County to set up their first presence outside of New York City. We look forward to welcoming them here, and as their member businesses grow and expand, Ulster County will be uniquely positioned to attract them to relocate here permanently thanks to this opportunity to showcase our community."
About Grand Central Tech
Founded in 2014, Grand Central Tech (GCT) has quickly established itself as New York City's premier venture platform, providing all the critical resources for transformational startups to achieve scale. Within its Accelerator program, the company awards seed-stage, non-equity investments through a highly-competitive annual application process. For businesses looking for shared space, GCT also operates a co-working facility called Growth in its 100,000 SF office, just steps from Grand Central Station. The Hub@GCT supports social entrepreneurs that are using technology to address some of the most pressing urban challenges facing cities large and small – energy, waste, transportation, agriculture, and water. GCT also recently added the New York Venture Fellows program to its platform, which is a year-long fellowship program designed to help high-potential entrepreneurs scale their ventures in New York City.
"We think this expansion to the Hudson Valley is exciting for many reasons, not the least of which is that our members – who often work long hours in front of screens – are eager to get out of the City for the summer and enjoy all of the cultural and outdoor activities that the Hudson Valley has to offer," said Grand Central Tech founder Matt Harrigan. "As we explored the idea of a summer outpost, we cast the net far and wide. But after speaking with County Executive Hein and meeting with local tech leaders like Kale Kaposhilin, we quickly realized that Kingston had the right fit for our members – it's close, it has great food and culture, and it already has an exciting community of highly engaged tech entrepreneurs.  Even though we knew Kingston was the right spot, we wouldn't have been able to make this happen without the tremendous welcome and support we received from County Executive Hein and the Ulster County Economic Development Alliance. They worked tirelessly to help us find a space that can work for this unique endeavor."
GCT North to Locate at Senate Garage
Throughout July and August, "Grand Central Tech North" will host up to 175 employees drawn from GCT's 100+ member companies in New York City. The facility will be housed at Senate Garage, an event venue in Uptown Kingston adjacent to the historic Senate House.
Senate Garage is also home to one of the area's leading tech firms: Dragon360.  Don and Judy Tallerman, owners of Senate Garage and Dragon360 said: "We're believers in Kingston and Ulster County as an exceptional place to live and work.  For people who seek a more balanced life in a small, walkable city surrounded by nature, this is the place."
Kingston Mayor Steve Noble welcomed the addition of GCT to the growing number of tech firms starting up in and relocating to Uptown. "As a kid, I remember when IBM fueled so much of Kingston's vitality, and I also remember how devastating it was when IBM left," said Mayor Noble. "GCT's choice to come to Kingston is a visible sign of the 'new tech' wave that has been growing here under the radar. Firms like Dragon360, Moonfarmer, Exago and 340Best are rapidly adding jobs, helping make Kingston one of the fastest-growing job markets in the State. I am thrilled that GCT will join them this summer, and look forward to this new chapter in Kingston's tech story."
Region's Talent and Entrepreneurial Culture Contributed to Location Decision
Part of what attracted GCT to Kingston was Ulster County's close-knit tech and startup community, represented most notably by the highly successful Hudson Valley Tech Meetup. "There's a unique community ecosystem that has taken shape in and around Kingston," said Kale Kaposhilin, co-founder of Hudson Valley Tech Meetup. "At the heart of it, what makes our ecosystem thrive here and helps attract groups like Grand Central Tech is genuine caring cooperation between businesses, residents, community organizations, and local government that tries to be exceptionally inclusive and accessible to all people and their creative ideas. This has resulted in a beautifully diverse ecosystem that is straight up inspiring! I'm grateful to County Executive Hein for helping to create such a vibrant and welcoming culture, and for helping us tell the story of Ulster County's entrepreneurial spirit, a spirit that values and encourages all people and cares about our collective well-being."    
Dennis Crowley, who co-founded tech company Foursquare in 2009 and more recently founded the region's only semi-professional soccer team, Kingston Stockade FC, has become a major booster of the region's entrepreneurial culture and its laid-back community vibe. "We've seen great things happening with tech startups in the Hudson Valley, and we're excited to partner with GCT North to setup an informal Foursquare presence in Kingston this summer," said Dennis Crowley, Co-Founder of Foursquare. "Everything happening with the Hudson Valley Tech Meetup and GCT really amplifies the area's entrepreneurial spirit and creative energy. At Foursquare, we are always looking for new sources of talent, and I think that GCT's presence here will help draw attention to the great engineers, developers and designers who are already here, in addition to bringing more top NYC talent to the region."
Economic Development Alliance to Welcome GCT Members
During the summer, GCT's visiting members will be encouraged to participate in a wide range of local activities, including tech-themed workshops and panels as well as local festivals and events. The Ulster County Economic Development Alliance, which is sponsoring GCT's summer presence in Kingston, will partner with GCT, the Senate Garage, and Hudson Valley Tech Meetup to coordinate participation in these events and activities, with a goal of showcasing Ulster County's quality of life and building stronger ties between tech leaders in Ulster County and in New York City. Through these efforts, GCT North supports the County Executive's efforts to build and strengthen Ulster County's local tech-related cluster.
"GCT's decision to expand to Kingston will have tangible benefits throughout Ulster County," said Julie Cohen Lonstein, Chair of the Board of Directors of the Ulster County Economic Development Alliance. "The entrepreneurs who come to GCT North, whether for a day or for the whole two months, will shop at our stores, eat at our restaurants and stay in our hotels and B&Bs. And perhaps when the summer is over, they will decide like many before them to visit again or to relocate here, continuing to contribute to our economy well into the future."
"GCT's choice to come to Ulster County validates our strong conviction that Ulster County's quality of life is one of our greatest economic assets, and shows that if we want to attract the next generation of tech workers and tech businesses, we must continue to protect and strengthen that asset," explained James Maloney, Vice Chair of the Board of Directors, Ulster County Economic Development Alliance and Chair of the Ulster County Legislature's Economic Development, Tourism, Housing, Planning, and Transit Committee.
At the next Hudson Valley Tech Meetup, members of the team from GCT and the Ulster County Economic Development Alliance will present a preview of the GCT North program, and will welcome visiting members from GCT's main NYC location. In addition, the Economic Development Alliance and representatives from Hudson Valley Tech Meetup will participate in membership events at GCT's NYC location to help recruit members to participate in the GCT North program.
"With GCT's presence, we will be able to help our talented local tech community to establish stronger connections with the exciting tech community in NYC," said Suzanne Holt, Director of the Ulster County Office of Economic Development and President of the Ulster County Economic Development Alliance. "By making these connections, we are showing tech entrepreneurs that the Hudson Valley is a viable alternative to the high-cost and hectic lifestyle of New York City, and at the same time we are building the professional network and prestige of our own successful, home-grown tech businesses."
"This is a unique opportunity to demonstrate all that our community has to offer," added County Executive Hein. "While we place the highest priority on supporting and strengthening the businesses who have already chosen Ulster County as their home, I am excited by this chance to add to what we are already accomplishing here, and to continue to grow Ulster County's economy."