Posted March 23, 2018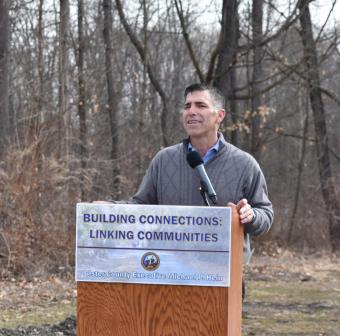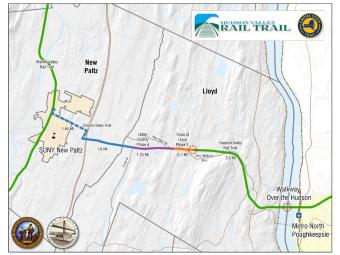 Highland, NY: County Executive Michael P. Hein was joined this morning by State and local officials and several dozen trail supporters to announce the start of construction for two construction projects that will extend the Hudson Valley Rail Trail by approximately two miles from its current terminus at Tony Williams Park in Highland to South Street. County Executive Hein was joined by County Legislators Herb Litts and Kathy Nolan, Town of Lloyd Supervisor Paul Hansut, Empire State Trail Director Andy Beers, and Peter Bellizzi, Hudson Valley Rail Trail Association President.
Michael P. Hein, Ulster County Executive
"These projects are key parts of a larger transitional plan that will connect the Walkway over the Hudson to New Paltz, Gardiner, Rosendale, Mohonk, Kingston, and beyond as part of New York's Empire State Trail," said County Executive Mike Hein.  "Building connections and linking communities are extraordinary benefits of having an inter-connected rail trail system.  As we begin the next phase of the Hudson Valley Rail Trail, I want to thank the Town of Lloyd for their strong partnership to assist us in making this critical connection of the trail a reality, as well as countless others who've supported this effort."
Paul J. Hansut, Supervisor, Town of Lloyd
"It is with great pride that I was able to participate in today's ground-breaking ceremony for the completion of Phase 3 and 4 of the Hudson Valley Rail Trail," said Supervisor Paul J. Hansut, Town of Lloyd.  "The dream of Ray and Claire Costantino is a reality thanks to the partnerships developed between the Town of Lloyd, Empire State Trail and Ulster County and those benefactors who have contributed financially along with the volunteers who willingly donate their time."
The Phase 3 trail extension is being implemented by the Town of Lloyd and will extend the 3.5 miles existing rail trail by an additional 0.7 miles from Tony Williams Park to New Paltz Road across from the Highland Fire District Station #2. Ulster County is managing the Phase 4 extension which further builds the trail from the Town's Phase 3 terminus to South Street off Route 299, adding 1.25 miles to the trail.
The Phase 3 and Phase 4 extensions help to extend the existing Hudson Valley Rail Trail westward towards New Paltz and fill an existing gap in the regional rail trail system slated to become the Empire State Trail by 2021. As part of the Empire State Trail project, the New York State Department of Transportation is designing and will construct the connection from South Street in the Town of Lloyd to the Wallkill Valley Rail Trail in New Paltz, creating an interconnected, multi-county rail trail system of more than thirty miles connected by the Walkway Over the Hudson. This rail trail system will then become part of the future Empire State Trail, a 750-mile interconnected rail trail system launched by Governor Andrew Cuomo in January 2017 which is slated for completion by 2021.
The Town and County's trail extensions will increase the Hudson Valley Rail Trail to 5.5 miles and create a 12 foot wide, asphalt pave trail that is fully accessible to persons with disabilities and limited mobility. The two projects received significant federal transportation funding, which covered eighty percent of the more than $4 million trail costs. The Phase 3 project also received grant funding through Scenic Hudson, and both projects were awarded grants through Assemblyman Frank Skartados, helping to reduce the local share of the project.  The two projects are now beginning construction and will be finished by late fall of 2018.
Pictured above: 1) Photo of County Executive Hein; 2) Hudson Valley Rail Trail Map