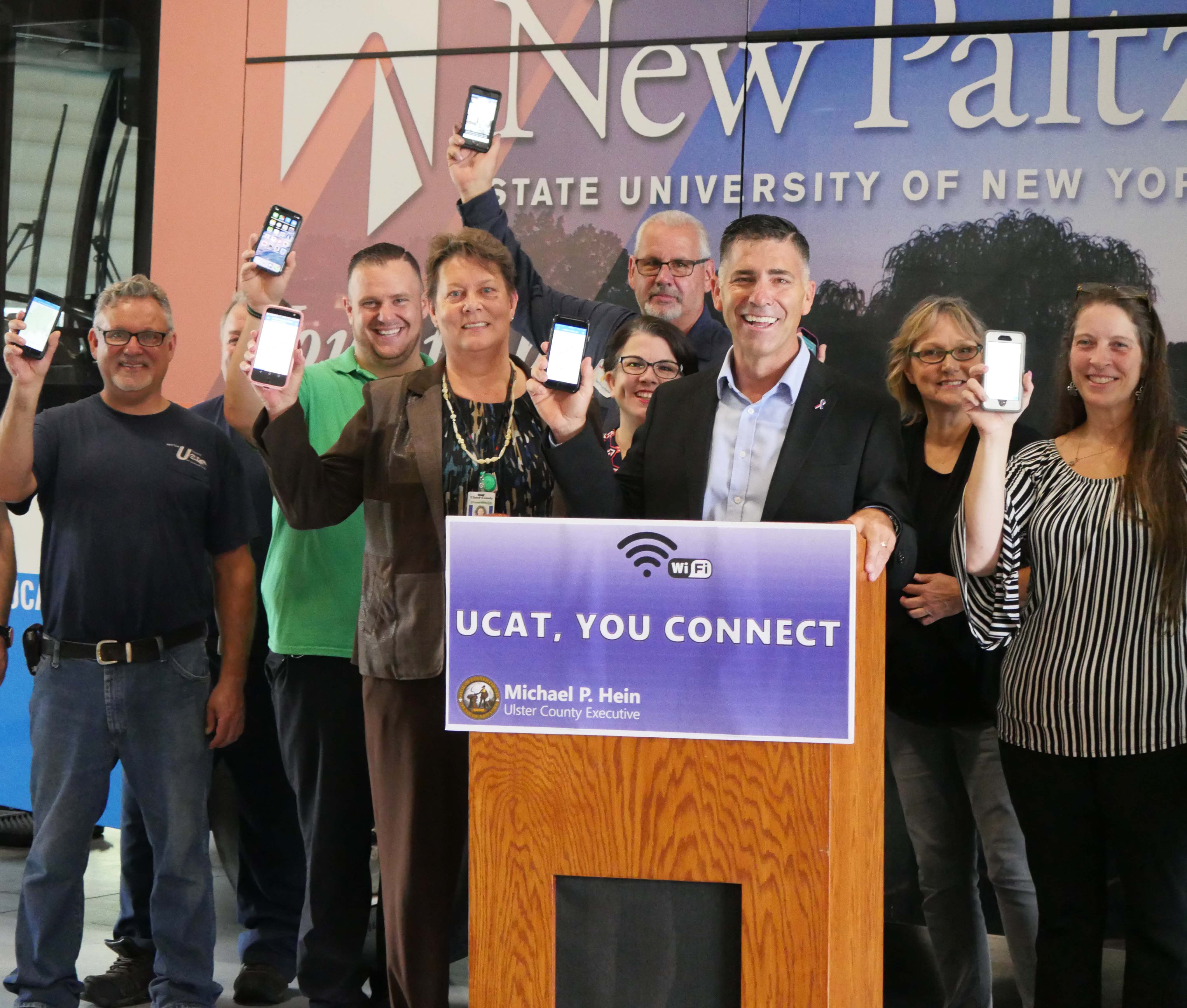 Posted September 12, 2018
This Expanded Service Provides Additional Benefits 
Kingston, N.Y. — County Executive Mike Hein is pleased to announce that all Ulster County buses, including ADA paratransit buses, are now equipped with free WiFi service.  The more than 380,000 annual Ulster County Area Transit (UCAT) riders will now be able to access the internet on their smartphones, laptops and other devices at no cost. Since taking office, the County Executive has overseen a number of improvements and a huge increase in annual ridership as well as enhancements to the County's bus service including: adding new routes that run to the Poughkeepsie Train Station for commuters; a loop service for SUNY New Paltz students; Half Fare rates for SUNY students and Ulster County Veterans; replacing aging busses with smaller more environmentally friendly and efficient buses; and developing a UCAT smartphone app which tells individuals exactly where their bus is and when it will be arriving.
Michael P. Hein, Ulster County Executive
"Today's world is fast paced and access to the internet is now more than just a luxury, it is essential," said County Executive Mike Hein.  "I am pleased that we are able to offer this valuable tool to our UCAT riders, keeping them connected to the information and people that are important to them.  Now when someone rides one of our buses, they can use WiFi to do job-related work, school work or just connect with others.   I appreciate the dedication of our Director of UCAT Carol Hargrove and her team for helping to make this a reality for our citizens and visitors to the area."
Carol Hargrove, Ulster County Director of Transportation
"With the support and guidance of County Executive Hein, Ulster County Area Transit remains one of the top-rated transit agencies in the nation scoring among the top 2% by the Federal Transit Authority," said Carol Hargrove, Director of Public Transportation.  "We were excited to implement the WiFi project when approached by the County Executive. The goal was to have WiFi on the buses prior to the opening of the 2018 fall semester.  We are proud to say we met that goal.   Now with the WiFi project completed, you can easily stay connected while on Ulster County Area Transit." 
The UCAT App utilizes GPS technology to track each bus on all of UCAT's fixed bus routes, provides the user with a map showing the current location of a bus, an arrival time for each upcoming stop, and gives turn by turn voice directions to the closest available bus stop.  The app is available free of charge for either Apple or Android operating systems by visiting the Apple App Store or Google Play and searching 'UCAT'.
UCAT operates 17 fixed route buses and 5 paratransit buses that traverse Ulster County, an area the size of Rhode Island, logging over 1 million revenue miles per year and boasting an on-time rate of 93%.  In 2017 its annual ridership was over 380,000 passengers, which represents more than a 60% increase since 2008.
Over 73,000 SUNY Students and over 2,500 veterans have used the Ulster County Area Transit service since the implementation of the Half Fare for SUNY Ulster students and the Veterans of Ulster County, a combined savings to them of $ 56,650.00. 
Pictured Above:  County Executive Mike Hein and Director of Public Transportation Carol Hargrove with UCAT staff.  Pictured Below: County Executive Mike Hein and Director of Public Transportation Carol Hargrove.