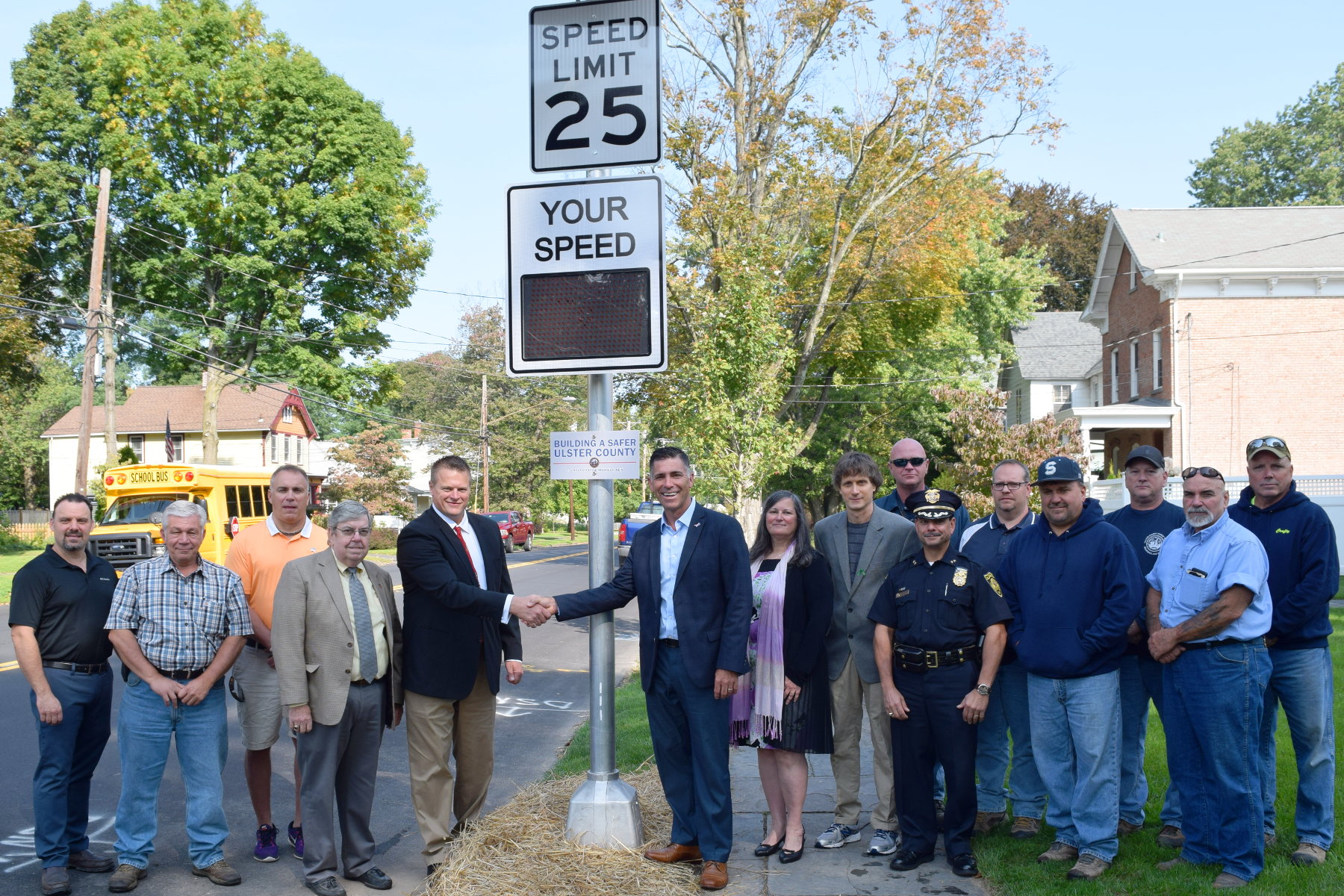 Posted March 13, 2018
County Executive's Building A Better Ulster County Investment Now Over $61 Million
Kingston, N.Y. –  As a component of the $61 million "Building A Better Ulster County" initiative, County Executive Mike Hein announces the expansion of the Ulster County School Safety Initiative. Under Phase I of the initiative, 13 new digital speed feedback signs will be installed near school zones throughout the County to help protect children and enhance traffic safety. Each of these solar-powered signs will list the designated speed limit and provide a digital display of an oncoming vehicle's speed.  Speed feedback signs are proven to be an effective means of enhancing traffic safety because they help increase drivers' awareness of their speed through real-time information. In September, County Executive Hein unveiled such a sign on Washington Avenue in Saugerties that was welcomed by the community, law enforcement and school administrators and was accomplished in partnership with the Village of Saugerties. Due to the program's success, it is being expanded to other locations in Hurley, Lloyd, Marbletown, Marlborough, New Paltz, Plattekill, Rochester, Rosendale, Saugerties and the Town of Ulster.
Michael P. Hein, Ulster County Executive
"Solar speed signs make drivers more aware of their speed and can potentially help to prevent an accident," said Ulster County Executive Mike Hein.  "Speed feedback signs are a proven method of reducing traffic speeds and improving safety in areas surrounding school zones. I am pleased to expand this program to help protect even more children in our county."
Joseph Sinagra, Town of Saugerties Police Chief
"County Executive Michael Hein's continued effort toward protecting our children is underscored by his unrelenting effort to provide additional solar powered speed signs in our school zones throughout Ulster County," said Town of Saugerties Police Chief Joseph Sinagra.  "Executive Hein's 2018 capital program budget for school safety initiatives continues to address this important area of pedestrian safety, through motorist awareness of their speed in our school zones. We enjoy the relationship we share with Ulster County in this important endeavor, being one of the first municipal recipients of such a traffic safety speed sign in September. I applaud our County Executive for his continued and unyielding diligence in keeping our streets and most importantly our children safe!"
The solar power speed sign rollout is part of the "Building A Better County" initiative, a $61 million, four-year investment in County roads and infrastructure to improve the safety for vehicles and pedestrians. Under the program, Ulster County is scheduled to address over 70% of its roads by the end of 2018, including improvement of 73.25 miles of road in 2018 and upgrade eight bridges across the County.
Attachment: List of 2018 Building A Better Ulster County Capital Improvement Projects
Pictured above: County Executive Hein shaking hands with Seth Turner, Superintendent of Saugerties Central School District surrounded by other stakeholders.