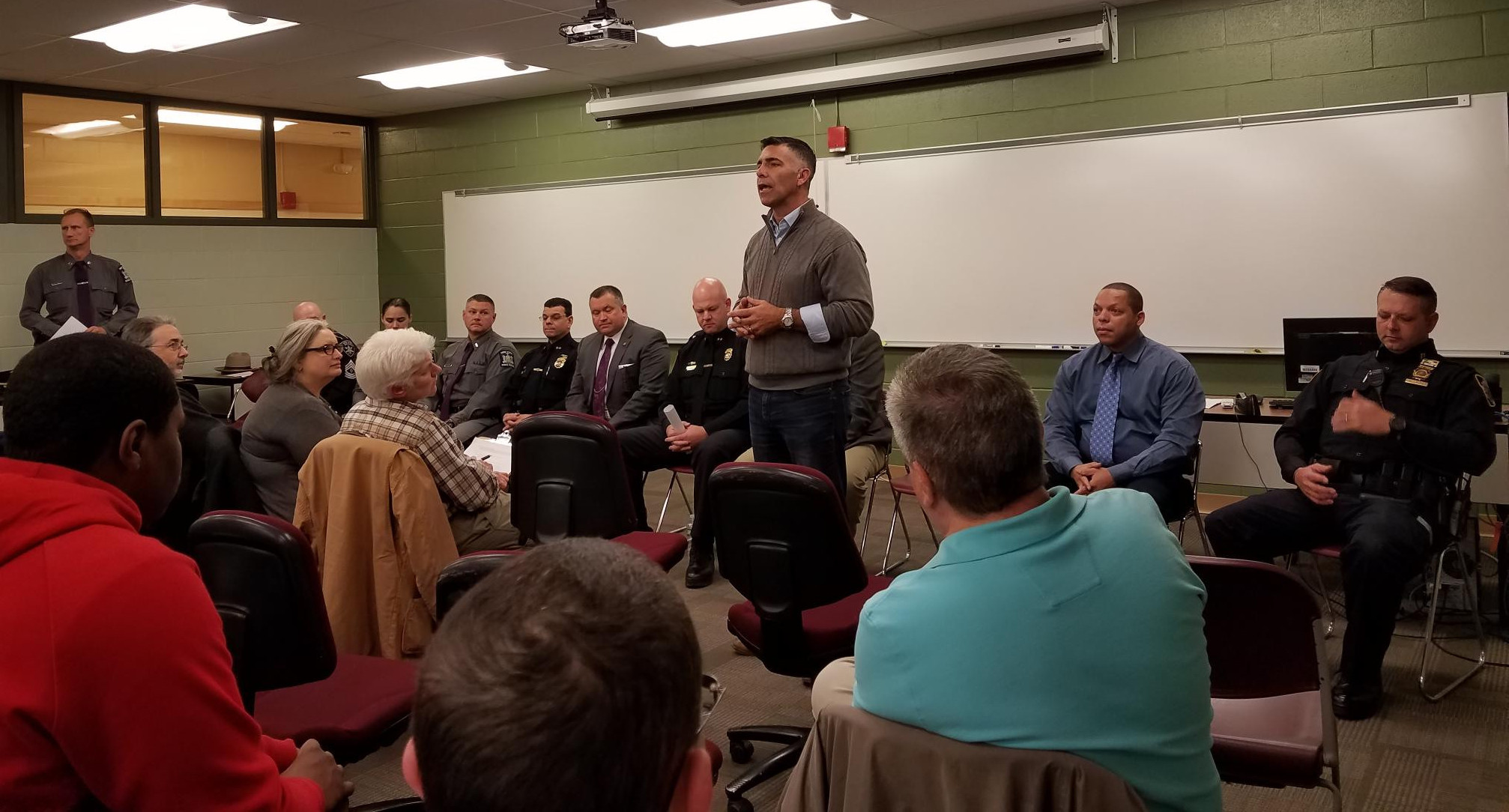 Posted November 9, 2018
Religious Leaders Joined Local Law Enforcement Agencies in Kingston on Thursday to Discuss Common-Sense Practices To Increase Safety At Houses of Worship
Kingston, N.Y. – On Thursday, November 8 Ulster County Executive Mike Hein hosted a forum for leaders from Ulster County religious communities to discuss security issues and concerns with members of the New York State Police and local law enforcement agencies. The event was organized as part of the local response to the mass shooting at the Tree of Life Synagogue in Pittsburgh on Saturday, October 27 that took the lives of eleven worshippers.
Over forty people attended the workshop, which was facilitated by Captain Michael Drake of the New York State Police. The event drew participation from a broad cross-section of Ulster County's faith-based community, including leaders from Muslim, Jewish, and Christian houses of worship.
Ulster County Executive Mike Hein
"Houses of worship are, by definition, open and welcoming places rather than secure fortresses," said Ulster County Executive Mike Hein. "As such, they are inherently vulnerable to acts of random violence. But we can and must take common-sense steps to protect those who practice their faith peacefully, and to do our best to avoid the kind of tragedy that has befallen other communities across the nation. In the wake of the recent events in Pittsburgh, I felt compelled to convene this meeting to help provide the information and resources that our faith communities need in order to better protect both themselves and their congregations."
The forum, which was held at the Kingston Center of SUNY Ulster on Mary's Avenue in Kingston, provided an opportunity for participants to learn about best practices and an opportunity to ask frank and honest questions to law enforcement professionals. Following the forum, religious leaders are encouraged to work with the New York State Police and other local law enforcement agencies to conduct security evaluations of their houses of worship.
"I am grateful to Captain Drake, the New York State Police and our local law enforcement agencies for their willingness to work with local houses of worship to address the issues and needs that are specific to their particular locations," said County Executive Hein.
Captain Michael Drake, New York State Police
"Within hours of the shooting in Pittsburgh, County Executive Hein called me to discuss his concerns about security at local houses of worship," said Captain Michael Drake of the New York State Police, who facilitated Thursday's forum. "We immediately launched into a planning process together to ensure that our community is as well-prepared and protected as possible, and with the hope that we can avoid future acts of violence. I thank the County Executive for his leadership, my colleagues in local law enforcement for their participation and their dedication to their communities, and the participants for their thoughtful and insightful questions. I look forward to continuing to work with our faith-based organizations to help them achieve a careful balance of safety and openness."
Any religious organization or house of worship that was unable to attend Thursday's forum is encouraged to reach out to Captain Drake at the New York State Police with any questions or to request assistance with security measures. Captain Drake can be reached via the main phone for the New York State Division of State Police – Troop F at 845-338-1702. Questions or concerns may also be directed to the Office of the Ulster County Executive at (845) 340-3800.
###
Photo (above): County Executive Mike Hein addresses an audience of leaders from faith-based organizations at Thursday's Interfaith Security Forum.