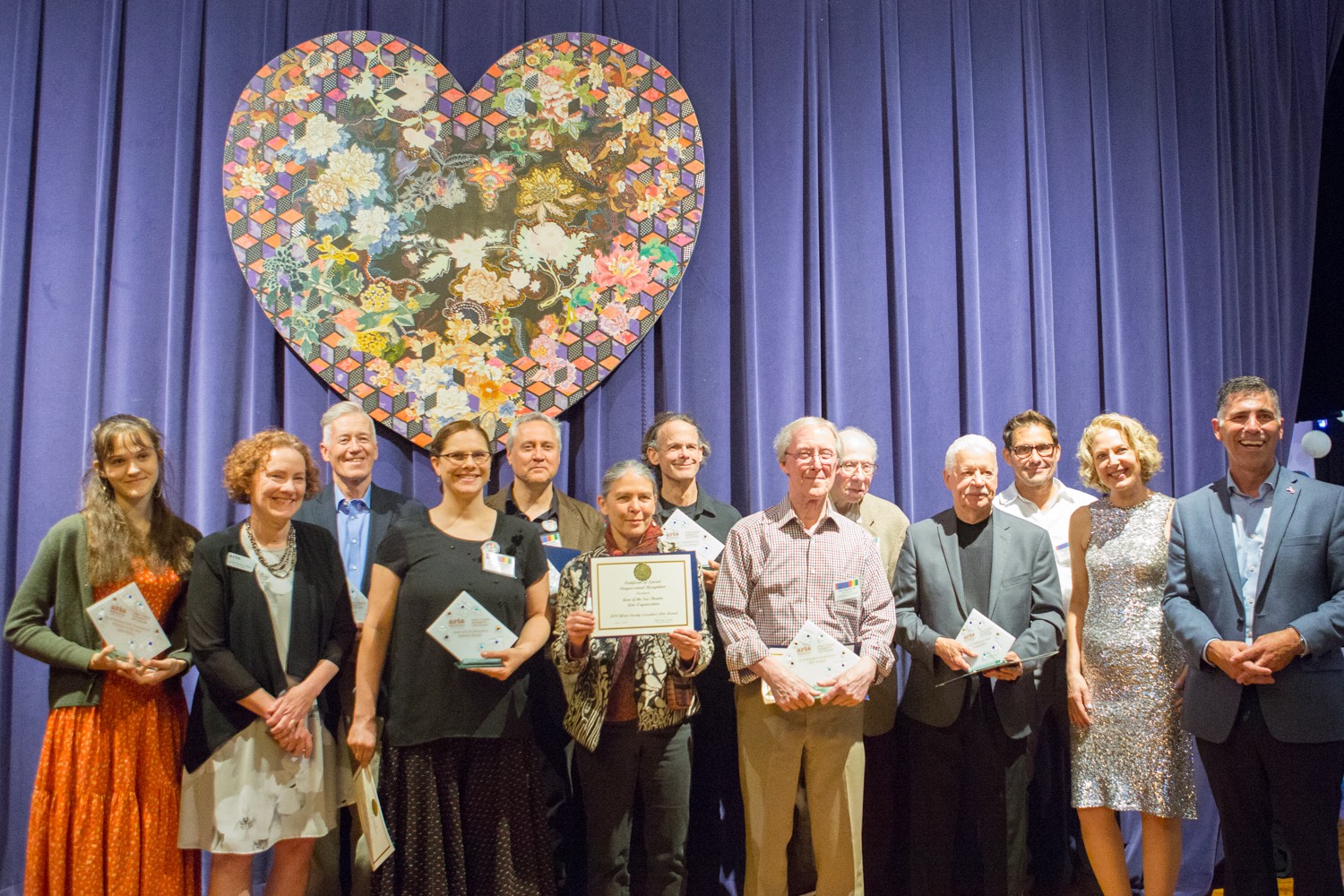 Posted June 6, 2018
Saugerties, NY-  Ulster County Executive Mike Hein was joined by Linda Marsten-Reid, Executive Director of Arts Mid-Hudson and over 150 guests to celebrate the 6th Annual Ulster County Executive's Arts Awards at the Saugerties Performing Arts Factory (SPAF).  The event was hosted by Arts Mid-Hudson and recognized 10 local artists and organizations for their outstanding contributions to the arts community.  
"The Arts Awards is an opportunity to recognize extraordinary artists whose work inspires others to see the world differently, as well as the community's commitment and ongoing support of the arts," said Ulster County Executive Mike Hein. "Congratulations to all of this year's honorees for their contributions in advancing the arts in Ulster County, their dedication and creativity not only enriches the lives of so many, but builds on the history and culture of the arts in our County."
Award recipients are chosen based on their important contributions to the growth of Ulster County's cultural life over a significant period of time, the extraordinary support they show of the arts, and/or their vision and leadership in using the arts to enhance community life.
The 2018 honorees are:
Arts Organization – Arm of the Sea Theater is an arts ensemble founded in 1982 by Marlena Marallo and Patrick Wadden, that fuses visual storytelling with live music in contemporary works of mask and puppet theater.  The company's hybrid style channels the evocative power of the arts as a force for joy, insight, and community uplift.
Individual Artist – Donald Elder's artworks are shown nationally and internationally and held in many private and public collections. He studied internationally and is a recipient of the Pollock-Krasner Foundation Grant and the Edward G. McDowell Grant.  Elder applies an abstract point of view to his painting, and the work is grounded in a composition of representational elements using paint, texture, color tones and layering effects to create shapes with an elusive reference to nature.
Volunteer - Jim McIntyre has played a pivotal role in the Shadowland Theater's growth.  He has co-chaired the theatre's Capital Campaign and overseen recent construction.  His volunteerism often featured 50+ hour weeks which included project managing over $1 million in renovations to the main stage theater, and overseeing the recent $500,000 renovation of Shadowland Studio, the theatre's new black box theatre, education, and new play development space.  He is currently fundraising to complete work on the Shadowland Studio and assisting the Board to ensure long-term stability for the organization.
Arts in Education – Roberta Ziemba received her BFA and Masters from the Rhode Island School of Design and pursued a master's in textiles at Philadelphia University.  She began teaching elementary art for the Onteora Central School District in 2004 which gave her the opportunity to teach art in a culturally and artistically rich community. She has worked collaboratively with local artists and exhibits student artwork at local museums, banks, stores and libraries.
Special Citation – Stacey Jarit was posthumously awarded a Special Citation for her work as both as an artist and advocate in Ulster County for over 30 years. She was a skilled painter and curated exhibitions at the New York State Museum and the Schenectady Museum, served on the board of the Woodstock Byrdcliffe Guild, the Woodstock School of Art Advisory Board and the Ulster County Executive Arts Awards Committee.  She was the Director and Co-Founder of Artrider Productions, producing nationally acclaimed craft shows and festivals, and served on the Craft Emergency Relief Fund (CERF+) for many years.  Last year, shortly after her passing CERF+ created the Stacey Fund to celebrate her legacy. This fund assists artists working in craft disciplines who are experiencing a career-threatening illness or for those who need to put their career on hold to care for a loved one with a serious illness.
Special Citation – Anthony Cacchio, Jr. (Uncle Tony) is a local legend at the Rosendale Theater.  He has helped bring the public joy, entertainment, inspiration and enrichment by engaging the surrounding community and is a familiar face to moviegoers.   When Mr. Cacchio was about to retire and sell the building in 2010, members of the community formed The Rosendale Theatre Collective, and purchased the theater.  Uncle Tony stayed on as advisor and taught the board and volunteers how to run the business. He continued to be the projectionist operating the giant 35mm reel projectors.
Artivist - Michael Asbill is best known for his role as a Director at the Kingston Museum of Contemporary Art (KMOCA) and the founder of CHRCH Project Space, and has served on the Board of Directors for Walkway Over the Hudson, Art Manager at the Hudson Valley Seed Library, and a core collaborator with Habitat for Artists. For over 17 years, he has brought together arts advocacy, community engagement, education and curatorial endeavor into his public art works. He developed the education program at WAAM and has taught art history at SUNY Ulster.  He is currently a visiting lecturer in the sculpture program at SUNY New Paltz.
Business Corporation – P&T Surplus, operated by Tim Smythe Sr. and Tim Smythe Jr., has helped local artists locate materials for their projects for over 50 years. The store is a treasure trove of stuff, from floor to ceiling, everyday items, and unrecognizable parts, bits and pieces. It is an artist's dream and they have always supported that dream.
Art in Public Places – Trina Greene is a graduate of the Boston Museum School and Harvard Graduate School. She is an Ulster County artist and was commissioned to sculpt the eleven-year old slave "Isabella" who grew up to be Sojourner Truth which is located at the Sojourner Truth Park in Port Ewen.  She was also commissioned to sculpt a monument to the over 2,300 paupers in unmarked graves from the Poorhouse, where the Ulster County Fair Grounds now stands. The Poorhouse Monument: "Aging Woman" will be unveiled this fall at the site of the former Ulster County Poorhouse.
Student with Exceptional Promise in the Arts – Lucie Parker is a multi-talented 15-year-old dancer, choreographer and actor who currently studies at Barefoot Dance Center. Her choreography has been performed at Dance Up!, a national platform of emerging high school choreographers, and she has danced at multiple venues throughout the mid-Hudson Valley.  For the past 5 years Lucie has spent her summer performing Shakespeare in the Young People's Theater Arts Workshop.  She plans to attend a conservatory for dance, join a modern dance company, and continue having the arts as a central part of her life.
Pictured above: County Executive Hein; Audrey Rapoport, Actress; and Linda Marsten-Reid, Arts Mid-Hudson Executive Director with award winners; Pictured below:  1) County Executive Hein and 2) Award Presentation at SPAF