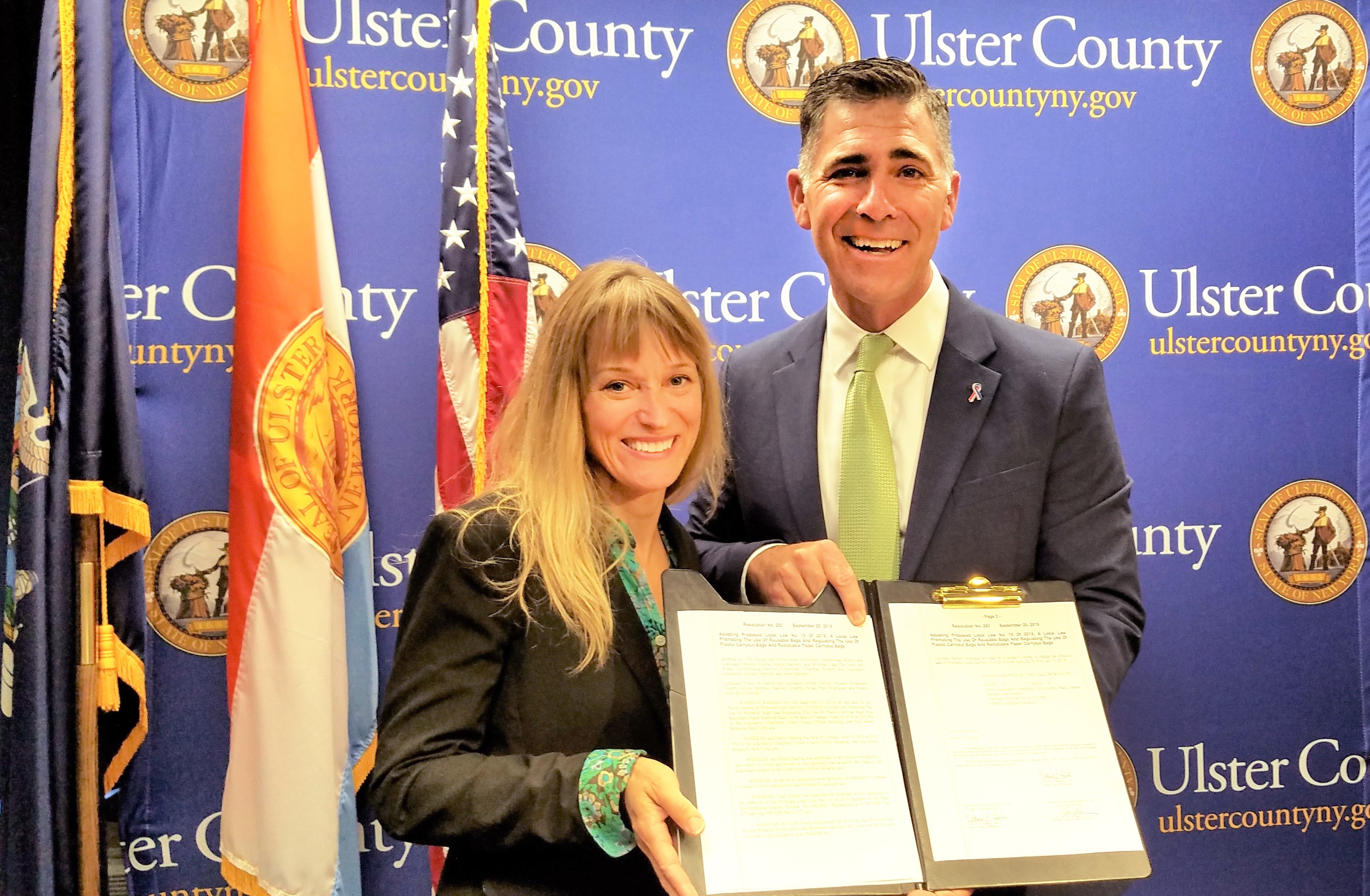 Posted October 19, 2018
Legislative Sponsors Agree to Modifications to Protect Low-Income Families and Provide Public Education Campaign Prior to Enforcement Efforts
Kingston, N.Y. – On Friday Ulster County Executive Mike Hein signed Resolution Number 283 of 2018, adopting a proposed law to ban single-use plastic bags in Ulster County. County Executive Hein was joined for the signing by sponsors of the law – known as "The Bring Your Own Bag Act" – as well as several of the environmental groups that have championed the law's passage.
The new law bans covered stores throughout Ulster County from providing single-use plastic carryout bags and requires them to charge $0.05 for each recyclable paper bag provided to customers. The law is set to take effect on July 15th, 2019. Based on input provided by County Executive Hein, the bill's supporters have agreed and have assembled the necessary support to amend the law prior to its effective date to include: a provision that would exempt SNAP (Food Stamps) and WIC recipients from paying the $0.05 fee for recyclable paper bags, and a six-month educational campaign that will begin prior to full enforcement of the law. Full enforcement, including potential fines for violations, is anticipated to begin no later than January 1, 2020. 
With this action, Ulster County becomes the thirteenth municipality – and the only County – in New York State to adopt local legislation banning single-use plastic bags as a means of reducing the environmental impacts associated with plastic waste. County Executive Hein and the bill's sponsors anticipate the bill will provide a model for other communities throughout New York State and further amplify local pressure on statewide elected officials to implement a statewide "bring your own bag" law. 
Michael P. Hein, Ulster County Executive
"I am proud that Ulster County has become a national leader in protecting our environment while simultaneously embracing critical financial protections, and this law is a testament to the hard work and dedication of Legislator Bartels, the Energy and Environment Committee as well as Legislators on both sides of the aisle. I also want to commend the supporters of this law for embracing critical changes that made a strong and responsible law even better, and I look forward to working together to make this plastic bag ban a reality as we continue to protect our children, our families and our environment for generations to come."
Tracey Bartels, Ulster County Legislator, District 16 (Gardiner, Shawangunk)
"Every year New Yorkers use more than 20 billion plastic bags and just two weeks ago the UN Intergovernmental Panel on Climate Change warned that the world has 12 years to act to prevent catastrophe," said Ulster County Legislator Tracy Bartels.  "Today, with this bill Ulster County commits to taking action.  This bill is the result of years of diligent effort and its effect will be felt for generations.  I am grateful to all who contributed in good faith and worked to reach consensus.  I am hopeful that the careful crafting and execution of this legislation will create a model for other municipalities to follow. I am thrilled today to join our County Executive as he signs this bill into law, and I am grateful for his commitment to education and outreach about this matter. I would also like to thank my fellow legislators who have worked so hard over the years to craft responsible legislation that protects our environment."
Kathy Nolan, Ulster County Legislator, District 22 (Denning, Hardenburgh, Olive, Shandaken)
"The goal of the plastic bag ban is to directly reduce the usage of single-use plastic bags and shift away from plastics to alternatives that are much less harmful to our health and the environment," said Ulster County Legislator Kathy Nolan. "Bringing this law to fruition involved the dedication of legislators, community groups, waste management experts, and the leadership of County Executive Mike Hein. The attention to detail on this bill makes it likely that it will serve as a model for municipalities and communities across New York State."
Paul Gallay, Riverkeeper
"Riverkeeper thanks and congratulates Ulster County Executive Mike Hein and the Ulster County Legislature for crafting this visionary new law, which will cut plastic pollution, beautify our neighborhoods and make the Hudson cleaner and safer for people and wildlife, alike," said Riverkeeper President, Paul Gallay. "Communities across the state and leaders in Albany should look to this new law as a model for their own efforts to promote cleaner and healthier places to live, work and play."
Under provisions negotiated by County Executive Hein and agreed to by a majority of the bill's original sponsors, the Legislature will adopt amendments to the bill at a future legislative session. Those amendments provide for an exemption of the $0.05 fee for recyclable paper bags for recipients of SNAP (food stamps) and WIC and outline a six-month period during which enforcement of the new law will be delayed as the County performs outreach and education to members of the public and covered stores regarding the law's provisions. Following this education campaign, the law will go into full effect by January 1, 2020.
The bill passed in Ulster County differs from less effective measures implemented in other areas, which either impose a fee but do not ban plastic bags, or simply require plastic bags to be accepted for recycling. Ulster County's new law involves a full ban on single-use plastic bags at all covered stores, coupled with a required fee for recyclable paper bags, which is charged to the customer and recorded on their receipt. The hybrid ban-and-charge model is designed to encourage shoppers to bring their own reusable bags. Other locations that have implemented similar hybrid ban-and-charge laws have seen dramatic reductions in plastic bag waste.
In addition to reducing plastic pollution and mitigating the harmful impacts it has on the environment and on human health, the bill's provisions are expected to head off future costs related to plastic production, distribution and disposal as the volume of single-use plastics reaches a tipping point. According to the New York State Department of Environmental Conservation, American retailers spend $4 billion annually to provide single-use plastic bags – a cost that is invariably reflected in the prices that consumers pay at the checkout. Additionally, plastic waste is increasingly responsible for expensive failures of sewage and water treatment plants as well as recycling facilities, where plastic film can interfere with sensitive machinery. Collection, hauling and disposal of plastic waste is a growing challenge that threatens to cause increasing costs for municipalities and private companies alike. 
By promoting reusable plastic bags, laws like Ulster County's are designed not only to protect the environment and human health, but also to reduce inefficiency and waste that ends up costing consumers money.
###
Photo: Ulster County Legislator Tracey Bartels (left) and Ulster County Executive Mike Hein (right) hold a signed copy of the bill known as The Bring Your Own Bag Act.