Posted September 12, 2017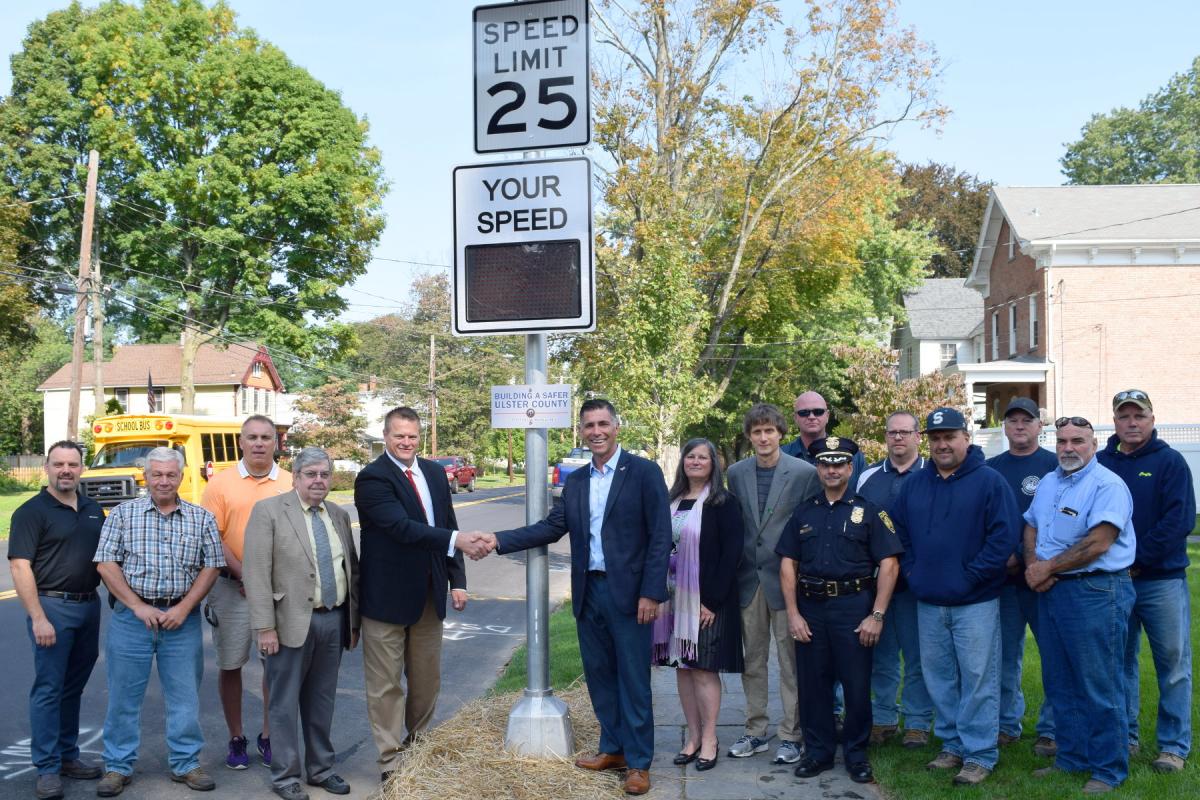 A Renewed Emphasis On Traffic Safety As The New School Year Is Underway
Saugerties, N.Y. –County Executive Mike Hein is reminding drivers across Ulster County that school is open and safety on our roadways and protecting our children is of paramount importance.  The County Executive was joined by Legislator Chris Allen and Saugerties officials including Village Mayor Bill Murphy, Town Supervisor Greg Helsmoortel, Police Chief Joseph Sinagra, School Superintendent Seth Turner and others to unveil a speed feedback sign recently installed on Washington Avenue in Saugerties which is the result of a partnership between the County and the Village of Saugerties.  The new sign is part of a network of these signs being installed in school zones across Ulster County.  Each sign lists the designated speed limit and provides a digital display of an oncoming vehicle's speed.  Additionally, as part of the County Executive's school safety initiative the County has also installed school safety awareness signage on multiple UCAT buses and is hosting a 'Safe Routes To Schools' website (http://ulstercountyny.gov/planning/transportation-council/safe-routes-to-school) that includes additional resources and a toolkit for communities to create their own safety program.
Michael P. Hein, Ulster County Executive
"As a parent I know how focused we all are on keeping our children safe, so first and foremost this initiative is about protecting our children. But it is also about governments working together after listening to the community and partnering to find common sense solutions," said Ulster County Executive Mike Hein.  "I want to commend Mayor Murphy and Police Chief Sinagra for all of their work and cooperation in getting this done.  I also want to especially thank Legislator Chris Allen who identified an important issue in his district, worked to deliver results and ultimately made his community safer.  We all want to ensure a safe and productive school year for every student and this initiative coupled with upcoming roadwork will further improve safety for our children and all pedestrians county-wide."
Bill Murphy, Village of Saugerties Mayor
"It has been the goal of myself and my Village Team over the past year to upgrade Washington Avenue and to make it as safe as we can" said Village of Saugerties Mayor Bill Murphy.  "We have done several in house projects to meet this need and now with the assistance and support the County Executive has provided to us, it is like the icing on the cake. Traffic safety is everyone's responsibility and it will take the cooperation of the drivers as well as the enforcement from the police department, to ensure all these changes and upgrades are successful."
Seth Turner, Superintendent of Saugerties Schools
"I am grateful to County Executive Hein for moving so swiftly and having the sign in place for the new school year," said Seth Turner, Superintendent of Saugerties Schools.  "It was wonderful to see collaboration between the county, village and town in order to further increase the safety of our students and I want to thank everyone involved."
Joseph Sinagra, Town of Saugerties Police Chief
"Once again, our County Executive Mike Hein has stepped up to the plate assisting local authorities to address the needs of their community through the funding and collaborative initiative toward protecting our children," said Town of Saugerties Police Chief Joseph Sinagra.  "The solar powered speed sign on Washington Avenue in the Village of Saugerties will assist in enforcing the speed limit in the corridor gravely traveled by both middle school and high school students walking to and from school each day. I commend our County Executive who is truly concerned about all of us who live and visit Ulster County.  It is an honor to have this level of support from our County government."
Washington Avenue in the Village of Saugerties is home to Cahill Elementary School, Saugerties Jr/Sr High School, a library, a nursery school and Cantine Veterans Memorial Complex.  The County is in the process of working with community leaders from across Ulster County to identify key locations that would benefit from the installation of similar speed feedback sings.  It is anticipated that several of the signs will be installed over the next year.
Pictured above: County Executive Hein shaking hands with Seth Turner, Superintendent of Saugerties Central School District and joined by Legislator Chris Allen, Deputy County Executive Adele B. Reiter, Town and Village of Saugerties officials, and members of the Ulster County Department of Public Works