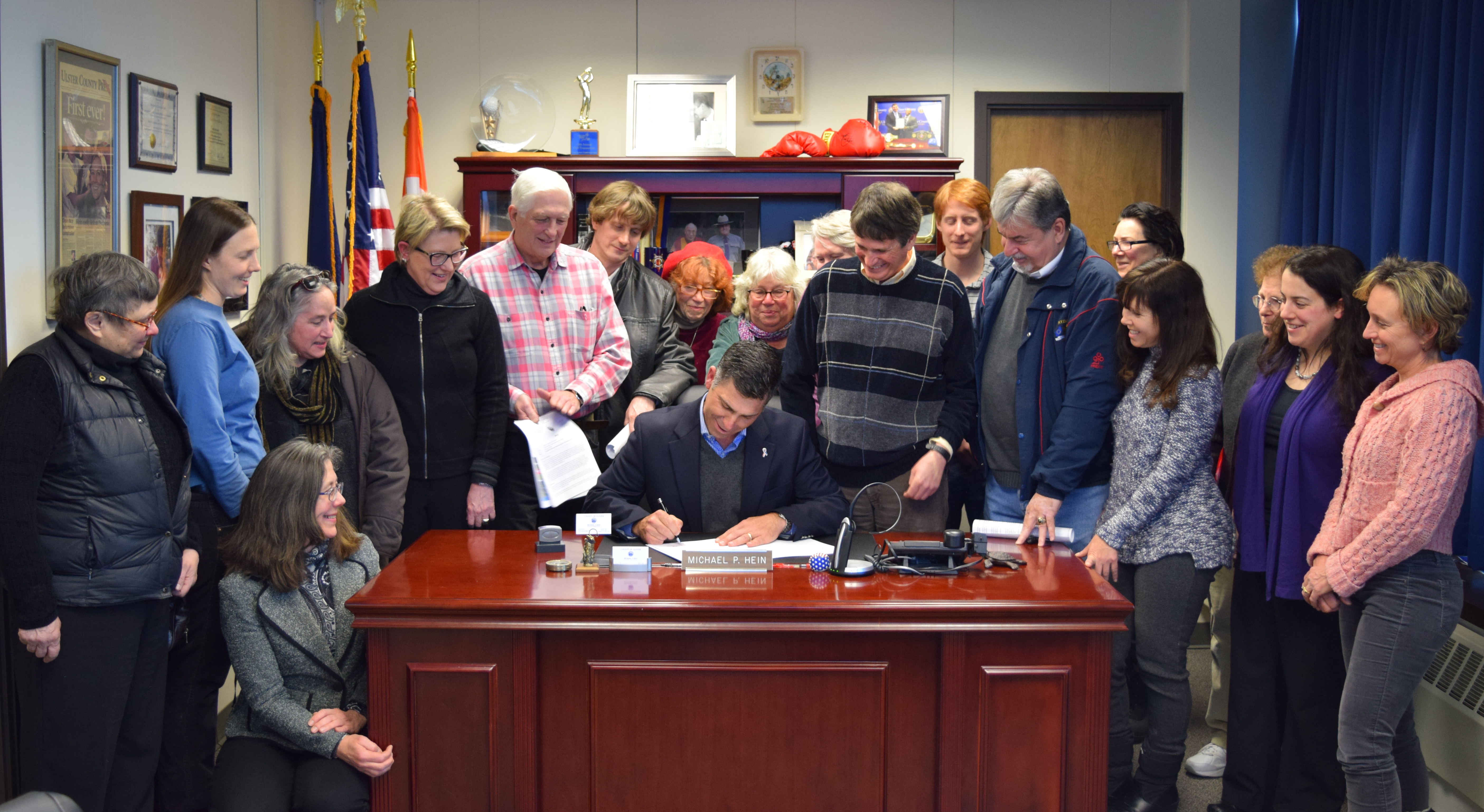 Posted February 20, 2015
The County Executive Issues Veto Amid Environmental And Financial Concerns
Kingston, N.Y. – Today, following a meeting with concerned environmental organizations, county lawmakers and citizens, Ulster County Executive Mike Hein vetoed Resolution No. 314A which was passed by the Ulster County Legislature at its February 17, 2015 meeting.  The resolution calls for the County to spend $25,000 to convert five transport vans from unleaded gasoline to liquefied petroleum gas (LPG).
"Simply stated, and after a thorough review by Ulster County's Department of the Environment Coordinator Amanda LaValle, Resolution 314A is not good for our environment, the County's finances or the citizens of Ulster County," said County Executive Mike Hein.  "Ulster County government has become a state-wide leader in environmental stewardship, whether it's obtaining 100% of our electricity from renewable resources, investing in plug in hybrid electric vehicles, installing electric vehicle charging stations or converting our bus fleet to biodiesel, but Resolution No. 314A would represent a step backwards.  Trading one fossil fuel for another is not environmentally sensitive and investing in a vehicle technology that promotes fracking is unconscionable, especially since more sustainable, renewable options are readily available."
"After conducting a thorough review of the propane proposal covering the environmental, financial and operational components, the Department of the Environment does not believe conversion of the vans to propane is in any way appropriate or advisable," said Ulster County Department of the Environment Coordinator Amanda LaValle.  "Current initiatives including the use of biodiesel in the UCAT bus fleet and plug-in hybrid vehicles will yield 26 times the greenhouse gas reduction as compared to the propane proposal. In addition, there is negligible, if any, financial benefit to the County in implementing this proposal. The propane proposal is clearly a lose/lose proposition for both the environment and the County Budget."
The transport vans sought to be retrofitted are on average 7 years old, have an odometer reading of 50,000 miles and average 11 miles per gallon.  If one van was retired and a new fuel efficient model was purchased as a replacement, it would reduce fuel consumption of the fleet by 12%, as opposed to the up to 10% reduction by converting to LP gas.
More than two-thirds of domestic propane production comes from natural gas production.  This percentage is dramatically growing due to the boom in natural gas production due to low cost, high volume hydraulic fracturing.  New York State recently banned hydraulic fracturing due to its dangerous environmental impacts.