School Resource Officer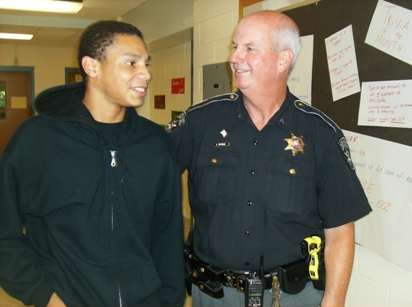 The School Resource Officer (SRO) Program involves a partnership between the Ulster County Sheriff's Office and area schools.  Currently the Ulster County Board of Cooperative Educational Services (BOCES), the Rondout Valley Central School District and the Onteora Central School District have SROs.  This program enhances the school's environment by providing the school a uniformed deputy sheriff to assist faculty and students with problems before they affect the learning environment.
The School Resource Officer certification training prepares the assigned officer to work in an academic environment so that officers will be able to function more effectively in schools. Training includes academic organizational structure, public speaking, counseling, handling special needs students, violence in the school, gang activity, creating drug free schools and crisis management. 
SRO program goals include:
To create a safe school environment free of harm, intimidation and weapons
To present a positive role model of a law enforcement officer
To change youth's perceptions of a law enforcement officer
To develop a model of cooperative efforts by school districts and law enforcement agencies that can be replicated within the county and beyond.
The Sheriff's School Resource Officer program began with a U.S. Department of Justice grant and remains a successful program for our youths and educators.
Project Lifesaver
"Bringing Loved Ones Home"
Project Lifesaver is an electronic tracking system designed to locate individuals prone to wandering, such as those affected by Alzheimer's disease, dementia, Autism and Down syndrome.
Project Lifesaver combines technology and trained deputy sheriffs. The system involves a transmitter worn in a hospital-style bracelet that emits a radio signal, personalized to the wearer, which can be picked up by our equipment. If the client goes missing, the caregiver calls the Sheriff's Office and notifies them that a Project Lifesaver client has wandered and his or her last reported location. Our deputies are deployed on the search. On average, a search takes under 30 minutes. The signal can be tracked on the ground or from the air over several miles.
Project Lifesaver helps us to protect wanderers with cognitive impairment because it allows our patrols to find them quickly, usually within a half hour. The more quickly a wanderer is found, the greater the chance he or she will be brought home safely.
This system is used by many sheriffs' departments and police agencies nationwide. Project Lifesaver is a strategic partner of the Alzheimer's Foundation of America.
To find out more or to enroll your loved one or friend, please call 845-334-5777.
Child Passenger Safety
This program aims to improve the safe transport of children by encouraging the secure and correct installation of child car seats.   Deputies certified as car seat technicians conduct classes on child car seat installation and use to community groups, law enforcement, fire and emergency services.  Contact 845-334-5748.
Yellow Dot
The Sheriff's Office offers this free program designed to give emergency first responders quick access to individuals' vital medical information.  Funded through the NYS Sheriff's Association, Yellow Dot consists of a kit containing medical information cards and Yellow Dot stickers directing responders to the cards.  To obtain the Yellow Dot kit, please call 845-340-3590.
Project Childsafe
This nationwide program promotes safe firearms handling and storage practices among all firearm owners through the distribution of safety education messages and free firearm safety kits. The kits include a cable-style gun-locking device and a brochure that discusses safe handling and storage.
Sheriff's Summer Camp
The NYS Sheriffs' Association Institute Summer Camp offers a camp experience to economically-distressed children who otherwise might not have a chance to go.   Located in Penn Yan, NY, the camp helps foster good relations between these children and the men and women of law enforcement, with deputies serving as counselors and conducting demonstrations related to police work.   Children must reside in Ulster County and be between the ages of 9 and 12.  Applications become available in early spring of each year, and the camp takes place in July.  Contact 845-340-3590.