Project Description 
Ulster County is proposing to develop a Government Operation Center (GOC) to meet its need to upgrade the County's Emergency Operations Center (EOC) and Public Safety Answering Point (PSAP/ 911Center) as well as utilize the significant investment in technology at the building to engage strategic planning to meet future county needs. The GOC will be located at Paradies Lane in New Paltz on a site that consists of 57.3 acres of which the facility will utilize approximately 6.5 acres.  The proposed facility will consist of an approximately 16,000 sf main building and a 4,000-square-foot storage building. The project will also include parking for 65+/- cars, areas for expansion, perimeter protection, and a 65 to 70-foot communication tower, as well as water and sewer infrastructure. Approximately 21 acres of the site will remain available to meet future community needs or priorities such as housing, transportation uses, or economic development. The remaining acreage (30+/-) is encumbered by a mosaic of federal, state, and locally designated wetlands that may offer some opportunities for solar or other green energy development, but for the most part will remain undeveloped.
Documents and Files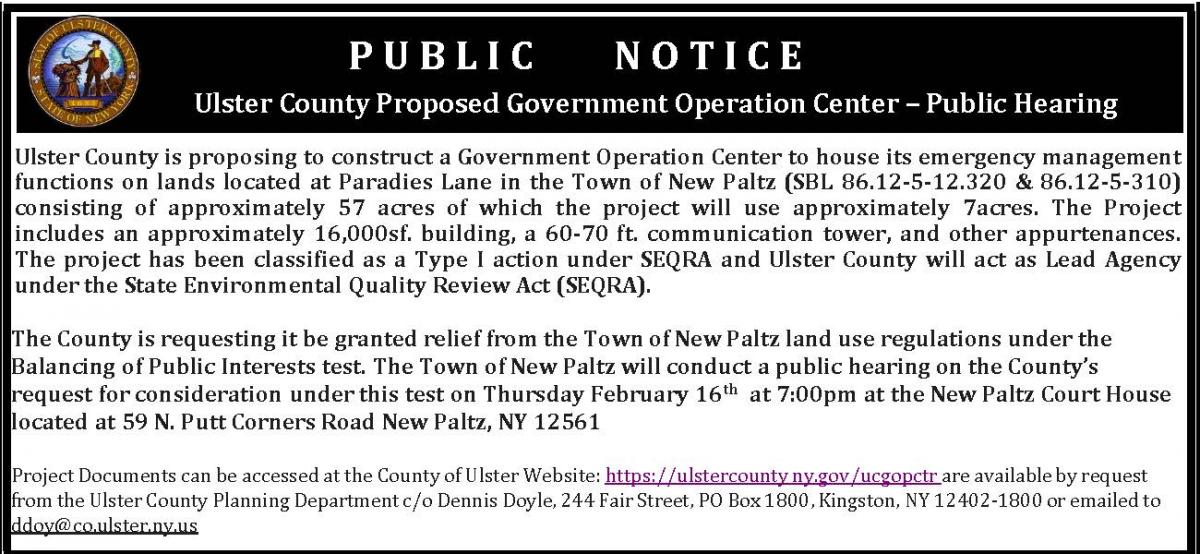 Environmental 
The County has assumed lead agency status under the State Environmental Quality Review Act (SEQRA) and has classified the project as a Type I action.  The County segmented its purchase of the property from the environmental review of the project concluding that such segmentation was a discrete action and would neither impair nor reduce the effectiveness of subsequent environmental review of any subsequent actions. A Full Environmental Assessment Form is available for the project. 
Local Approvals 
The County has requested that it be granted relief from the local land use controls under the balancing of public interests test and is before the New Paltz Town Board for a determination on that request. 
Comments and Questions 
Please get in touch with Mr. Dennis Doyle, Director, Ulster County Planning Department, (845) 340-3340 or ddoy[at]co.ulster.ny[dot]us