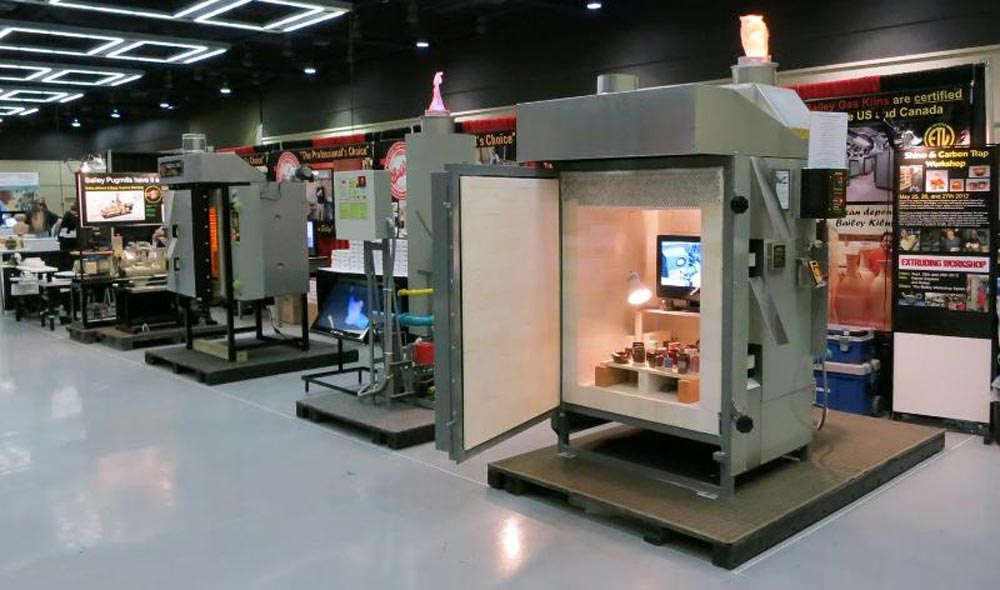 Posted September 12, 2017
For over 42 years, Anne Shattuck Bailey and Jim Bailey have been revolutionizing the professional pottery world from a quiet side street in Midtown Kingston. In 1975, Jim released the 30-inch Bailey Slab Roller, unrivaled at the time for its ease-of-use and uniformity, even with dense clay. After an enthusiastic reception, business has been booming at the Bailey Ceramic Supplies & Bailey Pottery Equipment Corporation.
As professional potters, the Baileys have made an impact simply by making equipment they'd use themselves. As well as being a renowned potter, Jim has been designing custom tools since 1974; Anne's work has been featured in books, museums, and even the White House. Today, the Baileys have more lines of pottery equipment and ceramics supplies than any other manufacturer in the industry.  The company's central location in Kingston has contributed to the Baileys' success.
Housed on Ten Broeck Avenue in midtown Kingston in a 100-year-old brick factory, Bailey's Pottery is in good company among neighborhood artists' studios and arts organizations; world-class art supply outfit R&F Handmade Paints is headquartered down the street. "Collaboration is an important part of the arts culture in Kingston," Anne says.
Like many local creative arts organizations, Bailey's finds the natural beauty of Ulster County to be a source of constant inspiration. "The city's environment and quality of life are important to the company and its employees," says Anne. The company also benefits from a pipeline of qualified workers graduating from SUNY New Paltz's nationally recognized arts programs. Having employees who are are all working artists themselves is important, notes Anne, because that helps them anticipate the needs of their customers.
Midtown Kingston is fast becoming a destination for the arts. There's the recently created Midtown Arts District, which promotes the area as an artist-friendly place to live and work. Nonprofit development organization RUPCO rehabbed an abandoned factory and created the Lace Mill artists community, which offers subsidized housing for artists and frequently hosts gallery openings and tours. Along with other longstanding creative arts businesses like R&F Paints, Bailey's has served as a catalyst for the neighborhood's burgeoning arts scene, hosting pop-up shows and workshops to engage the community, donating equipment and time to local schools and causes, and working with both city and county government to promote the Midtown Arts District. In the past several years, they've been joined by other entrepreneurs in the arts, including Art Workshop Fabricators, Lite Brite Neon, and Black Creek Mercantile Trading Co.
"County and local leaders could not have been more supportive," Anne says. Ulster County worked with other local business owners like developer Mike Piazza and architect Scott Dutton to help them find the perfect location at an affordable price. Today, County officials continue to aid other businesses in taking advantage of the area's reasonable real estate. The Baileys continue to work with Kingston and Ulster County to support local artists, helping to make the region an even more attractive place to live.
Through partnerships with local businesses like Bailey's, County support is giving rise to a thriving creative community in Kingston. Whether you're a business owner, an artist, or both, Ulster County's here to help. Call us today to see how we can make a difference.