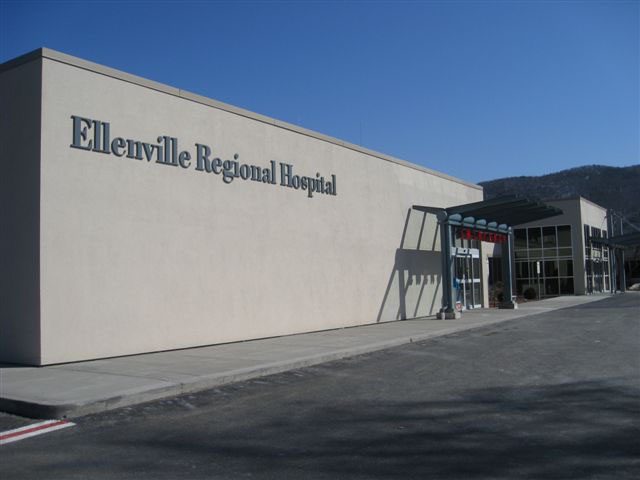 Posted July 27, 2018
Ulster County Economic Development Alliance Provided $20,000 to Locally Based Training Program to Boost Career Advancement and Job Readiness

Ellenville, NY — Ulster County Executive Mike Hein and The Ulster County Economic Development Alliance (UCEDA) announce the successful completion of an innovative training program held in conjunction with SUNY Ulster. The County Executive's Ellenville Million initiative, created in 2015, provided the funding for this 120-hour training for Patient Care Technicians/Assistants. The UCEDA is responsible for administering disbursement of the Ellenville Million funds, all of which are designed to offset the negative economic impact on the area due to its high unemployment rate and to encourage private sector investment and job creation. This crucial new Vocational Training & Workforce Transportation Component expended $20,000 to certify a pool of Ellenville and Wawarsing residents as Patient Care Technicians/Assistants.
"Thirteen students, five of whom are employed at Ellenville Regional Hospital (ERH), successfully completed the training program, which prepared them to take the National Health Career Association (NHA) Certified Patient Care Technician, Certified Nurse Technician and/or Certified Patient Care Associate national certification exams," said Ulster County Executive Mike Hein. "This workforce training component is the result of new ideas that emerged during UCEDA's first 18 months of administration of the Ellenville Million. It directly assisted Ellenville and Wawarsing residents to become job ready and to advance in their career in the healthcare field."
"Our goal with the Ellenville Million has been to help the people and the economy prosper in the communities of Ellenville and Wawarsing and look towards the future. In addition to our focus on vocational training and workforce transportation, the UCEDA is making investments in several other economic development efforts, including a business plan competition, a pilot project to expand broadband access, a year-round tourism marketing campaign, façade improvements for local businesses, the creation of a Joint Village/Town Parks Commission, and major improvements to key Town and Village parks," said Julie Cohen Lonstein, Chairperson of the Ulster County Economic Development Alliance, Inc. "We believe all of our initiatives are bearing fruit and we will continue our focus on new economic development opportunities to enhance the revitalization efforts in Ellenville and Wawarsing."
"We are grateful to the UCEDA for allocating this funding for us to train our hospital employees as well as other community members working in healthcare," said Debbie Briggs, MS, Vice President, Human Resources and Community Relations, Ellenville Regional Hospital. "Bringing this course to the southern end of Ulster County made it possible for local residents to complete their training without driving to the SUNY Ulster campus in Stone Ridge. Many did not have the ability to regularly travel a distance of 30-45 minutes to complete their training given other pressing responsibilities or their lack of transportation options. Our Patient Care Technicians play a very important caregiver role," Briggs continued, "and the students who completed this training program found the course of study to be very constructive. This invaluable training program allowed us to train current employees and a potential pool of community members we can now bring on board."
The 13-week training session held at Ellenville High School was conducted by Evan Hampel, RN, BSN, Emergency Department Assistant Manager at Ellenville Regional Hospital. Students ranged in age from 20 to their mid-50s, and although several students had experience working at a hospital, lab or other healthcare facility, some had no previous medical background at all.
The course covered a full range of topics, from basic patient care (bathing, dressing, toileting, monitoring cardiac function and other vital signs) to how to perform EKGs, how to draw blood, and addressed special needs in elder care, obstetrics/gynecology, death and dying, mental health and more. "Even those students with previous experience became more knowledgeable, and the training is appropriate for many levels of healthcare, from working in doctor's offices to home healthcare and group home settings too," said Hampel. "I would hire every last one of the students who completed this course. Every one of them was eager to learn and put in a lot of hard work, while juggling families, jobs and other commitments. This training program benefits local residents as well as our community as a whole, and I look forward to more of these offerings."
Bridgit Franza, Certified Patient Care Technician (CPCT), Ellenville Regional Hospital, was previously working as a Patient Care Technician at the hospital and received a salary increase upon successful completion of the certifying examination given at the end of the training. She appreciated that the mix of students in the class gave each of them exposure to healthcare practices in hospital settings, private homes and community care facilities.
"A lot of people around the area don't have a great income and the course was offered free of charge. This training was awesome as it allowed me to advance my tech career before nursing school, giving me a leg up on my career goals," Franza said. "The best thing about the class was that the curriculum was fantastic and Evan made it so interesting by bringing his own experience as an Emergency Department nurse and now a manager, which gave us great perspective. I got so much out of this course—especially related to phlebotomy, policies, laws, HIPPA violations, and other topics I didn't know enough about before."
Similar training programs, including one focused on pulmonary healthcare, are anticipated for the future.
For more information about Ellenville Million, please visit http://ulstercountyny.gov/economic-development/ulster-county-economic-development-alliance/ellenville-million.  
# # #