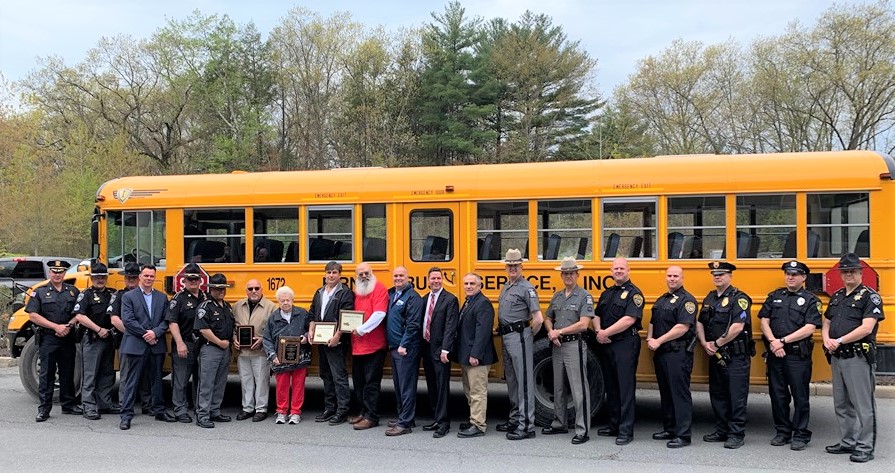 Posted May 2, 2019
Dorothy 'Annie' Lawrence and Mark Morano Recognized For Their Dedication to Service and Safety
Ulster County Law Enforcement Agencies Step Up Patrols To Enforce School Bus Safety Laws as Part of Annual Operation Safe Stop
KINGSTON, N.Y. – Acting Ulster County Executive Adele B. Reiter is pleased to announce that Dorothy 'Annie' Lawrence has received the 2019 School Bus Driver of the Year Award, which recognizes exceptional service and safety and is issued in conjunction with the Ulster County Traffic Safety Board and Operation Safe Stop, a statewide initiatve that seeks to promote school bus safety through education and enforcement. In addition, Acting County Executive Reiter is also pleased to announce that Mark Morano has received the 2019 Charles Schaller Award, which recognizes an individual driver who is dedicated to promoting greater traffic safety in his or her community. This award is named in honor of the late Charles Schaller, who served as Ulster County's Traffic Safety Coordinator for nearly ten years, and whose decades-long commitment to keeping Ulster County's roadways safe has created an enduring legacy in Ulster County.
Ms. Lawrence is an employee of Arthur F. Mulligan/Birnie Bus, servicing the Kingston City School District under Judith Falcon, Transportation Director. Mr. Morano currently serves as the Assistant Engineer at the NYS Department of Transportation, where he has worked his way up the ranks over the past 49 years, serving for a time as a traffic safety investigator. He is a resident of New Paltz. 
"I am so pleased to congratulate Dorothy 'Annie' Lawrence and Mark Morano, as well as all of the other worthy nominees for this year's awards," said Acting County Executive Adele B. Reiter. "Each and every day, parents throughout Ulster County entrust our bus drivers to protect the safety of our children on the way to and from school. Ms. Lawrence's exceptional performance deserves our appreciation, and she serves as a model for the other 700 or more school bus drivers throughout Ulster County, who also strive to protect the safety and wellbeing of their precious passengers."
"It is also a great pleasure to bestow the Charles Schaller Award to Mark Morano, whose nearly fifty years of service at NYS DOT has had an impact worthy of the award's namesake. During his career, Mr. Morano worked together with Mr. Schaller on numerous occasions, assisting communities throughout Ulster County and beyond in their efforts to make our roadways safer for all users," Acting County Executive Reiter said.
In recognition of these two awardees' efforts, and to honor all the bus drivers and transportation professionals who seek to ensure that children are safe on their journeys to and from school, an award ceremony was held on Thursday, May 2nd at the Ulster County Law Enforcement Center rotunda. Deputy County Executive Mark Rider was joined by Ulster County Sheriff Juan Figuroa; Ulster County Safety Officer and Traffic Coordinator Diane Beitl; Eric Kight, Chairman of the Ulster County Traffic Safety Board; Ron Mackey, Chairman of the Mid-Hudson Traffic Safety Association; and Chief Dan Waage, Rosendale Police Department and President of the Police Chiefs' Association of Ulster County to present this year's awards. Both awardees received ceremonial plaques and gift certificates for dinner at a local dining establishment. Two additional nominees for the School Bus Driver of the Year Award were recognized as runners-up: Larry J. Borelli, Ulster County BOCES and John Petvai, New Paltz Central School District. The runners-up received framed certificates.
Deputy County Executive Rider also thanked members of the law enforcement community for their contributions to transportation safety and for participating in Operation Safe Stop Day, when police officers throughout New York State monitor selected bus routes that have a history of complaints of illegal passing and issue tickets to drivers who fail to stop for school buses.
"Operation Safe Stop provides a valuable reminder to all of us about how important it is to be constantly vigilant while we travel throughout our communities," said Deputy County Executive Marc Rider. "I am grateful to this year's awardees and to all school transportation professionals for putting our children's safety first, and to the members of law enforcement at all levels for their diligence in enforcing traffic and school bus safety laws."
"Drivers should be aware that New York State Vehicle and Traffic Law is very clear about the penalties for passing a stopped school bus," said Diane Beitl, Ulster County Safety Officer and Traffic Coordinator. "It is illegal to pass a stopped school bus whenever the large red lights on top of the bus are flashing, indicating that the bus is picking up or discharging students. The first-time fine for illegally passing a school bus can be as high as $400 and can carry a penalty of up to 30 days in jail, in addition to 5 points on your license."
Operation Safe Stop is a cooperative project supported by the New York State Governor's Traffic Safety Committee, New York State Education Department, New York Association for Pupil Transportation, New York State School Bus Contractors Association, student transportation industry and state, county, city and local law enforcement agencies.
# # #
Photo: Members of law enforcement flank 2019 Charles Schaller Award-winner Mark Morano, 2019 School Bus Driver of the Year Award-winner Dorothy 'Annie' Lawrence and runners-up Larry J. Borelli and John Petvai outside the Ulster County Law Enforcement Center at Thursday's Operation Safe Stop awards ceremony.