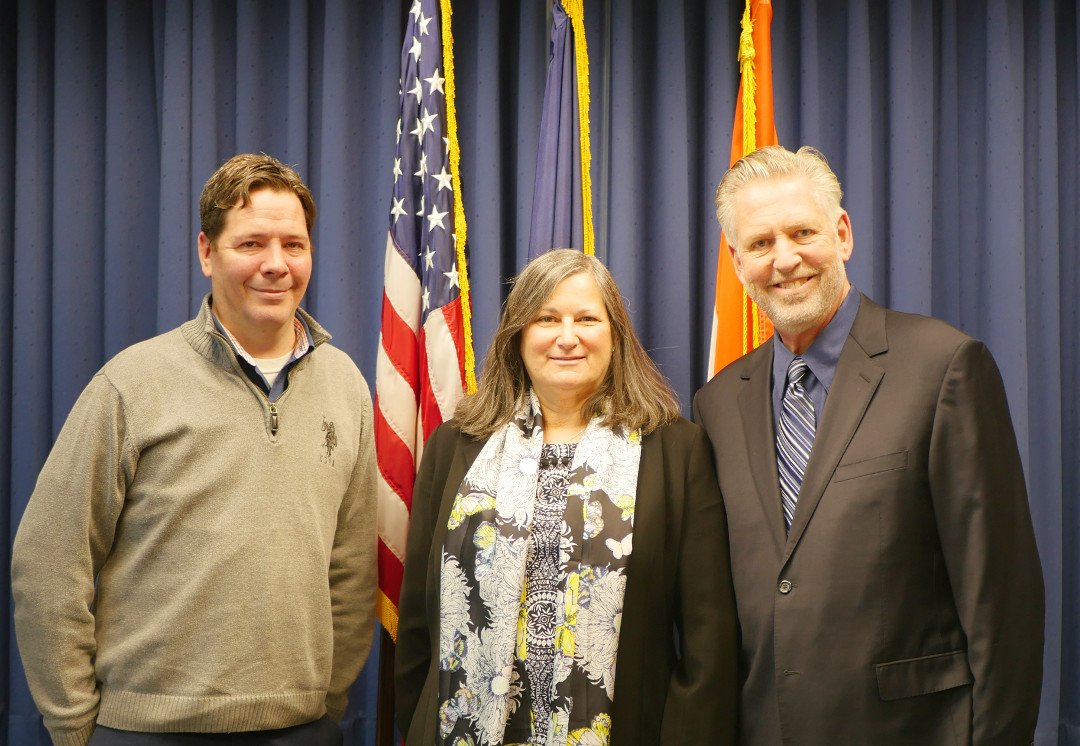 Posted February 25, 2019
Public Defender's Office Is First In Ongoing Series Aimed At Building Public Awareness Of Services Provided By Ulster County
DID YOU KNOW: The Ulster County Public Defender's Office Provides Free High-Quality Representation To Residents Who Cannot Afford An Attorney To Represent Them In Criminal And Family Law Matters
KINGSTON, N.Y. – Acting Ulster County Executive Adele B. Reiter announces a weekly information update aimed at providing residents of the County with a better understanding of the wide range of important services provided by County departments. The series will highlight recent activities and accomplishments of the forty departments, offices, divisions and task forces that comprise the Executive Branch of Ulster County government.
"Even though I have worked in Ulster County government for over fifteen years, I still remember how confusing it was as a resident to try to understand where my tax dollars went every year," said Acting County Executive Adele B. Reiter. "Here in the County Executive's office, we often tout our impressive record of reducing taxes for seven years in a row, but I think most citizens of our County still wonder what exactly those taxes are paying for. And they deserve to know, which is why I've asked our exceptional department heads to work with me to provide a brief snapshot into what their departments do – what they have accomplished recently, what they are working on now, or what they are planning for the future."
The first of these weekly updates, which was posted to the Ulster County website and distributed to local media outlets on today, looks at the important services provided by the Ulster County Public Defender's Office, which is headed by Public Defender Andrew Kossover.
The mission of the Ulster County Public Defender's office is to provide high-quality legal representation to Ulster County residents facing criminal charges who cannot afford an attorney to defend them. With funding from a combination of grants, state aid, and local taxpayer dollars, the Public Defender's Office handled over 350 felonies and nearly 100 parole violation cases in 2018, in addition to over 4,000 misdemeanors and violations.
Recent national news stories have focused attention on the challenges that public defenders face in providing adequate representation to their clients, including enormous caseloads and inadequate time to prepare for each trial.
However, in Ulster County the Public Defender's Office is taking steps to assure the clients assigned to the office receive the time and attention that their cases deserve and require. As part of that effort, Mr. Kossover is participating in a state-funded and locally-implemented plan to provide appropriate caseloads and adequate support services for the attorneys and legal professionals within the Ulster County Public Defender's Office.
"Our public defenders view clients not as 'cases,' but as people: caring parents, hard workers, recent immigrants, returning servicemen and women, native New Yorkers, and students with hope for the future," said Andrew Kossover, Esq., Ulster County Public Defender. "They are committed to working with clients, their families, and their communities to address the critical issues that circumscribe their lives, whether defending a client's liberty, assuring quality time with their children, connecting them to mental health services for the first time, or encouraging individuals to engage in the civic life of their community."
In addition to his part-time responsibilities as Chief Public Defender, Mr. Kossover served as President of the New York State Association of Criminal Defense Lawyers, sits on the Executive Committee of the Criminal Justice Section of the New York State Bar Association and is the immediate Past-Chair of the State Bar's Committee to Ensure Quality Mandated Representation. In 2015, Mr. Kossover received the New York State Bar Association's Award for Outstanding Public Defender and his office enjoys a reputation as one of the best public defense offices in New York State.
"Ulster County is the employer-of-choice for many outstanding professionals who are shaping the future of local government right here in our community," said Acting County Executive Reiter. "The staff of the Public Defender's Office choose to dedicate their time and effort in service of the people of Ulster County to ensure quality representation for all defendants, regardless of their ability to pay. I thank Andy and his staff for their efforts to uphold such an important element of our Constitutional system, and for doing so with such quiet dedication to those among us who are unable to afford to defend themselves in court."
"As we provide weekly updates on the services provided by Ulster County, I encourage residents and interested citizens to access the County's website for more detailed information, including links to forms and applications related to the services our departments provide," said Acting County Executive Reiter. "All that information, and more, is available on the Ulster County web site at http://ulstercountyny.gov."
Pictured above: Deputy County Executive Marc Rider; Acting County Executive Adele B. Reiter; and Public Defender Andrew Kossover, Esq.