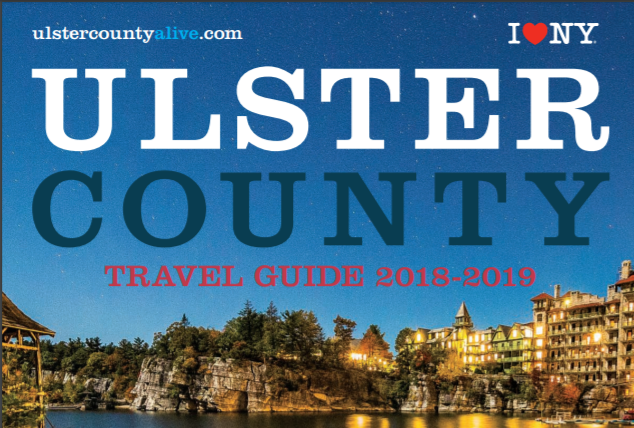 Posted February 14, 2019
2018/19 Ulster County Tourism Guide Receives Sole Gold Award from National Competition Among Tourism Advertisers
KINGSTON, N.Y. -Acting Ulster County Executive Adele B. Reiter is proud to announce that Ulster County Tourism has won two Service Industry Advertising (SIA) Awards for the County's 2018/19 Travel Guide and for its "Seek For Yourself" integrated marketing campaign. 
It is the eighth year in a row that Ulster County Tourism's Travel Guide has been honored with the nationally recognized award. Ulster County's was the only travel guide in the country that earned a Gold Award, the SIA's top prize.
The 68-page full-color guide, which features a popular pullout map, highlights Ulster County's many attributes as a travel destination. The award recognizes the publication's use of compelling graphics, photos and copywriting to showcase the County's rich history, farm-focused cuisine, eclectic cultural events and activities, award-winning accommodations, and renowned recreational opportunities. The guide is widely distributed throughout the metro New York area and across the nation.
Launched in 2018, Ulster County Tourism's new "Seek For Yourself" marketing campaign encourages tourists, primarily from the New York City area, to curate their own adventures in Ulster County by blending the best of the region's outdoor activities with a sampling of the County's growing vanguard of craft breweries, wineries, cideries and distilleries.
"These awards affirm that Ulster County outstanding as we compete with surrounding counties and destinations throughout the nation to grow the tourism sector of our economy," said Acting County Executive Adele B. Reiter. "As evidenced by record-setting visitation and increasing tourism spending, our Travel Guide and the new 'Seek For Yourself' campaign are enticing more and more visitors from New York State, the Northeast and across the United States to share in our County's natural beauty and to discover the amazing events, places and people that make Ulster County a premier travel destination. Congratulations and thanks to our tourism director Rick Remsnyder and his entire staff on their excellent acheivements and continued accomplishments."
The SIA Awards is the only awards program to recognize advertising and marketing efforts in the service industry. There were more than 1,800 entries in 2018. A national panel of judges evaluated and rated entries in eight groups and 26 categories for execution, creativity, quality, consumer appeal and overall breakthrough in advertising content. More than 600 advertising agencies and over 825 institutions participated in the 2018 SIA Awards.
Ulster County Tourism Director Richard J. Remsnyder said the 2018/19 Travel Guide and the "Seek For Yourself" integrated marketing campaign are part of the County's broad-based advertising campaign that has helped attract a record 5.1 million visitors to the County in 2017.
"More people are visiting Ulster County and our region than ever before and we will continue to market our County and region as an incredible four-season destination," Remsnyder said. "This in turn, helps strengthen our economy."
According to an annual report commissioned by New York State and compiled by Oxford Economics, tourism spending in Ulster County has increased for eight consecutive years, reaching a record level of $587 million for 2017. Spending in 2017 represented a $23 million increase over the previous year, and a 35% increase since 2010.
Located just 90-miles from Manhattan, Ulster County offers a wide array of recreational options like hiking, biking, swimming, rock climbing, horseback riding, golf and much more. It's also home to a rich arts and cultural scene, including galleries, antique shops, theaters and museums, as well as a number of wineries, breweries and distilleries. 
To view the 2018/19 Ulster County Tourism Travel Guide online, visit http://ulstercountyalive.com/ulster-county-tourism-guide.
###
Photo:
1) Cover from the 2018/19 Ulster County Travel Guide