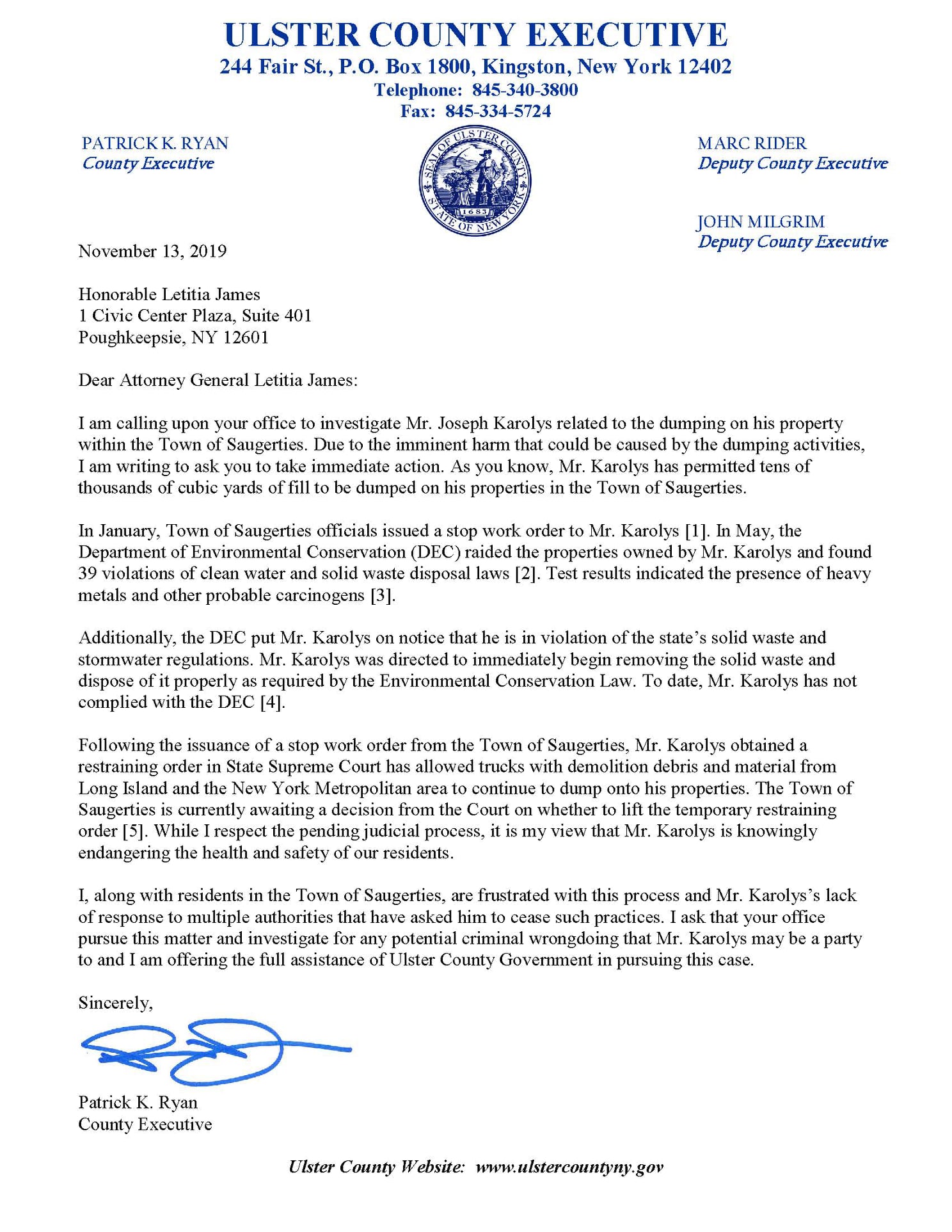 Posted June 25, 2020
County Executive Ryan submitted a letter last November to the New York State Attorney General calling upon them to investigate Joseph Karolys related to the dumping on his property within the Town of Saugerties
The suit found that Karolys repeatedly ignored solid waste and water pollution laws that put the environment and public health at risk
ALBANY, N.Y. - New York State Attorney General Letitia James today filed a lawsuit against Joseph Karolys and  Rachel Karolys for persistent and flagrant violations of New York solid waste and water pollution laws at three separate dump sites in the Town of Saugerties. This comes after County Executive Ryan wrote to the Attorney General in November 2019 calling upon them to take immediate action and investigate Karolys related to the dumping on his property within the Town of Saugerties due to the imminent harm that could be caused by the dumping activities.
"I applaud Attorney General James' commitment to the health and safety of New Yorkers through her actions against illegal waste dumpers like Joseph Karolys," Ulster County Executive Pat Ryan said. "The reckless actions of Mr. Karolys put the residents of Saugerties in danger and has put the environment at risk. Ulster County will not now or ever tolerate dumping and those who wish to pollute our County. I will continue to work with the Attorney General's office, the Town of Saugerties, and Sheriff Figueroa to ensure that illegal waste dumpers are held accountable."
"New York's environmental laws are in place for a reason: to protect public health and our natural resources," Attorney General James said.  "Mr. Karolys not only didn't follow our laws, he repeatedly and flagrantly flouted them – ignoring the harms that his illegal conduct posed to the local community. This lawsuit will hold Mr. Karolys fully accountable for his actions and should send a clear message that my office will not tolerate violations of New York's public health and environmental laws."   
In July 2019, Ulster County Executive Pat Ryan issued an order to immediately cease and desist the dumping of dangerous materials at the Karyols properties in Saugerties. The order, issued through the County Health Department, required that the properties stop receiving, "construction and demolition debris contaminated with heavy metals and pesticides" and asked for an immediate end to such practices.
The Attorney General's suit charges that beginning in 2016, Karolys has repeatedly accepted and disposed of construction site debris – some of which contained toxic metals, pesticides, and other dangerous chemicals – at each of the sites, and operated the waste dumps without required State water pollution control permits. These and other violations are ongoing and have continued unabated despite prolonged efforts by the New York Department of Environmental Conservation (DEC) to resolve them.  
The lawsuit filed by Attorney General James seeks civil penalties for violations of multiple provisions of State solid waste laws at the three sites, with statutory penalties for each violation ranging from $7,500 to $22,500 and additional penalties ranging from $1,500 to $22,500 for each day each violation has continued.  The suit also seeks civil penalties of up to $37,500 per day for each violation for operating each of the three dump sites without the required State water pollution control permit.  Finally, the suit asks the court to revoke Karolys's solid waste management facility registration for the Route 212 site, and order the Joseph and Rachel Karolys to remove – and lawfully dispose of – all waste from the three sites.  
###