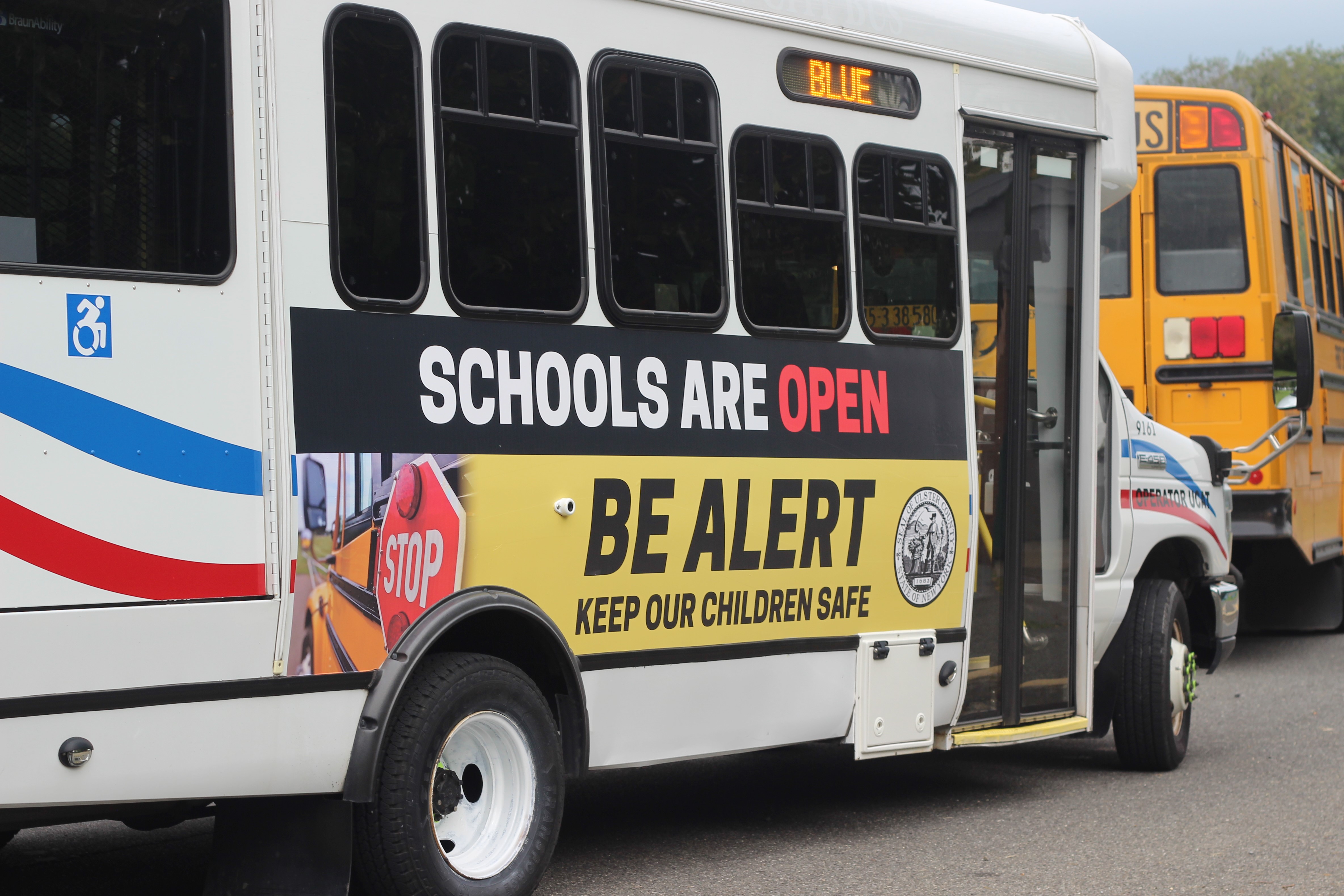 Posted September 4, 2019
County Executive Pat Ryan Announces Campaign to Remind Residents about School Bus Safety 
Kingston, N.Y. – As students around Ulster County head back to school this week, Ulster County Executive Pat Ryan today unveiled a new public awareness campaign aimed at reminding motorists, parents and students that school is open and to exercise caution and follow the rules for school bus safety. UCAT buses around Ulster County will feature the new campaign. 
"A primary responsibility of County government is to do everything necessary to protect its residents," said County Executive Ryan. "This campaign is an important reminder that all of us play a role in ensuring that our students can travel and attend school safely."
Earlier this year, Governor Andrew M. Cuomo signed into law a bill that authorizes school districts to install stop-arm cameras on school buses in order to catch drivers who unlawfully pass a stopped school bus. Under the law, money collected in fines will be used to pay for the cameras and GPS units that can be mounted on the buses.
Reminder of Laws supporting School Bus Safety:
It is illegal to pass a stopped school bus when the large red lights located on top of the bus are flashing. Flashing lights mean the bus is picking up or discharging students.
All motorists are required to stop whether approaching a stopped school bus from the front or overtaking it from the rear. This applies whenever red lights are flashing, even on divided and multilane highways and on school grounds.
The first-time fine for illegally passing a school bus is $250 - $400, 5 points on your license, and/or possibly 30 days in jail. Repeat offenders can face up to $1,000 in fines and up to 180 days in jail.
New York State's school bus seat belt law requires all school buses manufactured after July 1, 1987 to be equipped with seat belts. New York State does not currently mandate seat belt use on school buses, but rather leaves the decision to each school district. However, the law does require any child under 4 years of age to be in a federally approved child safety seat, even if the child is riding in a school bus.
Tips for Sharing the Road with School Buses: 
Remember buses make frequent stops and typically travel at slower speeds. Be patient, slow down, and be prepared to stop for them.
Yellow lights mean the bus is going to stop – so slow down!
Never pass a stopped school bus with its red lights flashing on the right or left—this means that students are getting on or off the bus.
Watch for children who cross in front of the bus when the bus is stopped.
Look for children at bus stops and those running to bus stops.
By law, school buses are required to stop at railroad crossings—so be prepared to stop at railroad crossings if driving behind a school bus.
Be distraction-free. Never use electronic devices while driving and be sure to actively focus on the road and your surroundings.
###