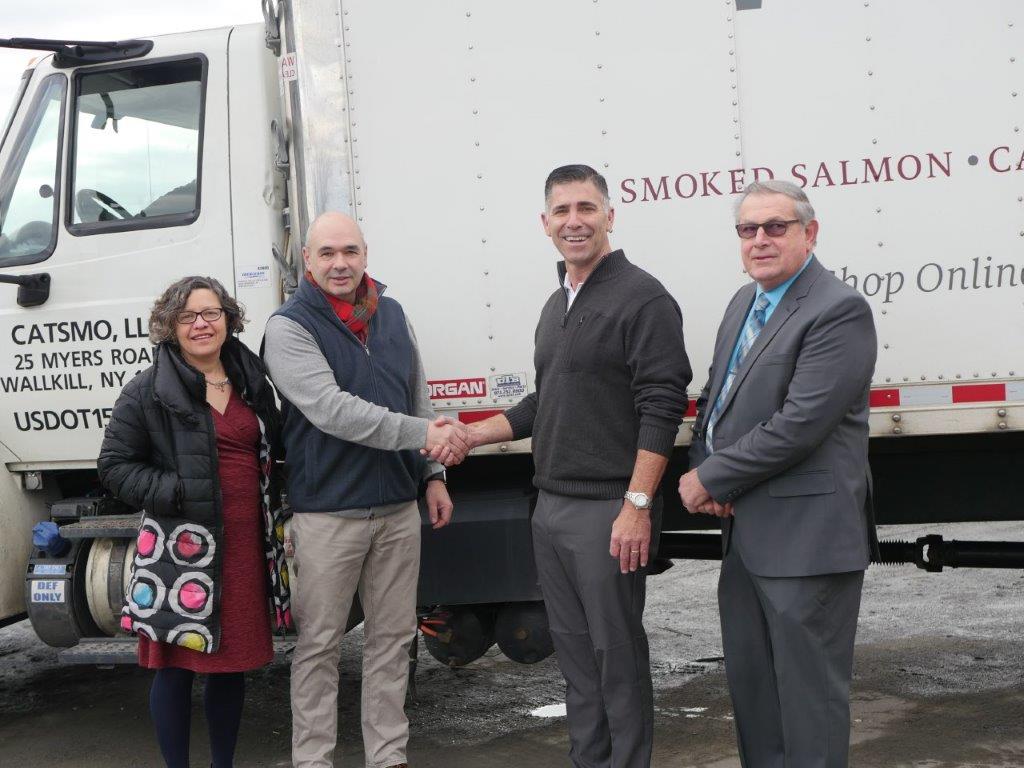 Posted January 7, 2019
Specialty Smoked Salmon Producer Announces $3 Million Investment to Grow Shawangunk Facility, Add Local Manufacturing Jobs 
TOWN OF SHAWANGUNK, N.Y. – Ulster County Executive Mike Hein met with Catsmo CFO Frederic Pothier at the company's facility and discussed the specialty food producer's construction of an expanded state-of-the-art food manufacturing plant in southern Ulster County. Catsmo's $3 million expansion plan includes a 10,000 SF addition to their production facility, plus the addition of 10-15 new employees at their facility in the Town of Shawangunk. Town Supervisor John Valk and Ulster County Economic Development Director Suzanne Holt were also in attendance for the announcement.
Catsmo, an artisan salmon smokehouse which currently employs more than 50 people locally and has additional employees in NYC and New Jersey, has been operating in Shawangunk since 1994.  Production has grown significantly year after year and company projections call for continued growth. As the company's executives began planning for their expansion, they were actively courted by economic development officials from the State of New Jersey. However, the company, which had been working with County Executive Hein's Office of Economic Development since 2013, reached out for needed assistance, and after receiving commitments of support from Central Hudson and NYS Empire State Development, the company decided to continue growing their business in Ulster County.
The expansion of this business will provide additional storage space needed for the company's award-winning smoked salmon products. The new space will also allow the company to acquire larger and more sophisticated machinery, improve production workflow, and satisfy ever increasing food safety and labor standards.
Michael P. Hein, Ulster County Executive
"Manufacturing is a vital industry in Ulster County's economy.  It is important to understand that with the increasing demand from consumers in NYC and the surrounding areas for local and fresh ingredients, food and beverage makers are valuable members of our manufacturing community.  I want to thank Governor Cuomo for recognizing the importance of Catsmo and making a significant investment in their success, as well as Central Hudson. Both came to the table when my team reached out to them and it is only with their assistance that we are able to retain more than 50 jobs at this manufacturing facility and create at least 10 more.As always, my administration stands ready to help all businesses – big and small – with whatever they need to succeed and grow in Ulster County.  Business owners should feel free to call my office if they are looking for financing or incentives, if they are seeking the perfect site or if they simply have questions and need straightforward answers."
John Valk, Shawangunk Town Supervisor
"I have watched Catsmo grow from two employees in the early 1990s to almost 60 today.  They are an important employer in our town and we are glad they have decided to stay.  I am very grateful that County Executive Hein called me and asked to collaborate on a solution to some of their infrastructure issues. I would not have known they were considering relocation if he hadn't called.  It allowed us to work together with Office of Economic Development Director Suzanne Holt, County Planner Dennis Doyle and Planning Board Chair Mark Watkin to create realistic and workable plans.  Catsmo's owners are wonderful employers and I look forward to their continued growth."
Frederic Pothier, Catsmo CFO
"From the beginning we wanted to expand here in Wallkill, but we needed to make the numbers work.  County Executive Hein's economic development team assisted us at every step of the way.  They understood the issues we were confronted with, both financial and with our infrastructure needs, and helped us address them one by one.  With the assistance from New York State and Central Hudson, we are able to expand and create new local jobs.  I would also like to thank Supervisor Valk and the Town of Shawangunk Planning Board for working with us."
Suzanne Holt, Ulster County Office of Economic Development Director
"Catsmo's management has been a pleasure to work with.  This expansion has taken years to plan and execute because of their thoughtfulness and attention to details – which is probably what makes their smoked salmon the best in the world.  I am glad that the County Executive and our team could be here to answers questions big and small as the process unfolded, and then to bring in assistance from New York State and Central Hudson when it was clear that we needed economic development resoures to retain this important business in our community.  I look forward to working with Catsmo for years to come!"
Central Hudson
"Central Hudson recognizes the importance of private sector investment and job creation in the Hudson Valley so we are pleased to support Catsmo as they undergo this major investment and expansion in their business by awarding a $200,000 Business Retention for Manufacturers grant," said Anthony Campagiorni, Vice President of Customer Services and Regulatory Affairs for Central Hudson. "Our economic development programs are intended to support our local economy and retain and attract quality employers. Castmo's investment in Wallkill will sustain quality jobs here in the mid-Hudson Valley."
Pictured above: (From L to R) Ulster County Director of Economic Development Suzanne Holt, Catsmo CFO Frederic Pothier, Ulster County Executive Mike Hein, and Shawangunk Town Supervisor John Valk at the Catsmo production facility in Ulster County.