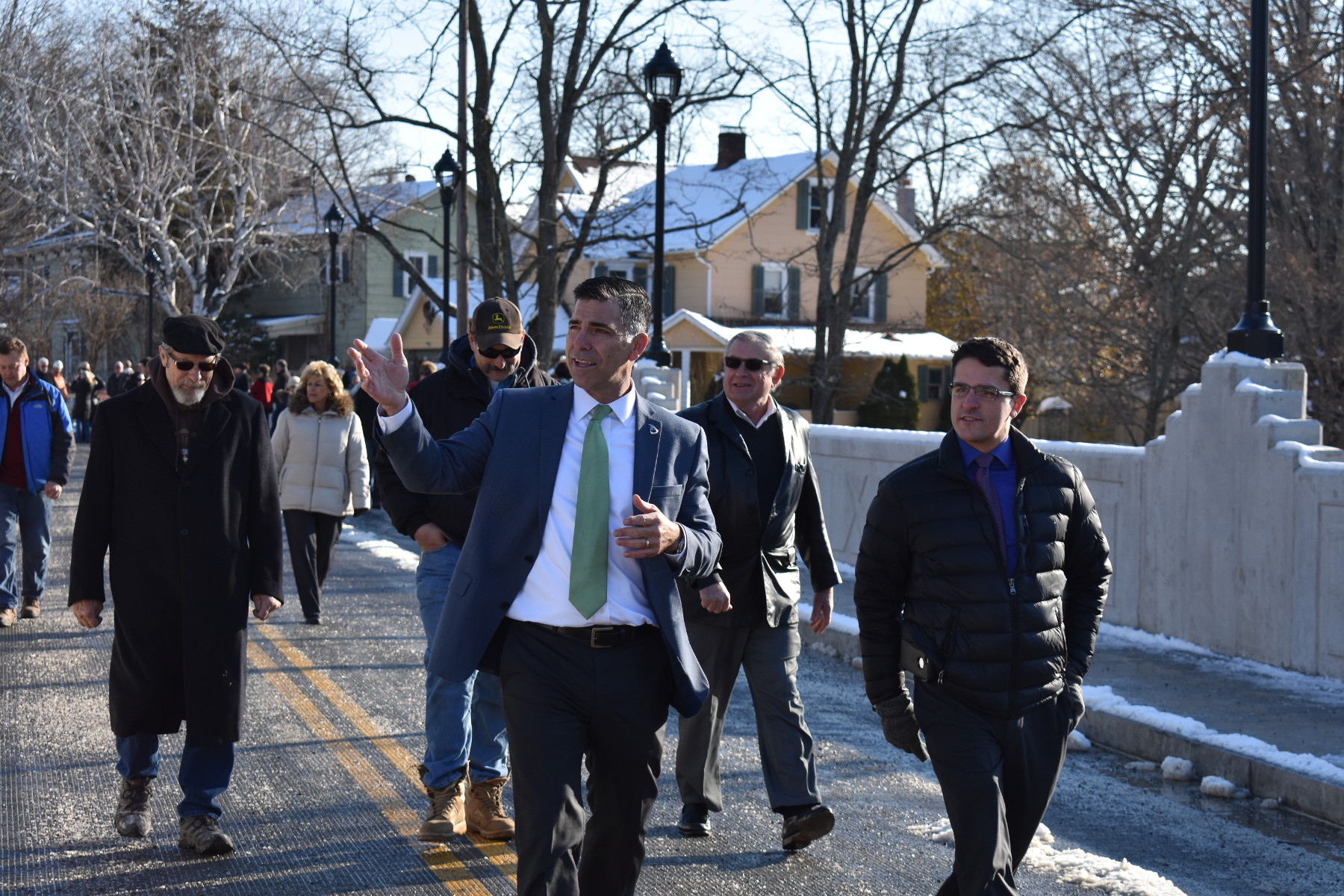 Posted December 11, 2017
Shawangunk, N.Y. – Ulster County Executive Mike Hein was joined this morning by Chairman of the County Legislature Ken Ronk, Town of Shawangunk Supervisor John Valk, and members of the Department of Public Works and the community as he cut the ribbon across the new Wallkill Bridge, spanning the Wallkill River on Bruyn Turnpike in the hamlet of Wallkill. The bridge was closed this summer for a massive overhaul after standing for over 100 years across the Wallkill River, and now features wider lanes, enhanced lighting, and improved sidewalks for increased pedestrian safety and ADA compliance. The Wallkill Bridge was completed as part of County Executive Mike Hein's Building a Better Ulster County infrastructure program, which provides for an unprecedented $60 million investment in County roads and bridges.


Michael P. Hein, Ulster County Executive
"The new and improved Wallkill Bridge is the latest example of Ulster County's unprecedented investment in our infrastructure," said Ulster County Executive Mike Hein. "Just as we have done at the Carmine Liberta Bridge in New Paltz and others across the county, this bridge has been improved after input from members of the community to customize infrastructure work to meet specific community needs – in this case a strong desire to retain the historic features that make the Wallkill Bridge so special. The bridge also meets the needs of modern traffic while providing significant safety enhancements for pedestrians and bicyclists, as well as including energy efficient LED lighting encased in historically appropriate fixtures. This bridge also supports a critical town water line that services nearby residents. I am particularly happy that we are able to open the new Wallkill Bridge ahead of the busy holiday shopping season, eliminating the need for shoppers to take long detours and helping our local businesses thrive."


Kenneth J. Ronk, Jr., Chairman of the Ulster County Legislature
The new and improved Wallkill Bridge, which will soon be dedicated as the Stewart Crowell Bridge, is now a true gateway to the Hamlet of Wallkill, and will undoubtedly stand the test of time" said Kenneth Ronk, Legislator from the Town of Shawangunk and Chairman of the County Legislature. "The wider lanes, safety improvements, and historical integrity are just some of the many things that are going to make this bridge great for many years to come. The County worked with the community to craft the bridge that would best fit our needs, and I'm grateful to all who worked tirelessly to make this happen."


Hector Rodriguez, Ulster County Legislator
"This is yet another great example of how county government can work with our towns and the community to make significant improvements," said Hector Rodriguez, Minority Leader and Ulster County Legislator. "I am so pleased to partner with County Executive Hein in upgrading and modernizing our County's vast infrastructure through the Building a Better Ulster County Initiative."


At their November meeting, the Ulster County Legislature voted to rename this bridge in honor of Stewart Crowell, a dedicated teacher and community servant whose grandfather was the first person to walk across the bridge when it was first erected. A formal dedication ceremony is expected to take place this Spring.


Photo: Ulster County Executive Mike Hein and Chairman of the County Legislature Ken Ronk cross the Wallkill Bridge shortly after its opening this morning and inspect historical elements of the new structure. Joining them in the background is Town of Shawangunk Supervisor John Valk.