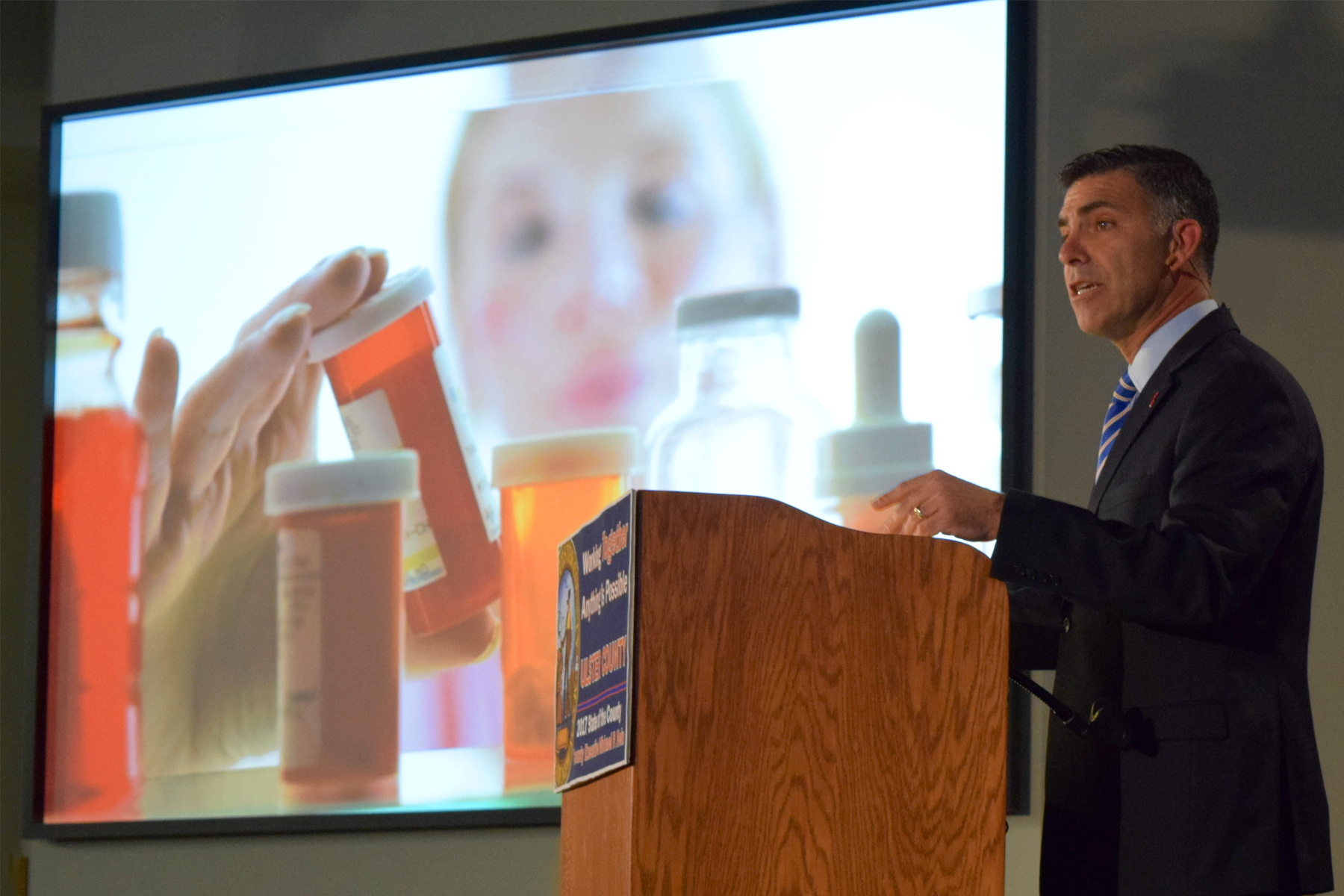 Posted May 23, 2017
The State Law Will Require Large Chain Pharmacies To Accept Unused Portions Of Prescription Drugs and Help In The Fight Against Heroin
Kingston, N.Y. – Ulster County Executive Mike Hein has been calling on state lawmakers for the last two years to address the rising heroin and drug addiction problems ravaging the entire state by requiring large chain pharmacies to take unused prescription medication back. In his 2016 State of the County Address County Executive Hein noted that "…this may seem like a common sense solution that should already be in place, but unfortunately there is a massive loophole in our laws. The industry has powerful lobbyists so the existing State and federal laws are not mandatory." This past January in the 2017 State of the County Address the County Executive again implored Albany to act: "…as a community we must continue our fight to reduce the amount of opioid-based prescription drugs sitting in medicine cabinets all across our county. I believe, on this issue, large chain pharmacies have been grossly negligent. I am imploring our state representatives to act quickly in order to save peoples' lives and mandate that large chain pharmacies immediately install prescription drop boxes al all locations in New York…" After this push by the County Executive, and many others, there are now bills pending in the New York State Assembly, A.387-A, and New York State Senate, S.5717-A, that would require chain pharmacies to take back, free of charge, unused prescription medication.
Michael P. Hein, Ulster County Executive
"The scary truth is that many heroin addicts get their start by abusing legal prescription drugs and some by simply stealing excess medication from their families, neighbors, or friends," said Ulster County Executive Mike Hein. "We must do everything in our power to protect our residents and our children, and though this is not a panacea this legislation addresses a significant part of the problem at its source. Quite simply – you should be able to return your unused prescription medication to the very same place you got it from, and right now you cannot. Large chain pharmacies make billions of dollars and have strong lobbyists, but I believe the voice of the people can be even stronger, which is why I am calling on everyone to join me in this opportunity to fight back against heroin addiction and urge our state representatives to pass this critical life-saving legislation without delay. I want to thank Assemblymember Aileen Gunther and Senator Kemp Hannon for introducing this legislation, and their colleagues in both houses for lending their support in cosponsoring this incredibly important public health law. "
Dr. Carol Smith, Ulster County Commissioner of Health and Mental Health
"Over the past two years, County Executive Mike Hein has championed this critical effort to require large pharmacy chain stores to take back unused prescription medications, an important step in the fight against opioid abuse," said Dr. Carol Smith, Ulster County Commissioner of Health and Mental Health. "Establishing safe and convenient medication take back systems in large retail pharmacies, at no charge to customers, is an absolutely essential and effective method of getting highly addictive drugs off of our streets and keeping them out of the hands of our youth. From a community health perspective, one of the most important things we can do is support the legislation in Albany that can make this possible now; and I urge our residents to contact their state representatives to make sure this vital legislation is passed."
Last year a record number of New Yorkers, approximately 1,300 with 80% of those attributable to opioids, fatally overdosed last year – twice the number that was killed in auto accidents.
State Assembly representatives are available at https://www.assembly.state.ny.us/mem/ or by calling the Assembly Switchboard at (518) 455-4100.
State Senate representatives are available at https://www.nysenate.gov/senators-committees or by calling the Senate Switchboard at (518) 455-2800.